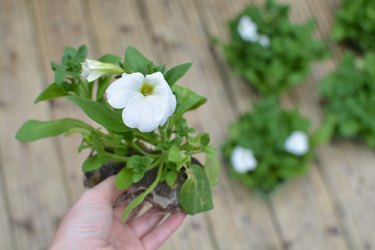 Think of your patio as the pleasant border area between home and backyard, a space where nature and comfort live together in harmony.
No patio is complete without plants, but you aren't likely to want a jungle of foliage in wild profusion. The overflowing garden beds, evergreen hedges, and water elements are for the garden area, while ideal patio plants are easy-care ornamentals that don't forget they are living in shared space. Here are six of our favorite patio plants to consider:
1. Flowering Maple
Maple trees don't do well in warmer growing zones, but the beautiful shrub called flowering maple (Abutilon spp.) is a patio favorite with homeowners in U.S.D.A. zones 8-11. This little shrub makes an excellent container plant, offering a profusion of lush leaves shaped like enormous maple leaves (up to 8 inches wide). Its slender branches fill with 3-inch papery blossoms all summer long, with new flowers appearing almost continually during the growing season. The flowers will make you think of hibiscus blossoms but hang like bright lanterns in shades of yellow, orange, and red. Buy here.
Requires fertile, well-drained soil
Grows best with some sun, some shade
Produces fewer flowers if you overfeed
Grows quickly to 3 feet
2. Lantana
For hanging baskets on a sunny patio, you can't beat lantana plants (Lantana camara), broadleaf evergreens that act like vines and smell like citrus. The vibrant flower clusters spill gracefully over the sides of patio containers, blooming continuously in warm weather. Lantanas are sun-worshiper plants and prefer a location getting direct rays. Winter them outside in U.S.D.A. zones 8-11, and they will keep right on attracting butterflies with those blossoms in mixes of red, orange, and yellow. Buy here.
Grows well in any type of well-draining soil
Drought-resistant in large containers but prefer regular irrigation
No fertilizer required
Cannot survive in temperatures below 28 degrees F
3. Fuchsia
With dancing blossoms in jewel tones, fuchsias (Fuchsia hybrida) will light up your patio from spring through the first frosts. These plants are hardy in U.S.D.A. zones 8-10. The hanging flower clusters are truly gorgeous, mixing shades of royal purple, vibrant pink, luscious peach, and snowy highlights. They catch every eye, and bring butterflies and hummingbirds to your patio as well. Protect these beauties from afternoon sun, but otherwise they aren't demanding, blooming happily in containers all summer long. Buy here.
No deadheading required
Choose between trailing and upright/bushy
Provide moist, well-drained organic soils
Water when the soil surface feels dry
Fertilize monthly during growing season
4. Pelargorium
For splashes of color on full-sun patios, think pelargorium (Pelargonium x hortorum), a tropical cousin of geranium, known to some as zonal geranium. Pelargoriums are great patio plants because they grow well in containers, offer lovely, scented foliage, and produce clusters of flowers in bright reds or softer shades of salmon, lavender, and baby pink. The leaves smell minty and are often "painted" in bronze or maroon. Winter them outside in U.S.D.A. zones 8-11. Buy here.
Situate in full sun for best blossoms
Provide moist, well-drained soil
Water regularly, allowing top of soil to dry
Fertilize monthly
Deadhead regularly, removing spent stems and flowers
5. Hardy Hibiscus
If you live in a cooler climate and want patio plants to overwinter outside, Rose of Sharon hibiscus (Hibiscus moscheutos) is an excellent choice. Hardy to U.S.D.A. zone 5, this hardy hibiscus produces hollyhock-like blossoms, single or double, in a wide range of colors. The plants form tall, multi-stemmed shrubs, but with a little pruning, you can create a single-stemmed plant. Rose of Sharon flower on new wood, so prune early in the season to allow the hibiscus to regrow new branches before show-time. Want blossoms as big as a dinner plate? Opt for Hibiscus moscheutos instead. It is hardy to U.S.D.A. zone 4. Buy here.
Full sun produces the most flowers
Moist, well-draining soil
Organic mulch keeps moisture in soil
Fertilize in spring with a side dish of compost
Prune back hibiscus to refresh
6. Pentas
For starry, starry days and nights, consider bringing penta plants (Pentas lanceolata) into your patio. These warm-region perennials offer sparkling star-shaped blossoms from spring through fall in vivid shades of red, purple, and pink as well as white. Since penta is one of the best pollinator-attractive plants available, expect bees, butterflies, and hummingbirds flocking to your patio as well. Penta comes in handy in hot-summer regions since it blooms well even during the hottest weather conditions. Buy here.
The more sun, the better
Grows to 36 inches tall
Loves container life
Deer resistant
Compact growth habit
Water during hot weather
---
From Alaska to California, from France's Basque Country to Mexico's Pacific Coast, Teo Spengler has dug the soil, planted seeds and helped trees, flowers and veggies thrive. A professional writer and consummate gardener, Spengler has written about home and garden for Gardening Know How, San Francisco Chronicle, Gardening Guide and Go Banking Rates. She earned a BA from U.C. Santa Cruz, a law degree from U.C. Berkeley's Boalt Hall, and an MA and MFA from San Francisco State. She currently divides her life between San Francisco and southwestern France.
View Work