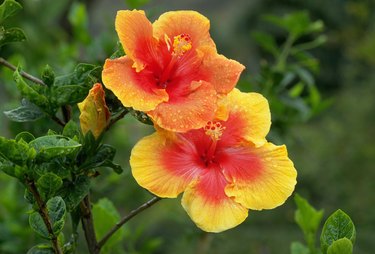 Hibiscus (‌Hibiscus‌ spp.) are shrubs with showy flowers of different colors and shapes depending on species. Perennial species, such as rose mallow (‌Hibiscus moscheutos‌), swamp hibiscus (‌Hibiscus coccineus‌), and cotton rose (‌Hibiscus mutabilis‌), are cold-hardy herbaceous perennials offering blooms from June through November, depending on species. They die back to the ground every winter. Tropical hibiscus (‌Hibiscus rosa-sinensis‌) is an evergreen and can bloom all year long in warm-winter areas in zones 9 through 11.
Properly pruning hibiscus stimulates branch growth, which means more flowers. Hibiscus form buds at the branch tips, so the more branches, the more beautiful flowers. And if your hibiscus is old and ailing, a hard prune may help revive it.
Learn when and how to prune your hibiscus and keep it looking great all season or all year.
The Best Time to Prune Hibiscus
Prune hardy hibiscus in spring before new growth emerges. The hibiscus stems will die back in fall, but the root systems of some hardy species survive cold-weather winters down to USDA plant hardiness zone 4; other hardy species are cold-hardy to zones 5 through 7. New branches will emerge in late spring, followed by new flowers. Shape by pruning hibiscus lightly after the first bloom and when required during the growing season.
Anytime during the growing season is a good time to trim and shape a tropical hibiscus. The best time to prune potted hibiscus is during sunny, mild weather. These hibiscus bush varieties are not cold-hardy and may die outside in USDA zones cooler than 9 or 10.
When to Prune Hardy Hibiscus
Since hardy hibiscus die back to the ground each winter, you can technically cut them to ground level in autumn after flowering ceases or early in spring. But it's better to wait until spring to start pruning hibiscus. Leaving the old wood standing improves cold hardiness, and perhaps more importantly, it also marks the plant's growing location. For this type of hibiscus, wait to prune until late winter or early spring when temperatures start to rise. Use pruning shears to trim all of the plant's old growth down to a foot or less before the new branches emerge.
How to Prune Hibiscus for Shape
Hibiscus plants are naturally full shrubs. While they can grow tall and lanky, this is most often a result of inadequate sunlight rather than not pruning hibiscus. But if your hibiscus looks sparse in the middle, you can get out the pruners and start a type of pruning called selective pruning to stimulate growth of the side branches.
Identify leaf nodes on the branches to be pruned. These are slight bumps on the stems and branches from which new stems and leaves grow. Note that some leaf nodes point toward the center of the plant. Others point sideways, and others point outward.
Inspect the plant to determine where it needs more growth to look healthier and fuller.
Select a branch to prune and then find a leaf node about 1/3 the way down from the branch tip. This node may or may not already have a leaf growing from it.
For upright plants, you will generally want to make the cut 1/4 inch above an outward-pointing node to encourage lateral growth and increase flowering.
If a plant has a spreading growth habit, your goal is to make it more upright. Prune 1/4 inch above an inward-pointing node instead. This will force new growth to become more upright.

To encourage the plant to grow inward, prune 1/4 inch above a node facing the center of the plant.

Repeat the process on a number of branches but trim no more than 1/3 of the plant at a time.
How to Prune Tropical Hibiscus
The tropical hibiscus species can be pruned at any time during the growing season to shape them and to remove dead branches. A tropical hibiscus can also be cut back at the end of fall once the growing season nears its end, and the plant goes into dormancy. As with perennial species, when pruning hibiscus that are tropical, never remove more than 1/3 of the plant at a time.
A mature tropical hibiscus with lots of dead wood or damaged branches may benefit from a corrective pruning or a hard prune. This can also be helpful for a plant that has reduced the number of seasonal blooms. Cut back the affected branches to a foot or so from the ground, leaving at least several leaf nodes intact. Be patient and healthy growth will appear; you'll see new stems sprout new leaves, buds, and blooms.
How to Prune Potted Tropical Hibiscus
Gardeners who love tropical hibiscus but live in a cold-winter climate can maintain the shrubs as container plants that are carted indoors for the cold time of year. Once inside, these can be treated as houseplants and kept in a sunny window, or they can be overwintered in a cool, dark spot. The optimal pruning time for these two types of hibiscus bushes is different.
With houseplant hibiscus or hibiscus overwintered in a warm greenhouse, prune the stems in the fall in preparation for bringing them inside. Do this pruning on a warm, lovely day. If you are overwintering the hibiscus in a basement or garage, don't prune until early spring.
How to Deadhead Hibiscus Flowers
Deadheading is removing faded, wilting flowers during the bloom period in order to direct more energy toward creating more blooms. Deadheading hibiscus is not generally required. This is generally true for hardy hibiscus and tropical hibiscus. If you note a number of dead hibiscus blossoms hanging on your hibiscus tree, there is no harm in clipping them off.
Need to see the process visually? Here's a tropical hibiscus pruning guide from eHow: