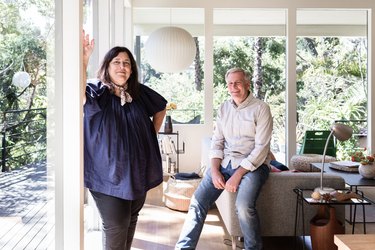 Who: Lucy Gonzalez and Brian Lane
Where: Hollywood Hills, Los Angeles, California
Style: Modern hillside flair
When graphic designer Lucy Gonzalez of environmental design firm Newsom Gonzalez and architect Brian Lane, principal at KoningEizenberg Architecture, first visited this midcentury home in 2000 as dinner guests, they instantly fell for its location in Beachwood Canyon. Set 30 steps up from the street, it is surrounded by lush landscape, easily viewed via the home's walls of glass and wraparound deck.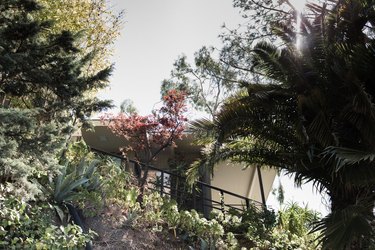 "It was a really warm, wonderful summer night. All the doors were open, the lights were low, and we were just sitting here in the middle of the week having dinner," Gonzalez recalls. "It just felt like an indulgence, but very homelike indulgence. It also felt like, my life would be magic to live here."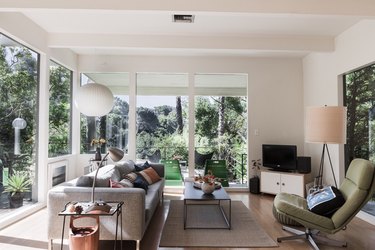 Lane was equally enamored: "It felt like being in a treehouse because a nearby oak tree literally subsumed the house in its branches," he says. "From the living room you felt like you were sitting on one of the branches looking out on the canyon."
Apparently the hosts picked up on their love-at-first-sight reaction, because a year later the husband called up Lane and asked if he and Gonzalez were interested in buying the two-bedroom home. They immediately made an offer. After all, the house was built the same year they were born: 1962. It was meant to be.
And as Lane dug deeper into the home's history, he discovered many artistic residents had preceded them, including master violinist Charles Veal, Jr. and artist Ros Cross and then-partner Mick Haggerty, an illustrator and music video director famous for his rock album covers. The couple's renovation of the home was even featured in the Italian magazine Casa Vogue and a photography book by Tim Street Porter in the '80s.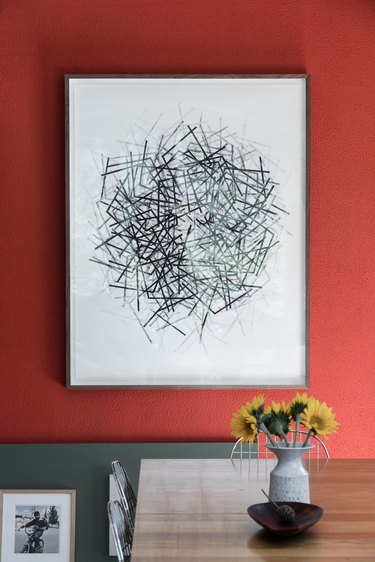 A giant monoprint by Cross, H2O #18, actually hangs on Gonzalez and Lane's dining room wall, likely where Cross would have hung it if she still lived there.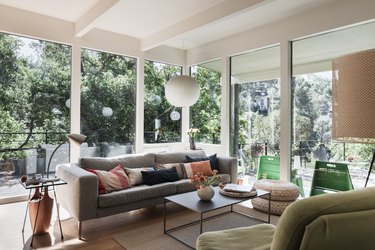 It's no surprise that creativity would thrive here. The space is magical: exposed beams run through the bedrooms, living room, and dining area, which all feature large windows with canyon views. The beauty of this home's design is really how well it embraces the nature around it. And there's no architect to thank for this. The original builder didn't hire one — he used architecture students from USC. "They were just students, influenced by their professors and architectural ideals of that period," says Lane, who notes their professors may have included Craig Ellwood and other case-study architects. "The home's architecture is not pristine or high pedigree, but the students got the basic things about California modernism right: a giant bunch of glass well-positioned, or as architects would say, well-sited. It was just the right size and massing so that over time the natural landscape would be the star on the hill."
Other unique aspects of the 1,150-square-foot home include the angled entryway by the front door, what Gonzalez calls "a Frank Israel move," along with the semifloating bar in the kitchen, which she and Lane equipped with wood and wicker barstools from Lawson Fenning. Cross and Haggerty are responsible for both of these architectural features, as well as other welcomed additions in the guest room.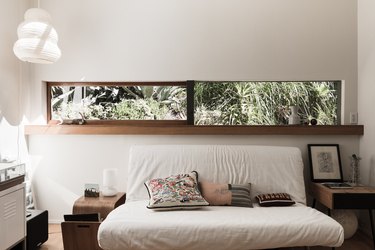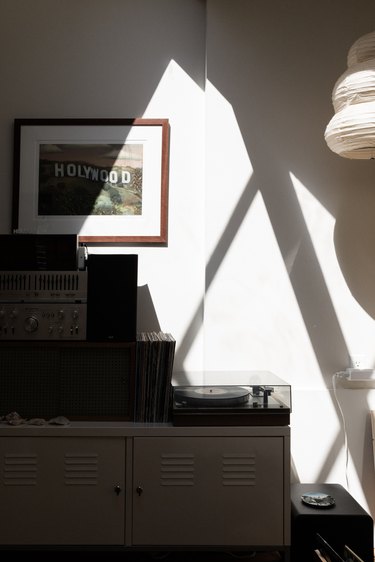 Set in the back of house, the room has two narrow horizontal windows with a simple wood dowel lock — placed precisely where the ground outside starts, halfway up the wall — through which you can sneak peeks of small wildlife scurrying by. On the ceiling, the couple also installed a large skylight at a bias, offering quite the view of clouds and birds passing over the home and the occasional undesirable helicopter. This room doubles as Gonzalez's home office, where she is kept company by many of Lane's prized possessions: his vintage hi-fi system, music memorabilia, collection of Hollywood/Holyland/Hollyweed artwork (his love for the landmark runs so deep, he's on the Hollywood sign's board of trustees), and a model of one of his first "ground up" buildings precariously placed facedown atop the bookcase. There are also ceramics by their good friend Bob Dinetz on the windowsill next to a gold plaque that reads "Bette Midler Slept Here," a gift from Gonzalez to Lane after learning that Midler's husband, artist Martin von Haselberg, also was a former resident.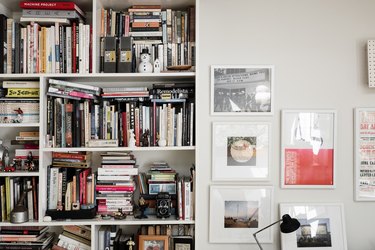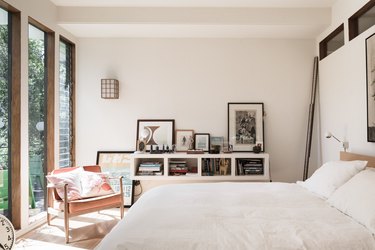 Framed artwork and various keepsakes and collections are atop cabinets, displayed on the floor, or leaning against the walls, including a Carl Maston rendering near the Frank Israel entryway and a large sign from Lane's old apartment propped up against the room divider in the master bedroom.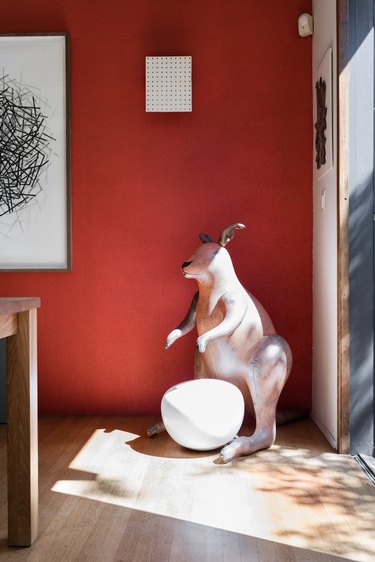 In the dining area, next to their Room & Board table and Case Study wire chairs from Modernica, is an inflatable kangaroo that they stole from a party honoring KoningEizenberg at the Standard Hotel downtown years back.
Another crowd-pleaser is the large aspirin from a local swap meet in their spa-like bathroom that they designed using architect friends Julie Eizenberg and Oonagh Ryan to help settle material and color debates. (White and gray tile won.)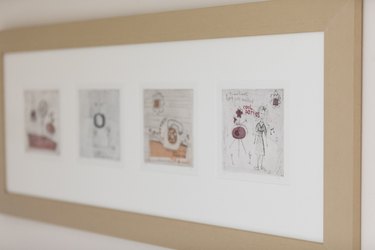 Hanging in the home are a series of childhood-inspired illustrations Gonzalez did at ArtCenter College of Design in the hallway and a print by activist and artist Sister Corita Kent, one of her biggest inspirations, purchased from Lost and Found hanging in their dining room.
They did keep the previous owners' light fixtures and closet doors, but Lane reimagined them with simple design hacks. By the front door, he updated a rectangular paper light fixture by placing a wood CD holder from IKEA over it. Another genius move was covering the dining room's light fixtures and the guest room's shoji screen doors with white pegboard to give them a clean, ultramodern look. This is a design element you'll see in many of KoningEizenberg's projects.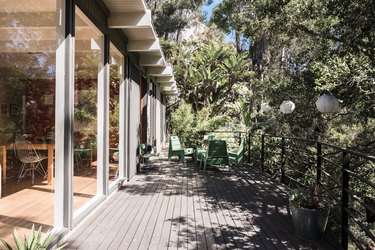 And why wouldn't you bring work home with you, in Lane's case, as the firm is known for its inventiveness. Take the familiar-looking chairs created by Hank Koning on the couple's spacious deck, essentially his take on an Adirondack. You can find the stylish furniture on the farmers market patio as well, but unfortunately not for sale; KoningEizenberg sold the design to them when they completed the historic market's redesign in 2002.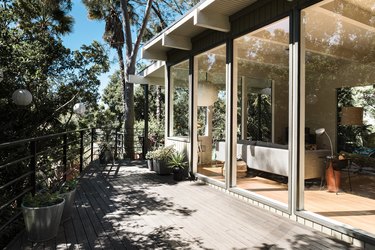 Of course the most priceless aspect of the home is its location, location, location: it's a 25-minute walk to the Hollywood Walk of Fame and a pleasant 45-minute nature hike to the Hollywood sign or Griffith Park. It's truly the Hollywood dream, admits Lane: "We live in one of the most recognized places in the world, yet we have this little oasis."
While some may tire of the constant traffic to the Hollywood sign, being near it still excites them. "I'm intrigued by things built on hills, especially signage and graphics," shares Lane. "I think we both relate to that, and there's a little architecture in that sign, the typography and how it's built, and for Lucy, what those letters are and how they dance around up there ... it never gets old."