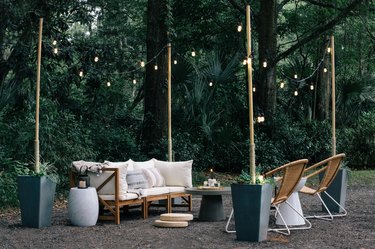 Having a small outdoor space is significantly better than not having one at all, but the challenges of figuring out what to do with the limited square footage can pose a problem of its own.
Our suggestion? Allow your lifestyle to inform how you should use the area. If you're a seasoned entertainer or enjoy dining outdoors, a quaint bistro table with a couple of chairs will do the trick. If you have kids and pets, you'll probably want to maximize a solid stretch of grass for games and sports. And if you want the best of both worlds, it's all about striking the right balance by outfitting your space with thoughtful pieces.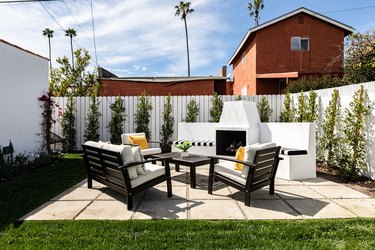 Turn your small backyard into a multipurpose space by sectioning off dedicated zones for leisure and play. Something as simple as placing an outdoor rug beneath the sitting or dining area can instantly pull a look together. If you're working with all grass, adding in pavers for a concrete platform leaves the remaining green as ample room for the little ones to roam.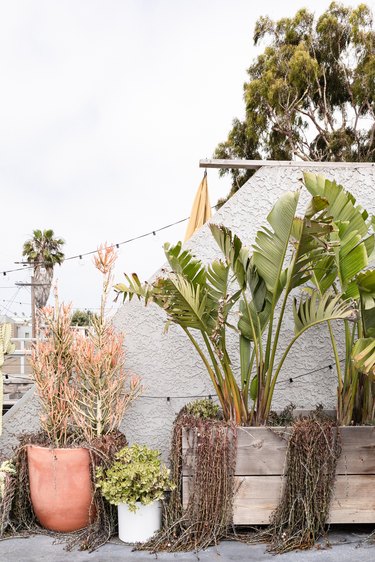 Few elements have the decorative prowess to really bring a space together like live greens and vibrant florals. Yes, you may be outdoors and surrounded by nature but there's really no such thing as having too many plants. Even better, use them to conceal an unsightly fence and exterior (pair a planter with a trellis and grow some climbing vines or roses) or as a de facto border between two zones.
3. String lights for ambiance.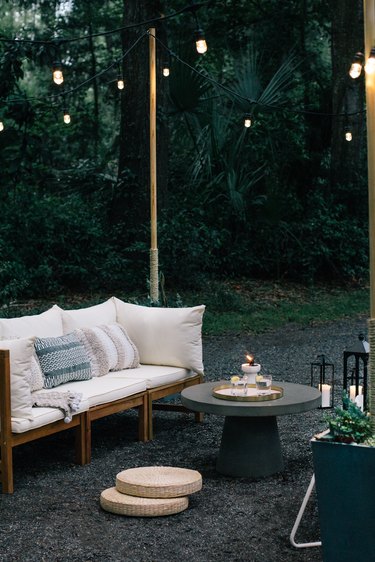 A little lighting can go a long way and something as simple as stringing a series of bulbs above your outdoor setup can instantly transform the area into a charming, ambient retreat. If you're working with a freestanding plan in the middle of the yard, square off the perimeter with four, or so, planters and use wooden posts to hold up the lights.
4. Put in a pool. (Yes, really.)
Here's proof that you can, in fact, have a pool in a small backyard. Stock tank pools became all the rage this past year and given their relatively affordable price tag, and tiny size, we can see why. Rich and Sara Combs of The Joshua Tree House DIY-ed their own using a large tank and even outfitted it with a water filtration system. Now, even though it's not exactly lap-friendly, on a hot summer's day it will definitely get the job done.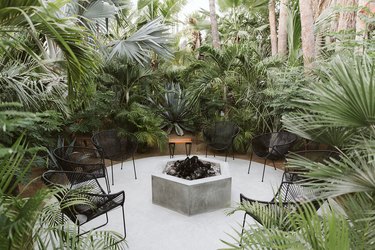 Take advantage of cramped quarters by turning them into a dreamy oasis, very much like this serene landscape design. Surround your outdoor furniture setup (bonus points if it involves a fire pit) with an abundant selection of potted plants to create an intimate respite in your very own yard.
6. Introduce pops of color.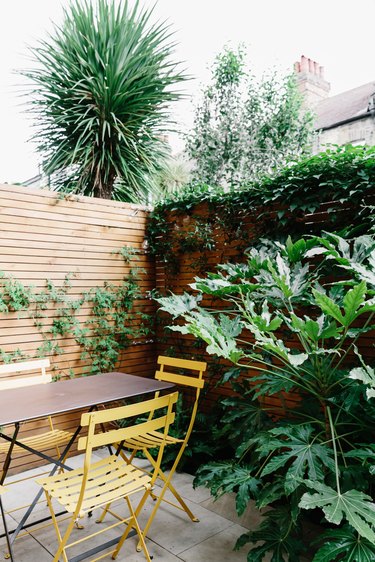 When it comes to small backyard ideas, a saturated or unexpected splash of color can go a long way, serving as the difference between a snoozy design and an eye-catching one. When you're limited on the patio furniture front, take a risk by swapping in a bold accent piece, like the vibrant yellow chairs in this quaint dining area.
7. Consider hanging a couple of chairs.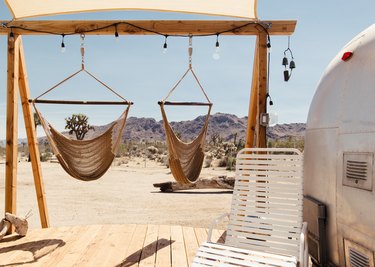 Keep the ground free and clear by opting for a more lax seating situation — a pair of hammock chairs will do the trick. Bring a piece of the desert home with these boho chic beauties, which can be hung up from just about anywhere and offer plenty of opportunities for R&R to boot.
8. Make the bar portable.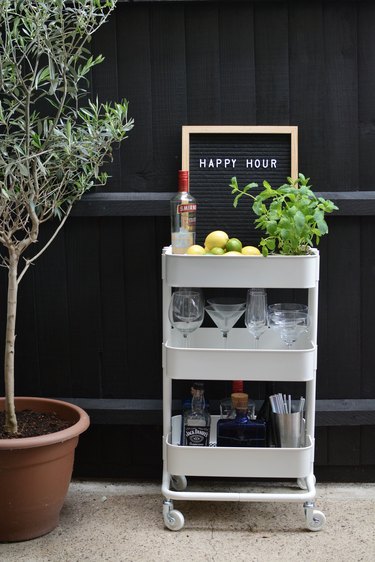 If you're an avid entertainer without the abundant space necessary for a permanent outdoor bar setup, go for a bar cart with casters instead. Make it a compact one (this IKEA utility cart is a favorite) and park it near your seating area for ease and accessibility.
For those who are fortunate enough to live in temperate climates, extending the expanse of your small backyard can be as simple as keeping your doors open. Invest in low maintenance indoor/outdoor furniture which you can easily shuffle between the two spaces — think ottomans, storage carts, and chairs — to create your ideal setting.
If your dream list of small backyard ideas includes a cluster of raised beds filled with produce, but you lack square footage, take to the walls instead. Use a fence or invest in a vertical garden and grow your herbs, veggies, and flowers without having to use valuable ground space.