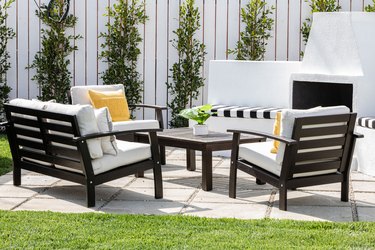 Ah, the patio. Sometimes it's called a veranda or a terrace. And down South, it's called a lanai. Whatever the name for it, we like to think of a patio as your headquarters for outdoor activities.
The good news: You don't need a huge patio to enjoy the outdoors. You may have a small patio for a variety of reasons: Maybe you live in an urban area, or only a portion of your yard is usable. Either way, a gorgeous outdoor living space can be yours even if you have a diminutive patio. With these small patio ideas, you'll be able to maximize your space in no time, complete with chic decor, stylish outdoor furniture, and little touches that will make your small patio your own.
1. Treat the patio as you would any other small living room.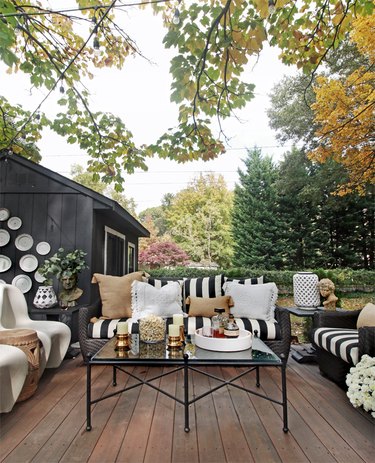 Like we said, a patio can act as a living room for your yard — and not all living rooms are sizable to begin with. If you adhere to a certain style for your interiors, such as farmhouse or bohemian, you can harness that same aesthetic in your outdoor space. Kristin of Hunted Interior has created an artful patio design that could easily transfer to one of her indoor spaces, punctuated with vintage-inspired decor and a black and white color palette.
2. Create thoughtful little nooks.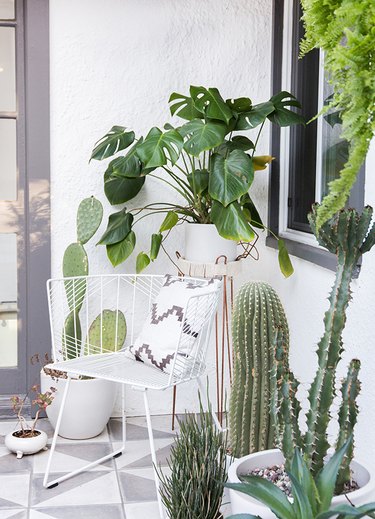 Even if you don't have a huge, expansive area to create your dream patio, we're guessing you at least have a cozy nook or two that will look charming with the right accents. For instance, Sarah Sherman Samuel crafted this sweet patio nook using a modern white chair, a cool throw pillow, and plenty of plants.
3. Maximize a basic patio.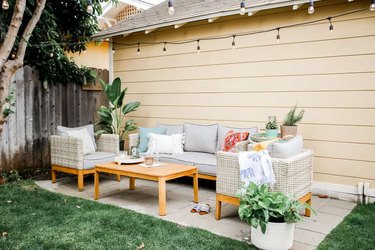 Maybe you only have room for a straightforward cinder block patio —that's definitely OK! Just look at this patio styled by Elizabeth of College Housewife — the furniture may be close together with little room to play with landscaping, but the design is totally cozy, especially with the string lights.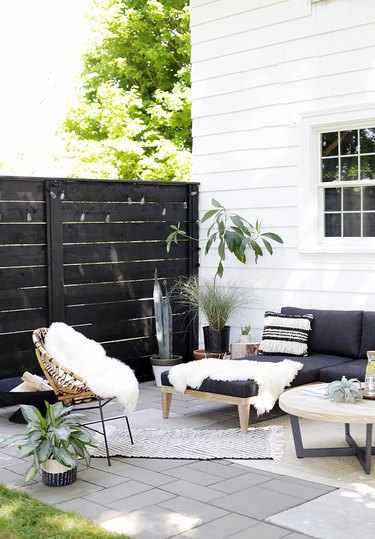 A lot of the principles that work in indoor spaces can apply to small patio ideas. For example, we always sing the praises of layering textures in any space, and a patio is no exception. Even a small patio can handle a lot of texture, because it brings depth and interest to the visuals. This petite patio belonging to Manda of The Merrythought is a study in the art of layering textures: faux fur, stacked area rugs, tasseled pillows, and woven baskets.
5. Truly limited space? Narrow down your party.
You may be tempted to turn your patio into an all-purpose space, but depending on your setup, it might work better if you design an area that's just meant for one or two people — and that's it. If you have a teeny pergola like Kimberly of Swoon Worthy, hang some paper lanterns that look as whimsical and carefree as the flowery atmosphere. You can also incorporate bright punches of color that echo nearby blooms.
6. Use color to define the space.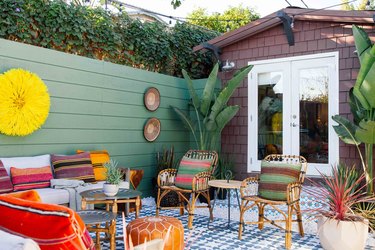 We can't get enough of the sunny colors in this cheerful patio designed by Dabito of Old Brand New — the green paint on the fence helps to define the space. And using tons of color in your design won't (contrary to popular belief) work against you — it will actually help to make the space feel fuller.
7. Search for bistro-sized furniture.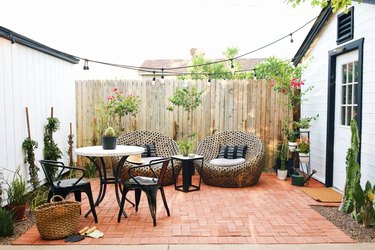 With a small patio, you may think you won't be able to fit much of anything — and you would be wrong. Actually, if you choose the right pieces, your small patio won't be cramped at all. Instead of a full-sized table, choose a bistro set with just two chairs instead, something that Robert and Christina of New Darlings did on their patio. They even had enough room left over for two modern chairs perfect for lounging.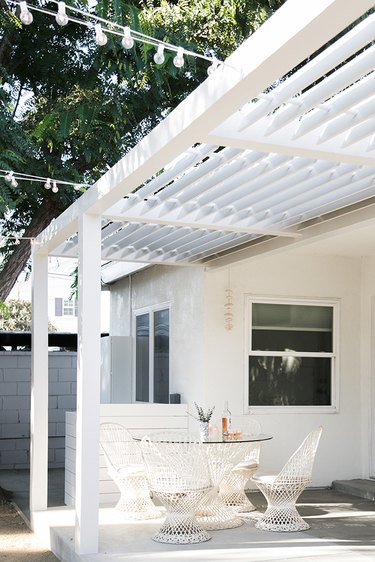 If you're on a budget, or just completely overwhelmed by options, keeping your decor sparse, monochromatic and simple will make your patio feel more stylized (and, in some cases, larger). This patio setup by Molly of Almost Makes Perfect is airy with lots of room to move and savor an ​al fresco​ dinner.
---
Shelby Deering is a lifestyle writer who contributes to national magazines and websites, including Country Living, Good Housekeeping, Well+Good, and more. When she's not writing, you'll find her shopping flea markets, hiking, and going for walks with her corgi.
View Work