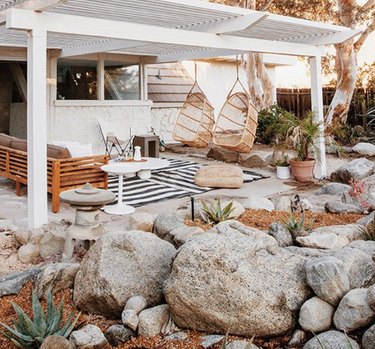 When the spring and summer seasons come around (as they do each year), people tend to think about modern pergolas and ways to revamp their outdoor space. You should too. Even if you have a bad case of the winter blues, a backyard refresh can give you something to look forward to. Just picture yourself sipping on some sangria while your pergola offers the perfect protection from the sun's rays. Your mood may change instantly.
How do you perfectly create the most relaxing indoor-outdoor living situation, though? Unfortunately, you're going to need more than stunning outdoor furniture and good lighting. But we have the answers and so much inspiration for the modern pergola of your dreams. Warm nights and easy-breezy days outdoors are just moments away.
1. A Touch of Tropical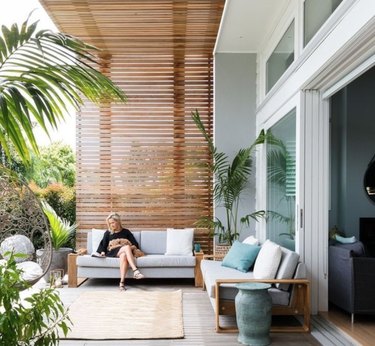 Sometimes, a modern pergola can be both simple and spectacular. Take this outdoor nook from Lili in Wonderland (talk about feng shui!). The natural colored wood slats add just the right amount of shade, the upholstered couches are perfect for lounging, and the outdoor rug makes the space feel transitional.
2. Make It Metal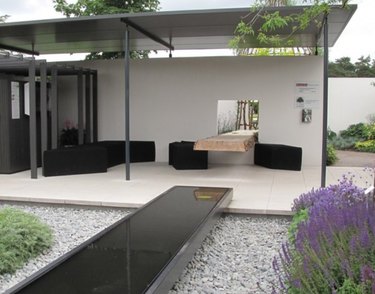 Instead of using an expected material like wood for your pergola, why not use a coated metal and wood combo for some serious midcentury modern vibes? This space is zen to the zillionth. And we won't even get started on that narrow reflective pool.
3. Reclaim It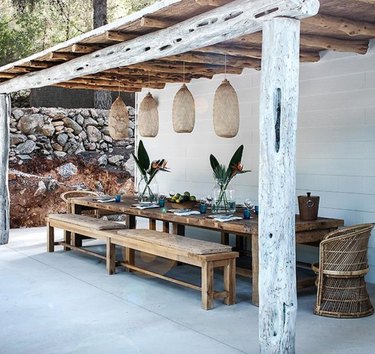 Use reclaimed or recycled wood for a sustainable and gorgeous rustic area like this outdoor dining area from Caroline LeGrand Design. We're loving the four matching pendant lights that hang overhead.
4. Bring in Some Black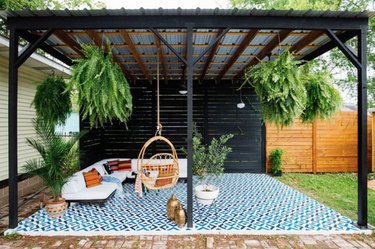 What was once a rundown shed was reimagined as the perfect modern pergola from Old Brand New for serious siestas and hang time. Add colorful textiles and hanging plants to your own outdoor space to get the same vibrant garden look.
5. Channel the West Coast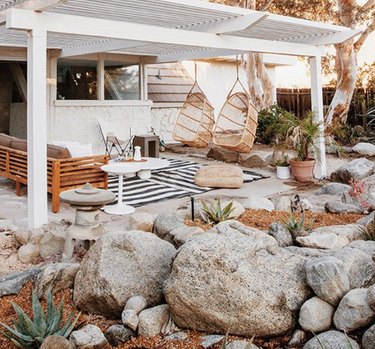 Designer Sarah Sherman Samuel has us California dreaming with this outdoor room. Don't be afraid to decorate your outdoor space the same way. Go for a desert oasis vibe with hanging chairs and neutral-toned decor to match.
6. Carve out a Nook
If you're limited on outdoor space, this design from Swoon Worthy just might help you out. You too can turn your porch into a pergola. Then add durable furniture and lanterns for outdoor reading and people watching.
7. Go Bold
If your yard gets a lot of sunshine, you should do two things: Have plenty of shade and throw plenty of outdoor parties. We love the idea of using brightly-colored Sunbrella fabric with metal framing to bring some boldness to your outdoor space.
8. Keep It Light and Bright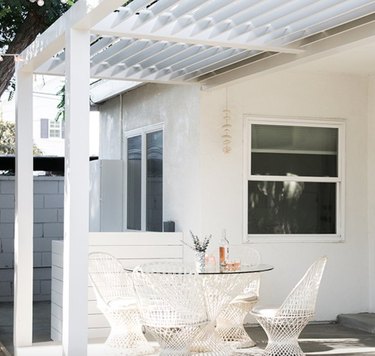 Want another way to bring some modern vibes to your small pergola? Keep the structure and accompanying furniture monochromatic. We like this simple approach from Almost Makes Perfect. An all-white color scheme makes everything feel that much more stylish and spacious.
9. Less Is Always More