We may earn compensation through affiliate links in this story. Learn more about our affiliate and product review process
here
.
For most of us, good friends are the ones who show up, listen, and don't judge. But when Finery's Greg Sato purchased a Los Angeles home that's rumored to be Greta Garbo's former dressing house, his friends took it a step further: They helped customize, well, almost everything.
If, as rumor has it, Garbo indeed had such a pied-a-terre in L.A.'s Silver Lake neighborhood near what was once the original Disney studio, one would think it'd be glamorous. But when Sato first purchased the 1925 cottage in question, there were random built-ins, unseemly tile choices, and a backyard covered in overgrown brush and Astroturf. Fortunately, Sato's a seasoned brand marketer and co-owner of Finery, a company that makes decidedly un-uniform uniforms for staffers at cool spots like The Line hotel in Koreatown and The Parker Palm Springs—which means he has not only a firm grasp on his aesthetic, but a long list of friends who do custom work.
"My friends all have a bit of ownership here." - Sato
A perfect example of what good friends can accomplish together is Sato's backyard. He wanted the garden to be a central gathering place, so David Godshall of landscape company Terremoto—whom Sato first met when he was overseeing Levi's entertainment marketing—designed the steel-and-rope pergola. Another friend, Zak Hawthorne, of Coupler Mfg Co., built it. Dinner parties now take place at the custom table by yet another friend, Aaron Johnson of Aconcepts. Sato got his hands dirty as well: He did all the landscaping himself, and gave a discarded fire pit from Target new life with the addition of I-beams. "Now it looks legit," he says.
Sato doesn't have a precise name for his décor sensibility—"Polytheistic," he says a few days after he was first asked—but it's always personal. He's filled his home with things he loves, as opposed to following one era or design philosophy— an approach that mirrors his work with Finery. "We always ask ourselves, 'Is this something my friends would wear?'" Sato says. "The worst thing is looking like you tried really hard, or tried to follow a specific trend. I guess, in a loose way, that's how I put my house together."
The photographs throughout the home are of favorite places, including Joshua Tree and the High Sierras. And the books on the shelves are not just for show. Says Sato, "You could point to any book, ask why I have it, and I could say that because it's about dinosaurs, that's about men's style. I have ten volumes from the '30s about how to be a better person in terms of manners and etiquette. That's fascinating to me." He adds, "Some people are like, 'You're a hoarder!' And I'm like, 'No, no. It's called discerning collecting.'"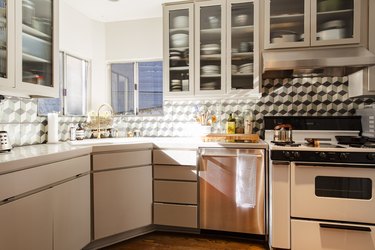 More custom pieces can be found in Sato's bedroom. The bench is also by Johnson, whom Sato met back when he was doing marketing at Fiji water. The neon light over the bed is Sato's own design. "It says, 'I loved you,' but the 'D' is purposely not lit up, because I never really know if my love is past or present."
Love is a tricky business, but Sato's bonhomie is without question. When it comes to the circle of friends who collaborated with him on the house, the door is always open. "Everybody has a key and the code and they can come and go as they please," Sato says. "If I'm not here, you know how to get in." We'll be right over.