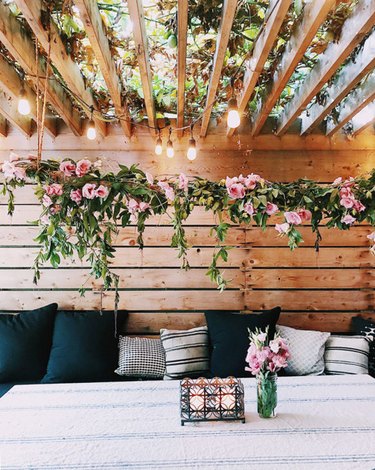 Sitting inside your home, staring out of the window at a dull and lifeless backyard can feel a little disheartening to say the least. Patches of overgrown weeds, piles of dirt, and a few pieces of mismatched furniture aren't exactly the things that garden parties of the year are made of — frankly, you'd rather just stay indoors and avoid the eyesore altogether. This is no way to live. Whether you daydream of dining under the stars or lounging by a warm, crackling fire, there is a dreamy outdoor structure that can transform your backyard into an oasis that you and your loved ones can enjoy for years to come. Here are nine drool-worthy spaces that are certain to inspire your exterior makeover.
1. Pergola With a Pop of Color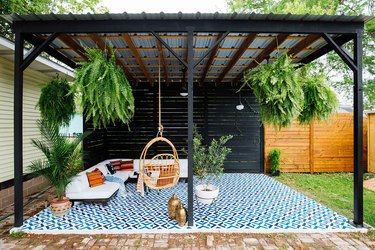 A standard wooden pergola wouldn't cut it for blogger Dabito from Old Brand New. His black outdoor structure stands bold against the walnut-stained fencing. Using stencils to paint the concrete floor in bold blue hues tied the look together with an inspired touch of modernity.
2. Breezy Greenhouse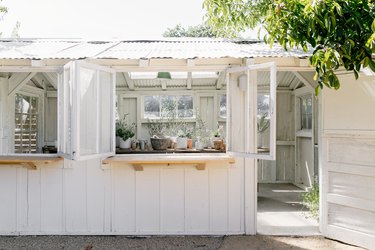 An airy, white backyard greenhouse is the perfect place to turn your black thumb green. This sunny outdoor structure, located just north of L.A. at Bodega Los Alamos, is filled with potted plants and thriving succulents.
3. Outdoor Living Room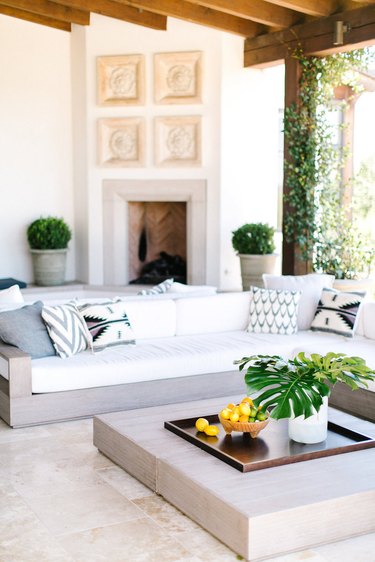 Bring the indoors out with a luxurious outdoor living room like blogger Camille Styles. Complete with rustic ceiling beams, a comfy sectional, a low-height coffee table, and even a crackling fireplace, this dreamy setup is the perfect space for lounging under the sun or the stars.
4. Relaxation Station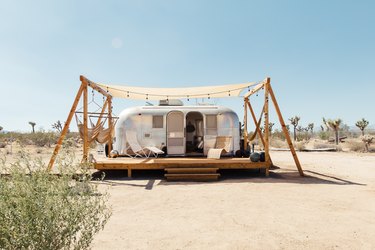 Take notes from this Airstream in the middle of Joshua Tree and add a minimalist chill-out porch to your backyard. With a canopy and a few hammocks, you'll find it hard to leave this shady oasis.
5. Grown-Up Swing Set
Miss the days when you would spend hours on the playground swing set, swinging to your heart's content? Well, this is sort of the grown-up version of that ... without the swinging, of course. Follow Sarah Sherman Samuel's lead and indulge your inner child by spending a lazy afternoon basking in the sun in a set of woven hanging chairs.
6. Creative She-Shed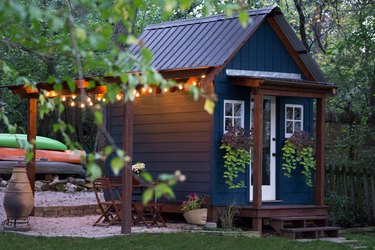 Ever feel the urge to just get away? Escape to a little respite all your own? Enter artist Rachel Roe's charming backyard she-shed (or more accurately, her art studio ... but you get the picture!).
7. Backyard Glamping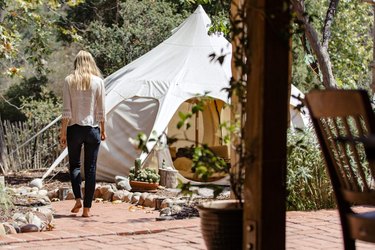 Want to get away but lack the time to drive into the wild? Create your own glamping experience — without leaving home. Tucked away in this couple's California backyard, a canvas tent makes the ideal spot for a cozy staycation.
8. Alfresco Dining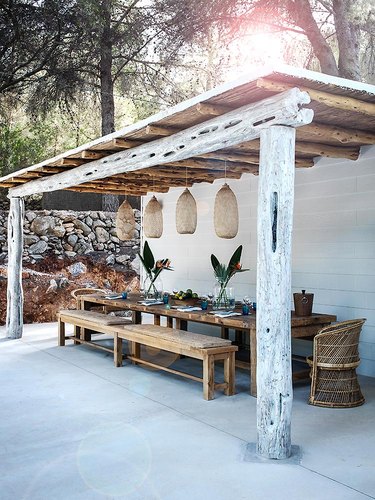 Let Mediterranean style inspire your future outdoor structure. Create an alfresco dining room like this boho-chic space designed by Caroline Legrand. We're pretty sure even the simplest meals will feel like you're dining at a fancy resort.
9. Garden Party Goals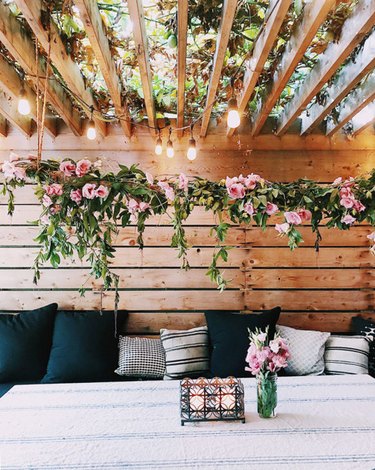 Or, you can opt for a backyard dining experience that feels a little more intimate like this lovely space belonging to Victoria Smith from SF Girl by Bay. Warm wood, string lights, lots of throw pillows, and suspended florals are all of the ingredients necessary to throw the perfect garden party.