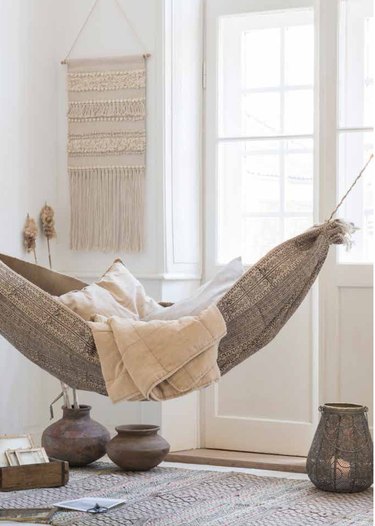 The world's most simple contraption for lazily reclining — the hammock — is one of the few things in life that recalls only good memories. Summer breaks spent reading The Babysitters' Club in the backyard; cheap beers and breezy beach naps; sleeping under the stars, high above ground, slung between tree limbs deep in the wilderness.
Your current abode needn't have outdoor space to enjoy the comfort, relaxation, and undeniable good vibes of a hammock year round. In fact, this adult cocoon is often easier to set up indoors — slung between two beams or posts or hung from the ceiling — and can be taken down in a jiffy. Still not convinced? Bring on the indoor hammock porn!
1. Hang your hammock near a sunny window and some plants and it'll feel like summer year-round.
2. Hang your hammock high above the ground to keep it out of the way when it's not in use.
3. Use your indoor hammock as storage for extra throw pillows!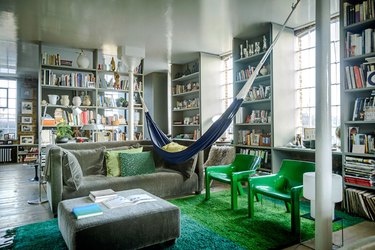 4. Live in a big open loft? Hang your hammock in between "rooms."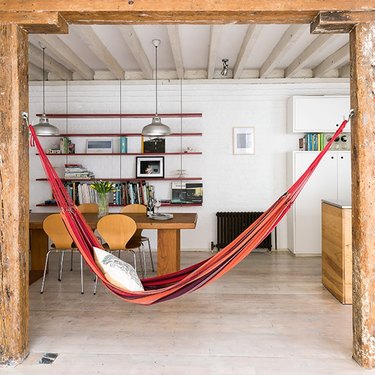 5. Hanging a hammock in a corner, with the ends hooked to perpendicular walls, will make the room appear wider than it actually is.
7. Make better use of long, narrow spaces by using a hammock as the perfect reading nook.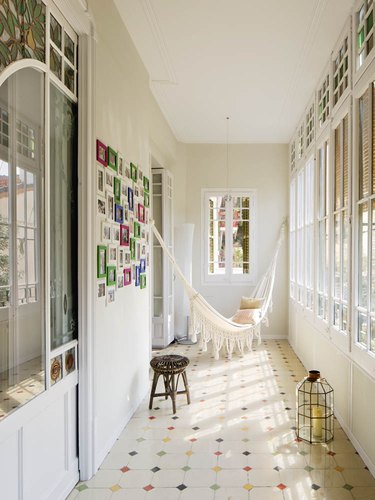 8. Maximize the hammock's beachy aesthetic with the addition of ocean-inspired decor.