Some of our favorite memories happen right in our own backyards: Friday night gatherings under the stars with family and friends; morning coffee on the front porch; girls weekends around the pool. The possibilities are endless when the exterior of your home feels just as warm and inviting as the interior. That's why we're fully on board with investing a little time and energy into a fresh air oasis that functions perfectly for you and your family. Today, we're sharing how to do just that with outdoor furniture and decor ideas, plus where to shop for accessories.
Outdoor Furniture Ideas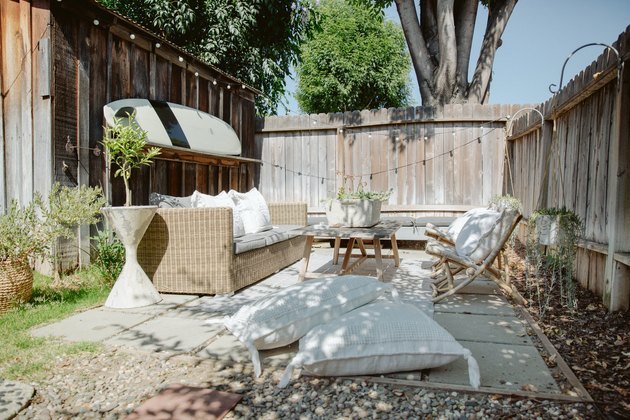 The size of your space will ultimately dictate the type of outdoor furniture you'll choose, but in general, designing your outdoor "room" is quite similar to designing your home. When it comes to layout, function is key.
If you have an outdoor space that you'd like to use as a lounging and conversation area, consider prioritizing comfortable seating, like a large sectional sofa (or a small settee for a more compact layout). A good rule of thumb is to provide enough seating for you and your family, plus a couple of additional guests. Adding a side table or two to easily set down drinks or plates will also make your space more functional for entertaining. If designing a patio, consider creating a circular conversation area with Adirondack chairs centered around a fire pit.
If you plan to use your outdoor area exclusively as a dining space, then you'll want to include a dining table and chairs, and possibly a simple food prep or bar area. This can range from a small bar cart to a larger outdoor kitchen, depending on space and budget.
If you're one of the lucky ones who happens to be designing your outdoor furniture layout around a backyard pool, consider adding several loungers that allow you and your guests to lay out comfortably with a cocktail (or mocktail) and a good book. Throwing in a few accent tables plus a couple of umbrellas to provide relief from the hot sun are ideal ways to complete the look and feel of your outdoor space.
Outdoor Decor Ideas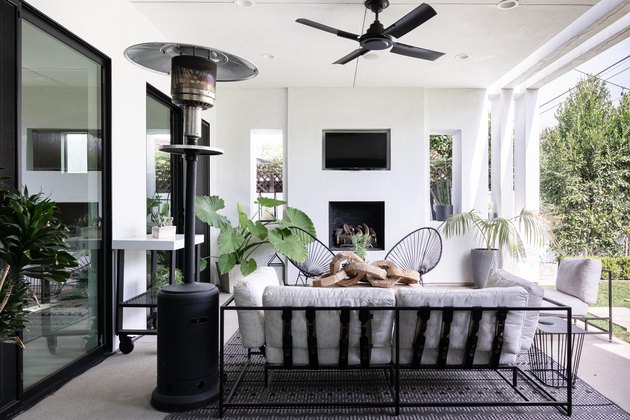 Add an indoor/outdoor rug to create a cozy layer that defines and grounds the space. Then, layer in additional patterns and textures by adding accent pillows to your seating areas and linens on your dining table. (Of course, you'll want a safe place to store these items during winter or stormy weather.)
Finally, layer in ambient outdoor lighting that will make your space feel like a chic hotel lounge. String twinkle lights over a seating area or dining table, or hang lanterns with LED candles from tree branches.
Outdoor Furniture and Decor Trends
When it comes to current outdoor trends, it's all about casual and relaxed gathering spaces. You can truly bring the look and feel of the inside of your home outdoors with layered textiles and plenty of accessories, so don't hold back on the details. Boho decor and rustic gardens are perfect for achieving an elegant and pulled-together look that still gives off an easy, effortless vibe. Consider trying something new like a floral chandelier, a stock tank-style pool, or a concrete fire bowl. You won't regret it.
Where to Shop for Outdoor Furniture and Decor
Now that we've given you a few things to think about, it's time to go shopping. Here are a few of our fave retailers to get you started.
A one-stop shop that carries everything from patio sets to pergolas. Thanks to its large range of products, Wayfair caters to most any budget, making it an ideal starting point for creating your outdoor space from scratch.
The perfect place to find whimsical outdoor decor with a rustic, bohemian slant. From inventive lighting to modern fire pits, you can't go wrong with Terrain for outdoor living.
Pottery Barn makes an ideal choice for classic, timeless outdoor furniture that will stand the test of time and move with you from home to home. With options ranging from small patio chairs to oversize outdoor sectionals, you'll easily find exactly what you're looking for.