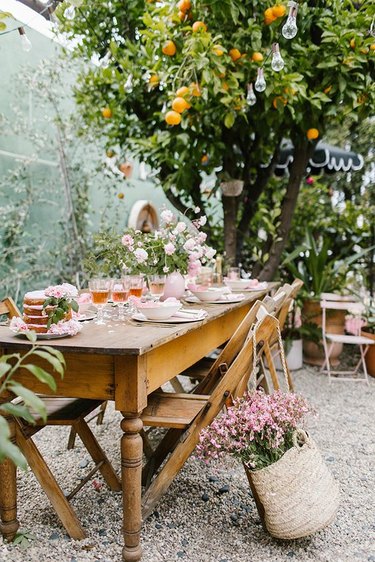 Give us the slightest bit of sun and you'll find us in the garden laden with a woven beach hat, sunnies, and a vat of iced tea — there's nothing better than a party for one, or is there? A garden party with your nearest and dearest is a surefire way to enjoy those warm summer nights, and whether you're hosting for six or 20, it's all about the memories you create with your loved ones. So make the most of the balmy weather and follow our tips to get your garden ready for stylish outside entertaining — it's time to party!
1. Go boho with your seating.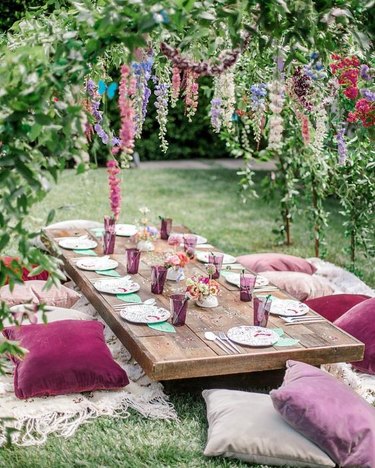 We find that one of the biggest panics when hosting any kind of party is not having enough seating. Don't worry; we've got the answer! Give your garden party a bohemian vibe by placing large cushions and poufs on the floor — the more colorful, the better. For larger parties, opt for a single long table (as shown in this outdoor setting created by Jacqui from Deets & Things) where guests can gather round and share food in a more relaxed setting.
2. Take your rugs outside.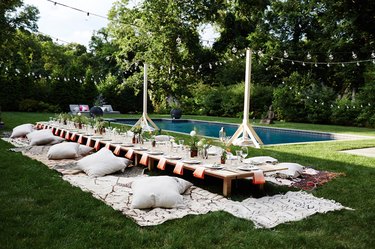 Continuing with the theme from tip numero uno, rugs are a great way to create a bohemian garden wonderland and can cover any unsightly patches of grass (or add color and pattern to concrete). Bring the inside out (not normally something we find ourselves saying) and layer vintage rugs over one another just like Athena of EyeSwoon to create the ultimate Moroccan aesthetic.
3. Turn plants into a centerpiece.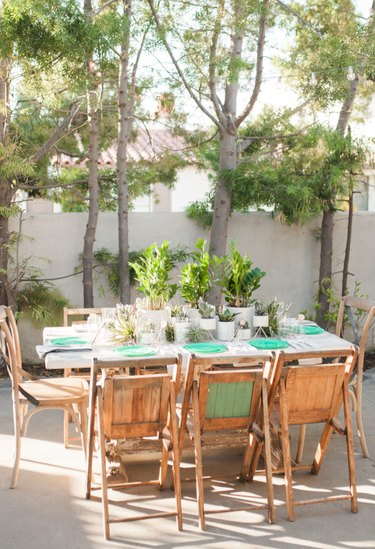 Make use of what you already have in your garden and use plants, flowers, or foliage clippings to decorate your table. Centerpieces can be tricky to get right but an urban jungle is guaranteed to get your guests Instagramming. Christy from Flora created this Super Bowl-themed tablescape for Beijos Events that made use of mini goal post containers and lots of greenery. Doesn't it look great? Plus, you could even give each of your guests a small plant as a party favor!
4. Make party garlands.
Homemade garlands are budget-friendly and can still make impact. Deck out your garden party with paper pompom decorations, handmade bunting, or paper streamers to add a little bit of fun to the party. Or you could even turn it into a DIY activity for guests (especially the kiddos) during the festivities. Hang them from trees, window frames, and even washing lines to create a cozy party vibe.
5. Hang flowers for maximum impact.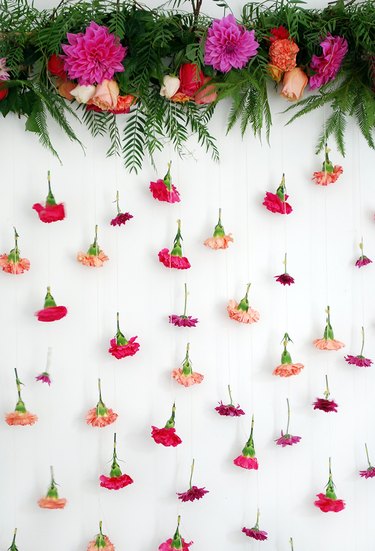 We've never seen an assortment of hanging flowers that we didn't like, so keep your box of craft supplies out and go in on a DIY floral wall hanging that will make the perfect party backdrop for some memorable photos. This tutorial by Lisa Tilse is super easy. Don't forget to keep the disposable camera nearby!
6. Set up an outside bar.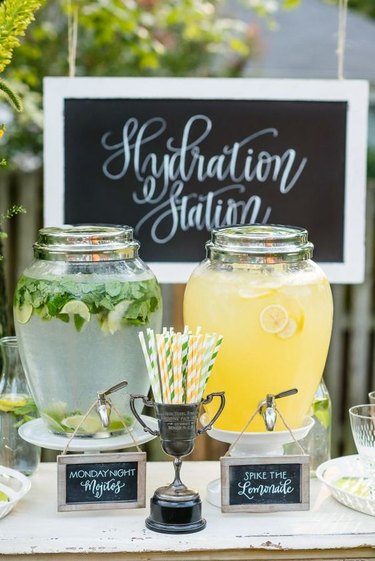 Is a party really a party if the drinks aren't flowing? Set up an outdoor bar, like this "Hydration Station" designed by Janice from Bellwether Events, where guests can help themselves to pre-made cocktails, soft drinks, or mocktails. Large drink dispensers are a great way of preparing for the occasion and can look brilliant when filled with fruit or edible flowers.
7. Don't hold back on the ice.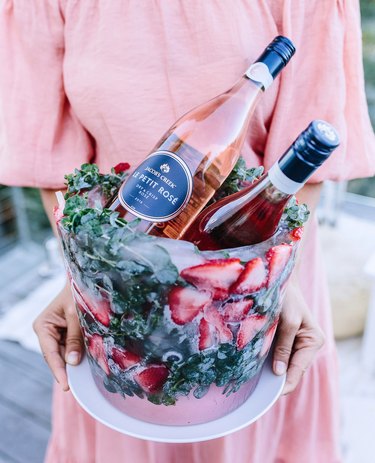 While we're on the subject of drinks, here's a unique and festive DIY: Geneva from A Pair & A Spare created this frozen ice bucket with some fruit and flowers. The tutorial might be simple, but the outcome is impressive and will have all of your guests making room in the freezer for their next shindig.
8. Light it up.
Add a touch of magic to your garden setting with fairy lights and candles, like this tablescape from Gatherings by Elle, while also keeping the party going well after the sun sets. Tea lights and lanterns can be used as table centerpieces and, if you're feeling really fancy, you could even use a scented version to add to the dreamy ambiance.
9. Keep the food simple.
Did someone say pizza oven? You don't want to be running around catering to your guests all evening so follow the lead of Kasey and Matthew from Turntable Kitchen and make it easy on yourself by opting for food that can be prepared with ease. In this instance, you could even get your guests involved with decorating their own pizzas!
10. Go all out on a dessert table.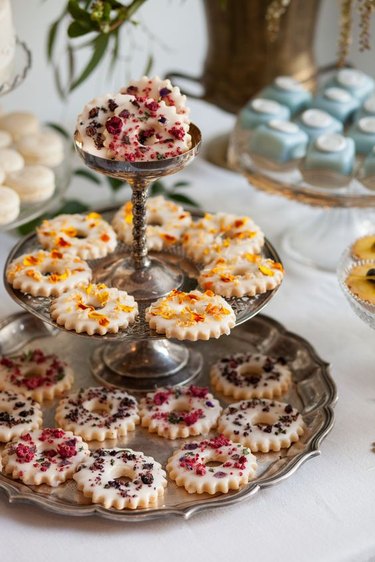 Everyone loves a dessert table, don't they? Go all out with yours like the spread at this wedding reception and opt for all of your faves: macaroons, meringues, cookies, tarts, mini eclairs, the list goes on. Place them on vintage platters and cake stands, and create little signs so that your guests know exactly what they're digging into.
11. Organize lawn games.
One way to ensure a good time at your garden party, especially after you've fed the guests, is to provide yard games. Think croquet, jumbo chess, hula hoops, and Frisbee. There's nothing like a little bit of healthy competition to break the ice between guests and have them laughing all evening.
12. Pick a color scheme and stick to it.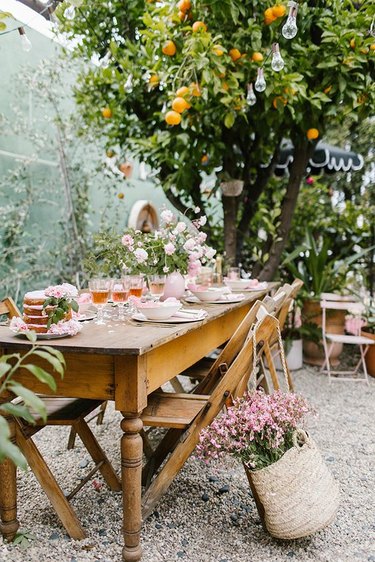 One of the most effective ways to create a stunning yet fuss-free outdoor party is to choose a color scheme and stick with it. It's the simple things! Kate Martindale recently hosted a rosé tasting party and kept to the theme with pink napkins, pink glasses, pink plates, and pink bowls on the tabletop, complemented by rustic wood furniture, vibrant green and yellow hues from a nearby lemon tree, and the gravel landscape. She finished the natural and organic look with pink flowers and a cake complete with pink icing, of course.