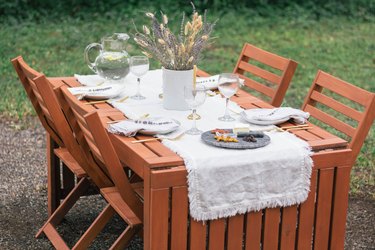 When scrolling through home design inspo online, we've all come across images that have made us want to recreate the same look in our own space. (Whether we actually follow through, though, is often a different story...)
DIY content producer Trisha Sprouse was struck with such inspiration when she found a picture of a beautiful wood table set for an outdoor dinner party, and decided she wanted to tackle the project for her own family.
"Now that the weather is warming up, we've been spending a lot of time outdoors," Sprouse says. "My husband and I are big fans of al fresco dining, so we figured now was a great time to spruce up the ole patio furniture. It was in solid condition, but the original stain had been completely weathered."
The good news for those who struggle with the follow-through portion of their inspired ideas is that when it comes to DIY projects, staining outdoor furniture isn't all that complicated — assuming you have the right supplies, like those from Behr®️ Paint.
But don't just grab a paintbrush and skip straight to staining — there are a few steps to check off first.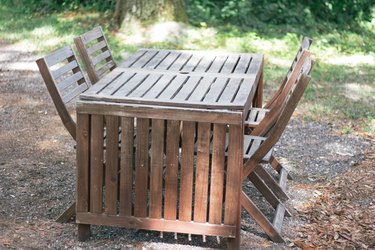 Drop cloths
Rubber gloves
Protective eye wear
Stiff bristle brush
Paint tray & liner
Paint roller
Water hose with high-pressure nozzle
Pump sprayer
Sandpaper
Stir sticks
Brush (2"-2 1/2")
Step 1: Remove the previous coating
Before you can give your furniture a nice fresh coat of stain, you've got to get rid of the old stuff (and this part is super important). Sprouse suggests first placing drop cloths down to protect your work surface and any nearby items or plants (the goal is to stain your table and chairs, not your grass).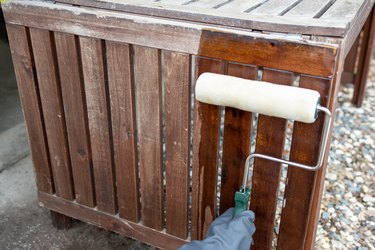 Step 2: Scrub it down, then rinse
Let the stripper sit for 15 to 45 minutes (depending on the adhesion of the previous coating), then scrub the surface using a stiff bristle brush to lift old stain off the wood. Then, rinse your furniture with a water hose and high-pressure nozzle.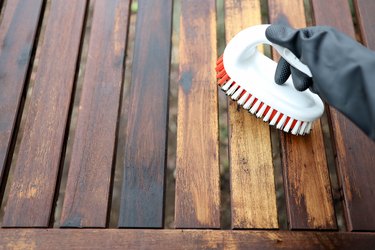 Step 3: Clean the wood surface
Time to stain? Not quite. Once the wood has dried, dampen the entire surface of your wood patio furniture once more, and pour some Behr Premium®️ All-in-One Wood Cleaner into a pump sprayer (refer to instructions on product, and dilute if necessary). Spread an even coat of the cleaner all over the wood.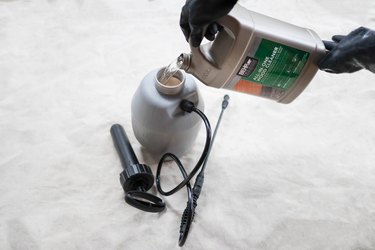 Step 4: Scrub it down, then rinse (again)
Let the cleaner sit for about 15 minutes, and then scrub the surface with a stiff bristle brush to get rid of any debris on the wood and to create a nice, clean surface for your stain. Rinse your patio furniture thoroughly.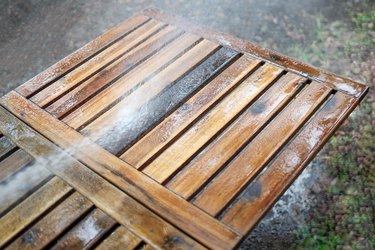 Any loose splinters in the wood are likely gone thanks to all the scrubbing. So now it's time to sand any rough areas or areas with raised grain on your patio furniture, and wipe away the sanding dust.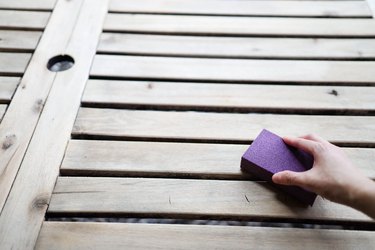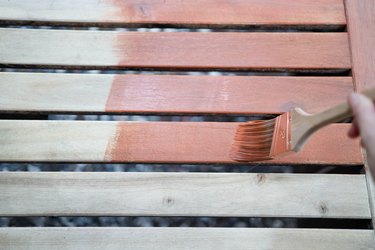 Once the stain has fully dried — be patient, you don't want to sit down on a still-wet newly stained chair — it's time to add in accessories to put the finishing touches on the al fresco dining oasis you've been dreaming of. Then, sit back and enjoy your handiwork.