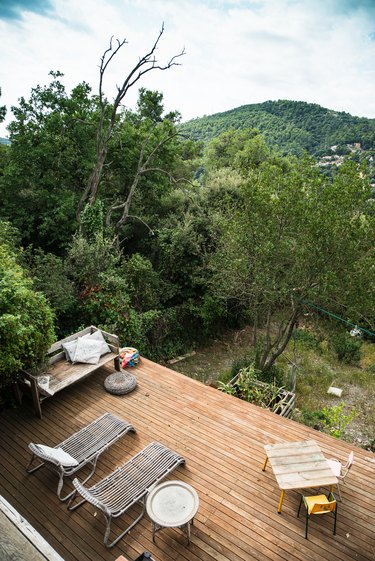 The right deck stain can not only completely make over an old, tired deck — brightening it up and adding a big dash of color to the yard — but it can also add a layer of protection to what is likely your biggest outdoor structure. Because your deck is constantly exposed to all of the elements, a deck stain can protect it from sun and moisture damage like mildew. After the laborious process of choosing the right deck stain, you'll need to learn how to stain a deck, which isn't as cumbersome as it may seem. By following a few steps, you can have your old deck looking like new in no time.
Exposure to sun, rain and snow can cause your deck wood to crack and splinter, but if you apply deck stain on a regular schedule, you can minimize wear and greatly prolong the life of your deck. Some people mistake a sealer for deck stain, but while sealer does protect against moisture, it won't protect against cracking and splintering.
Deck stain should be applied every one to three years depending on factors such as the type of stain you use, the type of wood, the weather conditions and the amount of exposure your deck endures. Most new decks can be stained right away, but pressure-treated wood will need to dry for one to three months before stain should be applied.
Before you figure out how to stain a deck, you need to choose the right deck stain. Each stain has its advantages and disadvantages, and there are several types of deck stains with differences in durability and appearance. You might need to use a different type to stain a brand-new deck than you would for an older one. For example, if your older deck has already been coated with a solid stain, you can't apply a clear stain directly on top of it. Conversely, a solid stain can be used over any type of stain.
Among the deck stain types, a clear stain allows a premium view of the wood grain, but it provides very little UV protection in comparison to the other stains, while toners have a light color but also provide a nice view of the wood grain. Both clear sealers and toners are better stains for newer decks or decks that aren't very weathered. For slightly more weathered decks, semitransparent stains provide a durable covering while still showing some of the natural grain. Solid stains are the closest to paint in color and texture and offer the most durability and protection.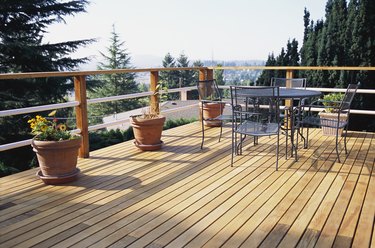 You'll need at least two consecutive days of dry weather along with temperatures between 50 and 90 degrees Fahrenheit to apply deck stain. If it has rained recently, you'll need to wait 24 hours or until the wood is completely dry before starting, otherwise the stain won't adhere properly. Applying deck stain in low humidity is helpful because it allows it to dry quicker. If it's possible, apply deck stain when there is the least amount of sunlight on your deck because direct sunlight can cause the stain to dry before it is absorbed completely into the wood.
Before staining, you'll need to remove all deck furniture and other items, like plants, from the deck. Once the deck is clear, you'll need to clean it thoroughly because deck stain and even sealer will not apply properly if the surface is not clean. Sweep the deck to remove any dirt, twigs and leaves, cleaning the small gaps between boards with a putty knife. You can sand any badly splintered areas with sandpaper. Then, clean the deck using a deck cleaner, which can either be applied with a roller or a pump sprayer depending on which type of product you purchase. An alternative to a deck cleaner is to give it a quick rinse off with a pressure washer.
Decks usually need to be sanded only in areas where the wood is rough, splintered or damaged. However, railings can often benefit from a quick sanding to restore splinter-free smoothness. Remove all sanding dust from the surface before staining the deck.
If your deck was built before 2004, check to see what type of wood was used. Some decks constructed before 2004 used wood that was pressure treated with a harmful chemical intended to prevent rotting and insects. If this type of lumber was used to build your deck, the dust from sanding it can be dangerous. To be safe, contact a professional for this stage of your deck-staining preparation.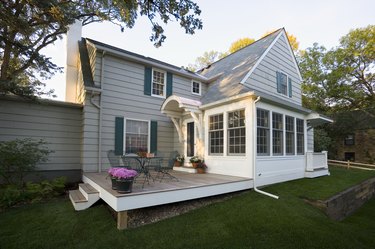 Knowing which types of paintbrushes and rollers to use are a key part of learning how to stain a deck. Synthetic brushes hold up well when spreading a water-based stain onto your deck, but brushes with natural bristles may become limp because they can absorb the water. With a larger deck, you may prefer to use a roller with an extension handle to spread the deck stain. Use a roller that is 1/4 inch thick or less to make sure the stain is spread in a thin layer. Another popular option is an extension pole with a synthetic painting pad designed specifically for stain.
One of the most important things to know about how to stain a deck is that deck stain should be applied with even and complete coverage. Don't let pools of stain dry on the surface. With most stains applied to a deck that's in decent condition, only one thorough coat is needed, but you have the option of adding a second coat if you want to darken the finish to help hide blemishes or visible wear. Follow the stain manufacturer's recommendations for coats and application tips. It's usually best to work from the top down, staining the railings and balusters (spindles) first. Then, do the deck boards.
When using more than one container of deck stain for the job, mixing them together beforehand can provide a more even color and consistency. If you have a helper, have him use a roller behind you to spread any uneven coating or puddles. Along with ensuring a thin, even coat of deck stain, this will help to speed up the process, especially if you have a large deck.
If you're applying a second coat of stain or making touchups, allow the first coat to dry for at least four hours before applying the second coat. You can use a brush to go over any difficult areas that you weren't able to get the first time around, such as corners, edges and cracks. Be sure to allow the deck to dry for at least 24 to 48 hours before walking on it and moving furniture back onto it. The deck stain will dry quicker in sunlight, while high humidity may increase the drying time.