Tired of looking at the same old deck? Changing the stain color can renew the look of your wood deck, but you'll need to remove the old color first. Browse deck colors to find one that fits your preferences and backyard surroundings to get started with this do-it-yourself project.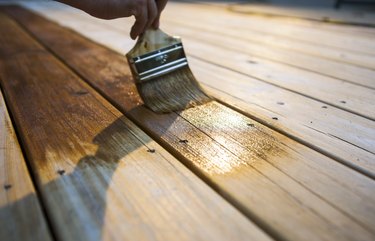 Fix Deck Damage
Before you start work on the stain itself, check out the deck to make sure all the boards are in good shape. This is a good time to replace any damaged or rotten boards. You can also pound loose nails back into the boards to make sure your deck is sound. You also need to clean your deck well before you start any work on it. Even if your deck looks fairly clean, it likely has some dirt and gunk on it that needs to be washed off.
Strip the Old Stain
The biggest difference between a normal staining job and changing the color of your stain is this extra step. Your deck needs a clean slate without any previous stain color on it in order for the new stain to look how you expect. Paint stripper works to remove the old deck stain. Follow the stripper instructions exactly to get the best results. Avoid getting the stripper on any landscaping nearby. Cover them with a drop cloth to protect them before you start working. You can also sand the old stain out of the wood.
Whichever option you choose, make sure you remove all of the color across the deck. If you leave any of the old stain in spots, the new stain job will look patchy. Go back over any spots where darker color remains for a consistent look before you start staining. It's a good idea to spray down the deck again, especially if you used a sander, to get rid of any dirt and debris. Now, your deck needs time to dry out before you can apply the new stain. Wait at least 48 hours to make sure the wood dries out well.
Apply New Stain Colors
Deck colors range from traditional red to dark grey deck stain and other colorful options. Before you apply the stain to the entire deck, test out the color you choose on a hidden piece of wood. This lets you see what the stain will actually look like on that type of wood. The undertones in the type of wood on your deck can make the stain look different.
Timing is important when you apply the deck stain. If you stain wood that's in direct sunlight, the stain dries before the wood can fully absorb it. Temperature and humidity also count. Dry weather is best to help the stain dry appropriately. Look for a forecast with temperatures between 50 and 90 degrees Fahrenheit for the best results.
The type of stain you use can affect how you apply it. If you're using a semi-transparent stain, a brush or sprayer works best. For solid wood color stain, you can use a paint brush or paint roller to apply the color. Stir the stain well instead of shaking it, which can create bubbles that transfer onto your deck finish. Roll, brush or spray your new stain color onto the boards in a thin layer, making sure you apply it in an even coat without letting the stain pool on the wood. Keeping a wet edge helps you blend the color well without lap marks. Make sure you get into the cracks of the boards and all other areas on your deck. You may need to use a brush for small, intricate areas. If you want a darker color, wait until the first coat dries and apply another thin layer. Let the deck dry completely before you put furniture back on it.
You have plenty of deck stain colors to choose from when you're looking to switch up the look of your deck. Take time to do the proper prep work before restaining a deck so your new color looks the way you want it to look.