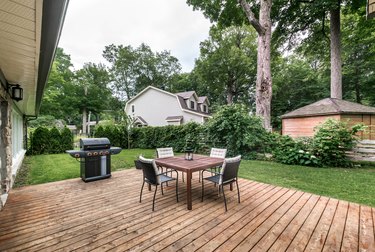 Choosing wood deck stain colors is one DIY task for which every homeowner is qualified, even if you don't do the staining yourself. But a pleasing color isn't the only attribute of a good deck stain — and it's not even the most important. It's actually the ability of a stain to protect the wood, the length of time you can wait before recoating and the amount of wood grain that shows through that are all more important considerations. With the continuous development of new products complicating the decision, it takes some research to settle on the best product for your particular deck given its condition and the climate it has to withstand, but that doesn't make deck stain selection any less of a DIY project, although it's always nice to have a little help.
Deck stains can be water-based or solvent-based, and some are transparent, while others are opaque. Some stains penetrate the wood deeply to protect it from within, and others form a film on the surface. Differences in chemical composition affect performance, ease of application and price, and the optimal product — which isn't necessarily the most expensive one — will not only make your wood deck look its best but it will also make it last longer.
Stain for a Wood Deck in Poor Condition
If your wood deck has seen better days and the boards are beginning to dry out and split, the best stain is probably one that hides the damage. You're looking for a solid stain that allows the wood grain to show through just a little or not at all. Most of the products you'll be checking out will be water-based, which is good because application and cleanup are easier than with oil-based finishes, and there are fewer volatile organic compounds to create odors and fumes.
Stain is not paint. It can leave a paintlike film on the surface of the wood, but its basic function is to penetrate the wood grain to protect it, and you should pay attention to the amount of protection a product offers before you buy it. Today's top-rated solid stain products, such as Restore-A-Deck, Defy Extreme and Flood Pro feature water-soluble synthetic resins that penetrate deeply and prevent deterioration and mildew. You can apply Restore-A-Deck when the deck is wet — in fact, it's recommended — so that's a plus that means you can clean the deck and stain it on the same day.
When your wood decking is new, it looks beautiful, especially if the decking boards are redwood or cedar, and you want to keep it that way as long as possible. You can choose to apply a sealer, which won't change the color at all, or use a stain to brighten the color tint. Both types of finish will penetrate the wood and seal out moisture, but they won't prevent the wood from degrading in intense sunlight and from turning gray. For UV protection, you need a semitransparent stain, which contains an extra dose of pigment to reflect sunlight and protect the vulnerable cellulose cells on the wood surface.
For many years, Thompson's WaterSeal was the go-to product for sealing wood without changing the color, and today, the company offers a semitransparent stain. Thompson's products used to contain paraffin to seal wood, but following contemporary trends, it now contains synthetic polymers, which can penetrate the wood grain even more deeply and are less prone to deterioration. Comparable sealers include Seal-Once Marine, Eco Advance and Olympic Smartguard.
If you're concerned about preventing your new deck stain colors from fading, you might want to add a little pigment, in which case you're looking for a transparent or semitransparent stain, which differ from each other in the amount of pigment they contain. The best transparent stains, such as Cabot Australian Timber Oil, tend to be solvent-based, while the top semitransparent stains, such as Behr Premium, are water-based. Keep in mind that the film left by semitransparent and opaque stains can peel like paint, and when that happens, all UV protection is lost, so choose one fortified with a urethane or synthetic resin for durability.
Applying a Deck Stain Maintenance Coat
No matter which stain or sealer you use, it's going to need to be refreshed at some point because sealers wear off, and deck stain colors tend to fade, allowing sunlight to deteriorate the wood, which in turn further degrades the finish in a vicious cycle. If you want to extend the time between maintenance coats, choose an oil-based sealer or stain because it gives longer-lasting protection than a water-based product. Oil-based stains generally require less prep work, they flow on more smoothly and they cost less.
Most wood decking, whether redwood, cedar, pressure-treated pine or an exotic hardwood like teak or ipé, turns gray fairly quickly under a transparent sealer, and while the use of a transparent stain may forestall this process somewhat, it doesn't halt it altogether. You can often restore the natural wood color by power washing prior to staining, and if you want to maintain the color for as long as possible, use a transparent or semitransparent stain with a matching hue.
There are good reasons not to power wash, not the least important being that DIY power washing can damage the decking, so if you want to skip this procedure, give the deck a good cleaning with soap and water (or a commercial deck cleaner) and apply an opaque stain. You can apply an opaque stain over any other type of stain, but the converse isn't true, so if you want to replace an existing opaque stain with a coat of sealer or lightly pigmented stain, you have to remove the existing finish, usually by sanding.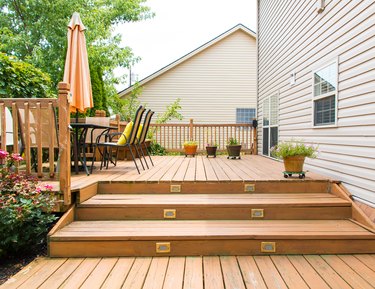 Tips for Applying Deck Stain
A good deck cleaning should always precede deck staining. Use a good-quality commercial deck cleaner or make your own cleaner by mixing oxygen bleach and liquid dishwashing detergent in warm water. Add 1/8 cup of borax per gallon to control mildew and prevent the mildew from getting re-established by using a stain with a mildewcide. Unless you're using Restore-A-Deck, you must wait 24 to 48 hours for the deck to dry after cleaning it before you apply the stain. Try to do the job on a cloudy day or in the morning or early evening to avoid working in direct sunlight, which causes deck stain colors to streak.
Always check the manufacturer's application instructions. Most wood stains can be applied with a paintbrush — synthetic bristle for water-based and natural bristle for solvent-based stains — but if the stain or sealer is thin enough to spray, that's usually the fastest and easiest way to apply it. Put the product in a garden sprayer, spray a section of the deck and then smooth out the finish with a brush or roller. When rolling, use a roller sleeve with a 1/4-inch or shorter nap to avoid overapplying the stain and having it pool in the boards. Apply stain in thin coats and always apply two coats (if recommended by the manufacturer) to make sure you get complete coverage.