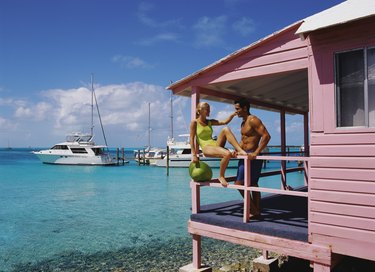 It is not necessary to stain the underside of your deck for protection from the elements, especially if you use pressure-treated wood, which helps keep wood-boring insects out. However, depending on your situation, you may choose to stain the underside of your deck for reassurance that your wood will be protected or for aesthetic reasons.
Advantages
Wood is most at risk for mold and mildew growth if it is constantly in the shade, as is the case with the underside of your deck. In addition, leaves and other debris that collect under decks tend to encourage insects and fungi that may threaten your wood. Wood stain provides one more layer of protection between those threats and your deck.
If the underside of your deck will be visible, as in the case of a second-story deck or balcony, you may want to stain it because you will be able to see it. These decks are also exposed to a wider range of elements than the underside of ground-level decks, so extra protection may be necessary.
Preparation
If you decide to stain the underside of your deck, first thoroughly clean the area to be stained. The Deck Wash Guys recommend using a specially formulated deck cleaner because it can loosen degraded fibers and other contaminants that may be on your deck's surface. Specially formulated cleaners can also remove stains and any fungal growth that may be on the wood, ensuring that the stain adheres properly.
When you mix the stain, mix multiple gallons so that you'll have enough. Mix all the stain you're going to use at once so that you can avoid color variation.
Before you start the staining do a "splash test." Splash water on several different spots on the wood you're about to stain. If the water beads or isn't absorbed in about 15 minutes, the deck probably won't absorb the stain properly. If your deck doesn't pass the splash test, use a wood cleaner or restorer so that the wood's pores will open, priming it to absorb the stain. Try the splash test again before staining.
Staining
Use either an oil-based stain or a water-based stain. Oil-based stains offer a deep, shiny finish while water-based stains provide a flat finish. Follow the safety and application instructions on the label.
Apply stains at least 24 hours after wetting the deck. Apply the stain as evenly as possible for the best results, and check the condition of the coating at least once a year.