Staining a deck can be a big undertaking. You might put if off because it seems like so much work. Because it's a dreaded and messy project, though, you'll want to get it right the first time. You don't want to have to refinish your deck because you picked the wrong color or it didn't turn out the way you planned. Here's how to choose a stain that coordinates with your house.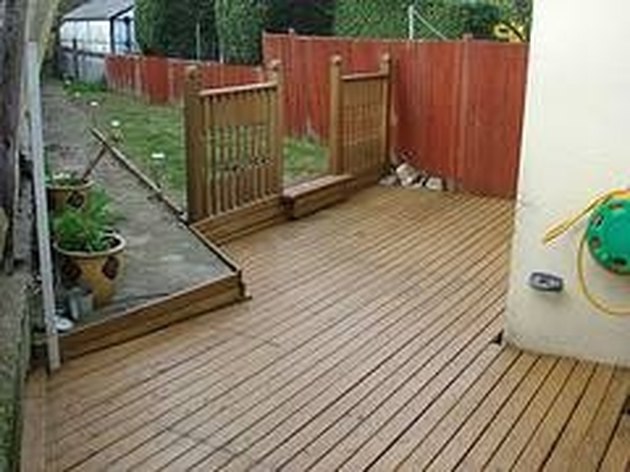 Step 1
Consider how often you refinish your deck. There's more to picking a deck stain than choosing a color. You also need to evaluate how often you are going to refinish your deck. Colored stains can be more difficult to remove. They also become dated more quickly than a neutral color. If you want a bright blue deck it may not appeal to many buyers when you sell your house.
Step 2
Think of how you choose colors for the inside of your home. Go to a paint store and find a chip that matches your siding. This can make the process less intimidating. Think of the color of wood you'd use on your floors, kitchen cabinets or furniture. Choose an outdoor stain that matches your indoor choices.
Step 3
Select a transparency. With a clear coat, the natural color and grain of the wood show through. A semitransparent stain allows the grain to show through, but will change the color. Solid color stains are almost opaque and can look like paint.
Step 4
If you love your patio furniture, design your outdoor space around it. For example, pair a chocolate-brown stain with more modern furniture. You also can continue the flooring color that's inside the house onto your deck. That way, if you can see your deck from the living room it will look like one continuous space.
Step 5
Pull colors from your backyard. Your house may be bright yellow, but maybe you want a more subdued Zen-like outdoor space. Pull your stain color from surrounding rocks or the tone of nearby mountains. This will help delineate your inside space from your outdoor space, making it will feel like two separate areas.