Who: Anna Gerber and Nick Johnstone
Where: Shepherd's Bush, London
Style: Modern urban sensibility meets relaxed Southern California cool
Many people who live in historic buildings in London tend to preserve the character of their homes down to their original hardware. Anna Gerber and Nick Johnstone chose a different approach: striking a balance between the architectural details that initially attracted them to their three-story, Edwardian terraced house and what made sense for a 21st century London family, yet reflected Gerber's Los Angeles roots.
While they have lived in the Shepherd's Bush neighborhood, located near BBC's Television Centre, for the past four years with their now teenage daughter, they just finished up the last of the renovations they had planned when they first purchased the home. "We have remodeled the entire house in phases," shares Johnstone, who works from home as an investor. "It was a total rundown dump when we got the keys, with many problems including failing foundations that had to be dug out and rebuilt."
A factor that definitely shaped their renovations is one of the defining characteristics of a terraced house: light generally comes in from only two directions — the front and back — because they share walls with their neighbors. "It's very uncommon to get light from four directions in the city, just because of the architecture," notes Gerber, cofounder of creative agency Visual Editions, whose multimedia storytelling ventures have garnered such honors as a Peabody and Webby.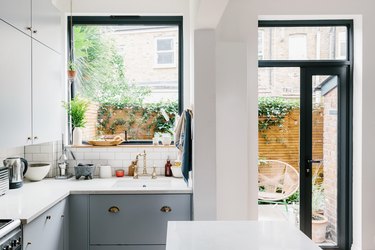 Born in Paris, raised in the Westwood area of Los Angeles, and now a Londoner for the past two decades, Gerber sees a little bit of each city — and her many travels — influencing the way she chose to decorate their home. "I'm really sensitive to light because I grew up in L.A., but it's not common to have a sunny day in London," she says. "I think people here maybe think more about coziness in terms of design and furnishing choices than they do light."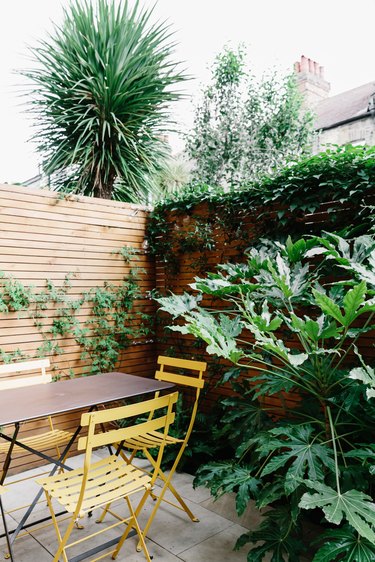 Gerber attributes the desire to add two internal horizontal windows close to the ceiling (one on the ground level and another on the second floor), "with the intention of bringing in as much natural light as we humanly could," to her Southern California upbringing. They also enlarged the downstairs back window to bring more of the outside in, specifically a view of their garden with its ferns and jasmine, horizontal wood fencing, Habitat boho garden chair, brown table with bright yellow steel chairs, and large stone tile floor. The couple acknowledges the scene feels more Venice Beach than London and most locals would agree: "There's a palm tree from our next door neighbors that kind of leans into our garden, and our builder four years ago took a picture of the new window frame against the bright blue sky and the palm tree," Gerber recalls. "He sent it to a supplier with a question, and the supplier was like, 'Where are you?!?' So, it's not typical London."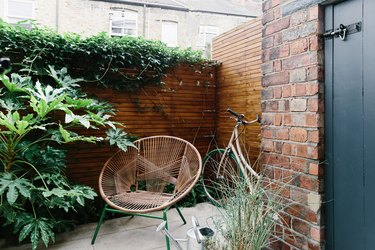 At street level, their brick home is part of a block-long row of practically identical attached housing (originally workers' cottages), save the rich Hague Blue paint from Farrow & Ball that Johnstone chose for their front door and the two stacked rows of white trifold accordion shutters in the bottom-floor windows. They were custom made to allow daylight to come through during the day while the bottom row was closed for privacy from passersby, something that Gerber especially treasures: "London is a really noisy, dirty, intense city, so coming home to a sense of quiet is really important to me, and that informs my design choices," she says. "I don't really overthink anything. I love having candles, and I love having beautiful things, but not to the point of excess."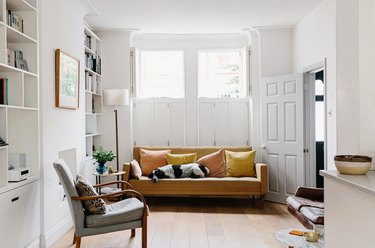 Upon entering the home, there are two things that immediately greet visitors: first, their friendly Spaniel/Pointer mix Nancy and the original stairway, which they preserved. To the right of the entryway is the narrow yet spacious living room thanks to minimal furnishings — a '70s slightly melon-colored Danish leather couch with complementary colored pillows, a vintage recliner and armchair, a small table, and a standing lamp — but plenty of books, as they're avid readers.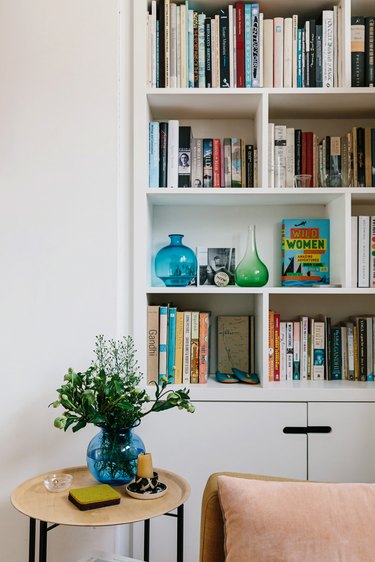 To hold their collection, they had bookcases built in on both sides of what used to be a small fireplace. "We weren't that precious about some of the original details," says Gerber, referring to the original fireplace that she felt was disproportionate to the living room's high ceilings. After consulting a specialist, he agreed that its size made sense for a bedroom, not a living room. "That is why it looked kind of out of place, so I decided to get rid of it. I didn't feel any guilt." Now a recessed box area, it holds books and a sound bowl, and in the far left corner, the family had another small bookshelf built in the nook under the stairway.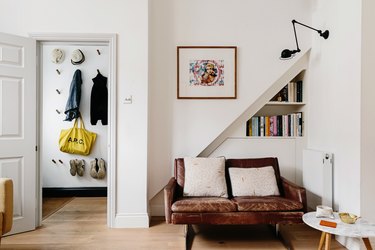 Above the nook is one of the internal windows, placed high on the wall, that Gerber mistakenly thought (thanks to her "non-architectural knowledge") would bring light in from the backyard. She'll be the first to admit, "it doesn't." But, like the one also placed on the second floor, the window's thick wood frame pairs nicely with the wood art frame that neighbors it, creating a pleasing composition of rectangular shapes on the wall.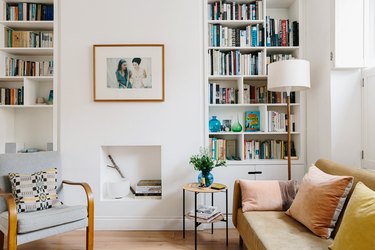 The focal point of the living room is the artwork above what's left of the fireplace: a photograph by their friend Elinor Carruci of her and her mother. "Her mother is just sitting there in her bra, she doesn't give a shit, there's no shame and there's something very powerful about that," expresses Gerber. "I love that that's the first image people see when they walk in."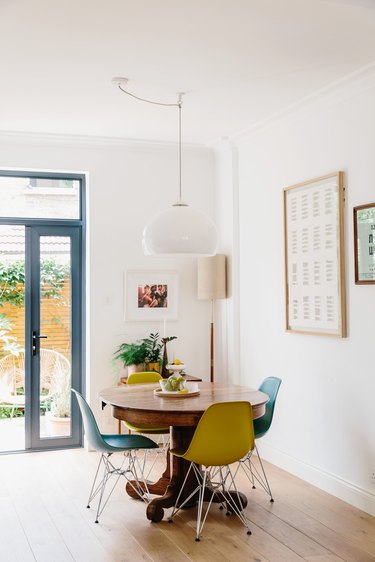 The living room bleeds into their dining area with a round wood "eating table" (must be a London thing, Gerber notes) from her parents' L.A. home surrounded by Eames fiberglass armchairs the couple patiently acquired over time: "I always dreamed of having Eames chairs from an aesthetic point of view, but also from a design ethos point of view," she says. "And for the longest time we couldn't afford them, so we bought one chair a year until we got a full set. So it took us five years to get the whole set, and I felt really grateful to have them." Above them is a modern half-dome Kartell light pendant they purchased from Heal's that they brought with them from their Paddington flat.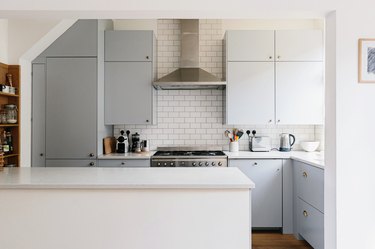 A small bar separates the area from the completely remodeled kitchen from IKEA, which they customized with brass handles and an open shelf for spices and mementos to personalize and warm the space. "I always get worried about newly designed places looking too clinical," Gerber says, "so I like to bring wood as much as I can." Upstairs she did the same in the brand-new bathroom of classic white subway tile and dark mosaic flooring. "It looks too cold and perfect, so I just had some oak shelves put in so it would bring some warmth and an organic element."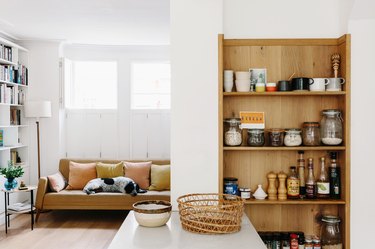 Colors overall are used sparingly within the home: the blue ("like you'd see in India, a quite spiritual blue") on the front door, outside shed, and their bedroom wall, and dark gray on the carpeted stairs and bathroom tiles. Gerber thinks it's because she "has no imagination when it comes to color," which is really interesting considering her company has collaborated on projects with Google Creative Lab, the Ace Hotel Group, and Mercedes-Benz because of her and partner Britt Iversen's out-of-the-box, experimental approach to storytelling.
She will be happy, though, if people notice other unique items they incorporated, including the bathroom's bifold bathroom door, which allows the family to move more easily in and out of the tight area between the stairway and bathroom. There are also wood wall knobs from Conran Shop, beautiful in their simplicity, on the wall of the bathroom and throughout the house.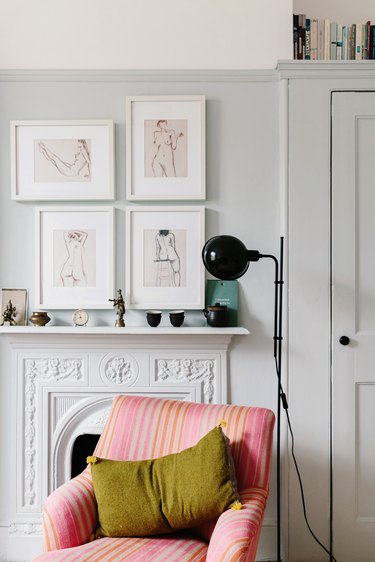 Next door is their quaint library with low bookshelves along the wall, a colorful striped armchair from sofa.com and a leather chair that matches the downstairs Danish couch. Because of the room's size, more furnishings, carpeted floors, and ornately designed fireplace, the library feels much more intimate than the rest of the home, which Gerber appreciates. The walls are decorated with her mom's figurative drawings and original Black Sparrow press book covers.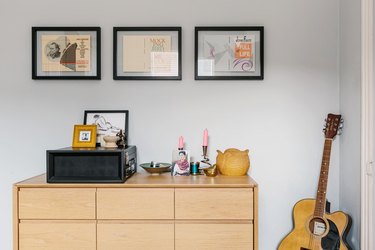 Johnstone's office, with enviable white Vitsoe shelving and a view of the street, sits between the library and their bedroom. Within their bedroom, a striking fireplace and wall painted in the rich blue contrast the otherwise white room. And above their bed is a simple Tom Dixon pendant light.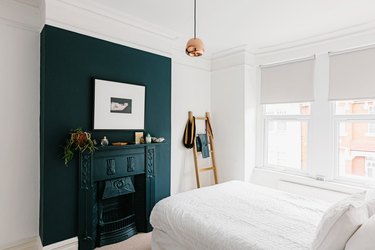 True to Gerber's design philosophy, there is a sense of tranquility in each room, from the unobstructed flow of the ground floor to select organic touches: various plants and wood shelving. They had spent years looking for a house with a backyard in the right neighborhood that was still in the city — "a really rare combination" — and now, after multiple renovations, their London home with a little SoCal spirit is definitely a keeper.