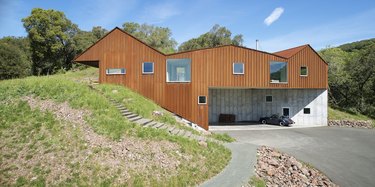 But while we're crazy about Scandinavian interiors, we need to take a second to admire the makings of a dreamy modern Scandinavian house exterior. It's all about first impressions, of course.
Here are some of the major characteristics of the modern Scandinavian house if you love fantasizing about buying a Scandi space — or if you're hoping to shake up the look of your current exterior.
1. Clean lines are a popular choice.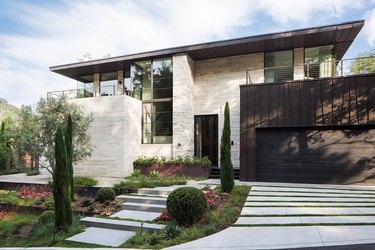 One of the reasons, we think, that Scandi homes photograph so well is that you can definitely spot some sharp lines in the architecture. This house, for example, makes a clean line at the top with an asymmetrical edge, which is perfect for photos of the space backlit by the sunset.
2. Natural materials are used to make a splash.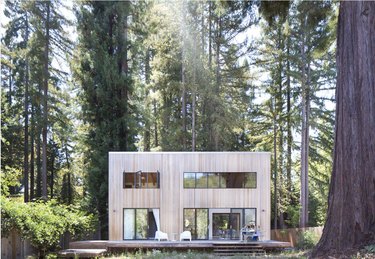 If there's one thing you should take away from this dive into the modern Scandinavian house, it's that natural materials play a big role. This space almost seems to spring up from the woodsy area around it.
3. Peaks and dips make for an interesting skyline.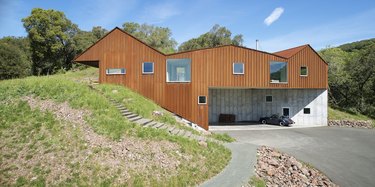 Again, angles definitely contribute to the modern look of Scandinavian architecture. This space's peaks mimic natural ones. In Nordic Modernism: Scandinavian Architecture, 1890-2017, William C Miller writes: "Because Scandinavia remained a rural society into the twentieth century and closely tied to the world of the forest as witnessed in Nordic vernacular architecture, the region retains an intimacy with wood that continues to resonate in the Nordic soul."
4. And colors can often mimic the natural landscape.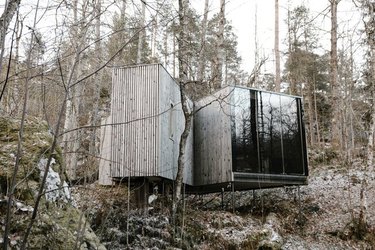 Speaking of fitting into nature, Scandinavian homes can take it one step further by choosing materials and colors that echo the natural surroundings of a building.
5. Large windows connect the inside and outside.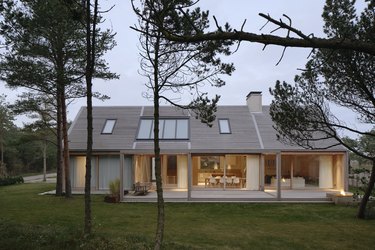 If you're going to build a home in nature, you might as well make sure you can enjoy it. Many Scandi spaces have large windows to create the illusion that there's really no separation between inside and outside at all. Miller writes that "the way light percolates through the forest conditions the way Scandinavians see their world," and that's definitely evident in this space.
6. Bold uses of black paint.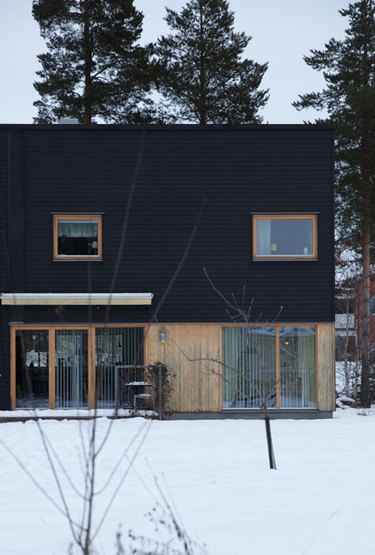 If you want to try something a little different but don't want to commit to an entirely black exterior, try this trick instead. A modern Scandinavian home gets a cool twist with a half-black top portion. The wood still comes through, including in the window frames above.
7. Houses on higher ground to enjoy nature.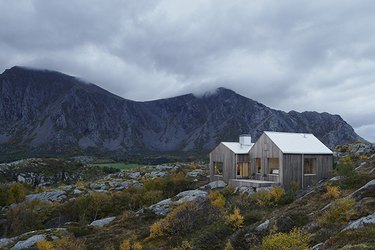 This space, located in Trollvasstind, Norway, was "moved to higher ground." Its peaks mimic the cliffs nearby.
8. Playing with different heights.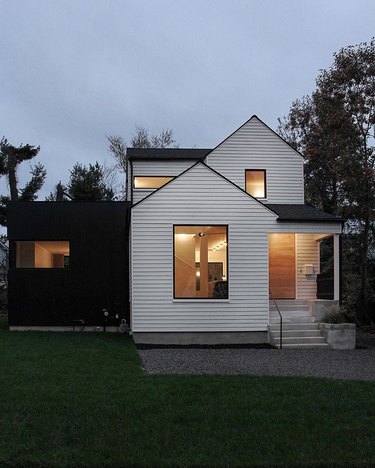 It's all about that silhouette when it comes to modern Scandi homes. We love the way this space plays with the heights of its peaks, which gets highlighted with the use of various window sizes.
9. Natural cladding to create a seamless look.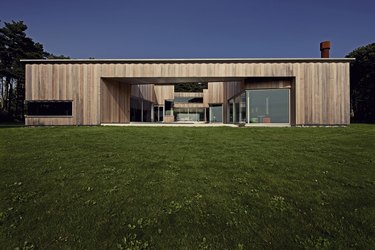 This rustic Scandinavian style house uses cedar cladding to create a nature-inspired look. It blurs the line between indoor and outdoor with a courtyard space, as it sits near a forest area. Miller writes that "the central courtyard is essential to traditional dwelling complexes in Norway," which this project fully embraces.
10. Clusters of windows for a stunning view.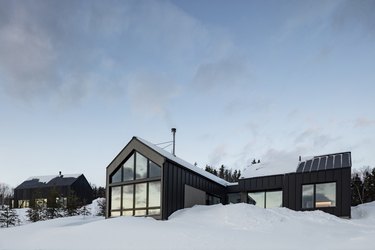 Another way to appreciate the outdoors: Make sure you have a great view of it. This Scandinavian style house uses a cluster of windows to reveal its natural surroundings in a stunning way. "The role of large windows is twofold: to let natural daylight in and to provide direct a view to the nature outside," Tanja Rytkönen, former VP of Design and R&D at Finnish log home company Honka, writes — and that's evident in this space.
11. Or windows in an unexpected, artsy arrangement.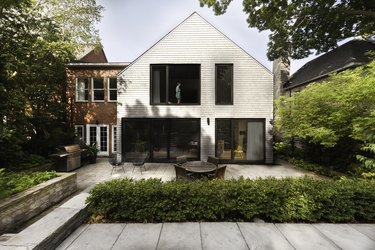 If you like more unconventional window arrangements, this space is great inspiration. The lower level windows create an easy path to the courtyard. A wide window on the left is paired with a thinner window on the right to create a modern look.
12. Stacking in all sorts of ways.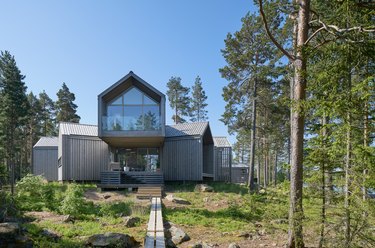 By now, you've probably caught on that a number of Scandinavian houses are all about experimenting with architectural feats. This space makes a clever use of wings to create dazzling views of the outside in each area of the interior. The materials used are meant to exist in balance with the pine trees in the surrounding area.