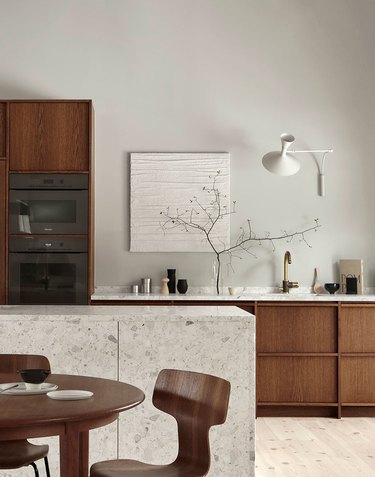 You know it when you see it: something about Scandinavian design just seems so, well, cool. From IKEA to classic furniture designers like Arne Jacobsen to those signature airy, minimalist rooms, it's easy to see why Scandinavian design is embraced so lovingly outside of its native region. And flocks of decor lovers are constantly seeking inspiration from it.
Take, for instance, the number of Scandi-inspired interiors you can find on Instagram alone. #ScandinavianDesign turns up 2.8 million results and #ScandinavianHome boasts 1.1 million. You'll see the usual design elements there: lots of all-white cabinets, natural materials, neutral color palettes, and minimal decor. We're taking a quick look at how the style became so synonymous with modern decor today.
Origins of Scandinavian Design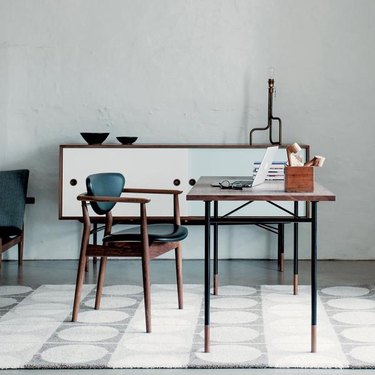 The origins of Scandinavian modern design as we know it date back to around the 1930s. A major marker in the development of the style goes back to one of its most well-known figures. In 1924, the furniture department was officially established in the the Architecture School of the Royal Danish Academy of Fine Arts. Kaare Klint, often referred to as the father of modern Danish design, mentored a number of promising students who would end up creating some of the important pieces in the style.
Around this time, as Andrew Hollingsworth writes in Danish Modern, "furniture was stripped to its logical simplicity and function while retaining the warmth and beauty inherent in traditional cabinetmaking." In fact, many famous Scandinavian designers were trained in cabinetmaking to begin with.
In 1927, the Danish Cabinetmakers' Guild created an annual exhibition meant to highlight furniture design of the time. Events like The Stockholm Exhibition of 1930, which attracted around 4 million people, according to Hollingsworth, continued to highlight the ingenuity of Swedish architecture, furnishings, applied art, and more. Danish pieces started getting imported to the U.S. around the 1940s and the interest in the style began to spike. "Between 1950 and 1954, Danish exports to the U.S. increased almost fivefold," Hollingsworth writes.
Fast forward to today and the desire for Scandinavian design is still going strong. Whether it's larger retailers like IKEA, high end brands like Gubi, or crowd favorites like Hay, Ferm, and Menu, there's definitely a market for Scandi-inspired style.
Scandinavian Design Today
Because of its ties to cabinetmaking, Danish design has often focused on factors like "the beauty of natural materials" and "quality craftsmanship," as Hollingsworth explains. Many Scandinavian-inspired homes highlight the beauty of these pieces, keeping the overall decor minimal.
The simple and welcoming vibe of these spaces inspires the mood of Hygge, a concept that really started gaining steam in 2016. Now associated with coziness and staying in — it basically translates as "taking time out and making simple things seem special," according to IKEA — the idea also brings to mind soft texture, muted colors, and clutter free surfaces.
As Scandinavian design evolved, it often focused on meshing practicality with beauty. Designers wanted to "create truly useful and relevant objects or brukskunst (useful art), as it became known," write Charlotte and Peter Fiell in Scandinavian Design. Each design needed to take into consideration the relationship between the object and its owner. This meant paying close attention to, for example, how a body would sit in a chair — as exemplified by Klint's "detailed studies of anatomical proportions."
Yet furniture is just one part of the modern Scandinavian interior as we know it today. Other elements include artfully placed, simple floral arrangements and wood accents. Scandinavian lighting usually features sculptural shapes, some akin to Midcentury Modern style (the two had some overlap). Though most interiors are all white or neutral, pops of color are often introduced in playful yet tasteful ways. Everything looks to be just exactly in its right place.