When Frank Lloyd Wright first started designing Craftsman homes at the turn of the 20th century, he strived to include nods to nature in the exteriors. In addition to characteristics that can still be seen in modern Craftsman homes — low-pitched roofs, overhanging eaves, and columns framing the front porch — the colors of these homes were also drawn from the outdoors.
Neutral earth tones tend to rule the color palettes of Craftsman style exteriors. This means that leafy greens, watery blues, and dirt-inspired reds are most commonly seen among Craftsman exterior colors. Today, these colors still dominate Craftsman exteriors, with a few modern ones thrown in for good measure, like super-dark navy and even black.
If you're hoping to achieve peak Craftsman style for your home's exterior, look no further than these seven abodes that display Craftsman exterior colors.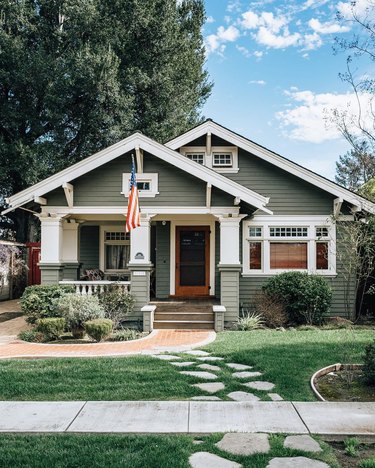 With a green that's not quite as verdant as the grass but is definitely more saturated than a light green, this mossy home captured by photographer and realtor Matthew Sweat is Craftsman perfection. The white trim and columns lend an airy feel to the visuals as well.
2. Light Blue & Warm Woods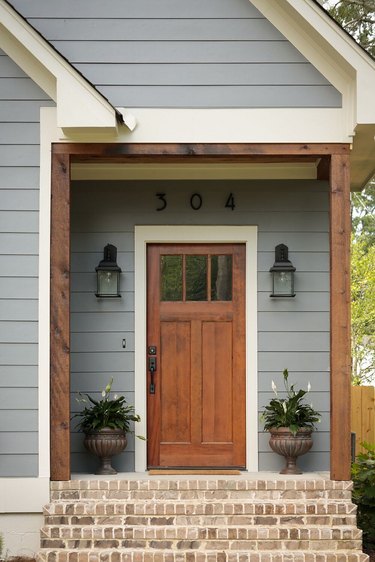 To harness the softer side of Craftsman style, we suggest a light blue that's almost gray, pairing it with warm wood finishes as Willow Homes did for this modern Craftsman home featured on Home Bunch. The Craftsman-style house numbers act as a spot-on finishing touch.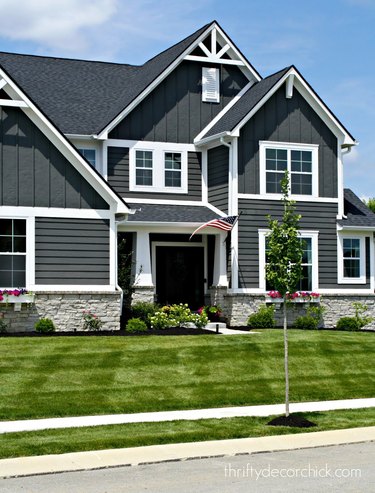 For her Craftsman home, Sarah of Thrifty Decor Chick went with a contemporary version of Craftsman exterior colors: slate gray and stark white. These hues allow the exterior's details, like the stonework and decorative gables, to really pop.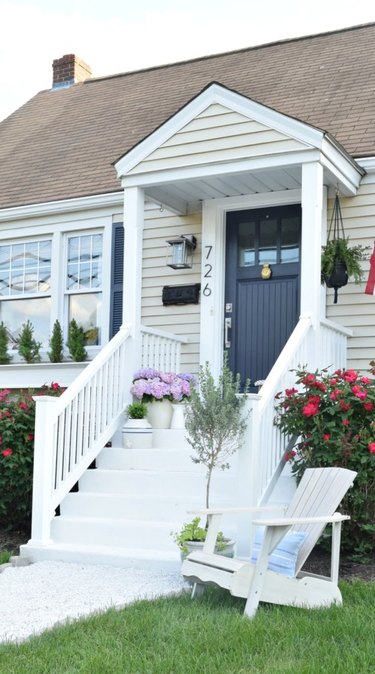 Craftsman style can look a lot like farmhouse design, with its classic, charming aesthetics that remind people of a bygone time. If you're aiming for a Craftsman-meets-farmhouse exterior, get inspired by Nesting with Grace's choices: a tried-and-true blue door with cream siding and a white staircase, all looking oh-so farmhouse-friendly.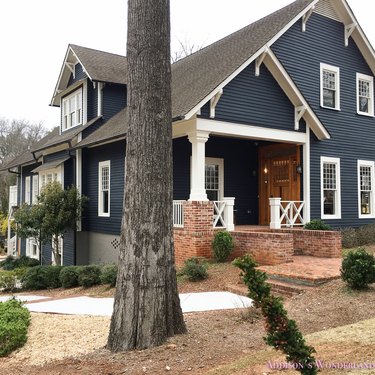 To bring together on-trend visuals and Craftsman style, you can always paint the outside of your house a striking shade of dark navy and combine it with white details. These cool colors perfectly balance the warmth of a brown roof and brick accents. Dark exterior colors are reigning supreme, and Craftsman exterior colors are no exception. We adore the hue that Brittany of Addison's Wonderland picked for the exterior of her 1905 home.
For a modern incarnation of a Craftsman-style home, look no further than black. If you're going for authenticity, black might not be the best choice. But, if you want your home to look current, it's a shade we fully support. It's a hue that the team at Bria Hammel Interiors embraced for this home, pairing it with natural wood beams.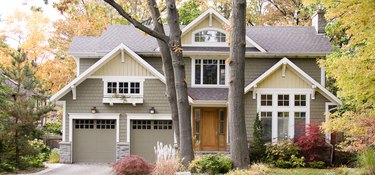 To capture the beauty of wooded areas and the outdoors, consider a light green that looks as if it could grow on trees. Partnering green with whites and creams, David Small Designs crafted a home that looks as if Frank Lloyd Wright designed it himself.