If you dream of spending your weekends sipping a cup of coffee out on the patio, or tending to your plants before looking out at the natural landscape on your rocking chair, you're not the only one. The farmhouse style continues to prove popular on social media and in major retailers for those of us who want to appreciate nature and create a classic look.
Farmhouses, as you might've guessed, were originally created for farmers around the 16th century. They were made from easily accessible materials, thus the prevalence of wood and stone. By the time the late 20th century rolled around, modern farmhouse started getting increasingly popular.
But what differentiates a farmhouse from other houses? Let's start with the basics: the exterior. If you're curious about the style or want to recreate it in your own space, we've got some suggestions.
Here are some rustic-chic farmhouse exterior ideas inspired by some stunning farmhouse spaces we've seen lately.
1. Match dark accents with warm wood.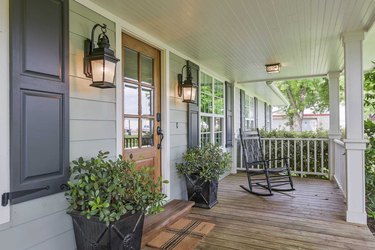 Even though farmhouses often keep the colors to a minimum sometimes (think white shiplap and clean walls), there's definitely room to play with darker hues. This porch uses a neutral, charcoal-esque color on the window shutters, planters, and rustic lighting fixtures to create a unified style.
2. Add a pop of color to your front door.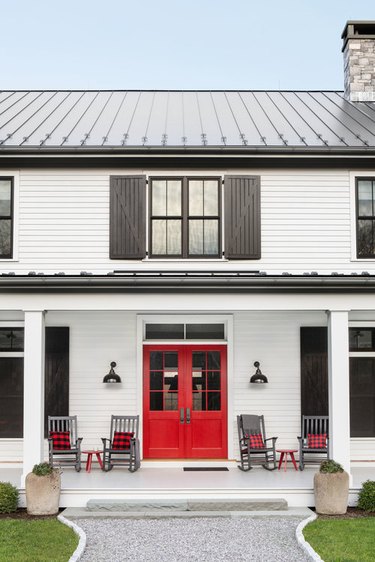 Don't be afraid to get bold if you're yearning for something a little less traditional than your average farmhouse decor ideas. This space uses a bright, bold red door — tied together with red and black pillows on the porch chairs. It's fun and unexpected without totally deviating from the standard farmhouse vibe.
3. Use nature to frame an idyllic scene.
Farmhouse spaces are, of course, all about nature. When thinking about farmhouse landscaping, consider how you might use natural elements to frame the house's exterior. Or see if you can mimic the colors of nature in your decor.
4. Choose a door frame with a decorative glass accent.
You'll see a few variations of the traditional farmhouse door — like this pick with a decorative glass accent at the top. It's sophisticated but doesn't take away from the pared-down, chic farmhouse vibe.
5. Add a touch of shiplap.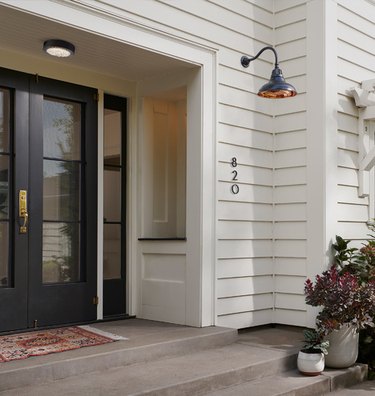 Naturally, shiplap makes its way into many a farmhouse home. But why not bring this look to the exterior as well? This space pairs a shiplap wall with an industrial lighting fixture, complete with a brass interior, for a stylish look.
6. Play with unexpected colors.
Just because you don't see a ton of bright colors in farmhouse exteriors doesn't mean you can't break the rules. This house shakes things up with a bright yellow front door and green patio chairs. The color is used to a minimum, so as to not make the look too busy, but it's still impactful.
7. Try a classic black and white scheme.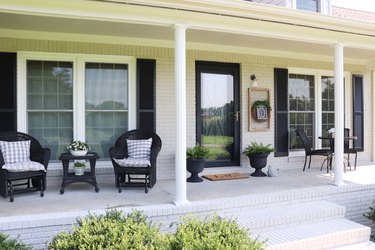 Nothing beats the timeless look of a black and white farmhouse color scheme. This space uses black window shutters and patio furniture to create a chic look.
8. Explore creative ways to display your house number.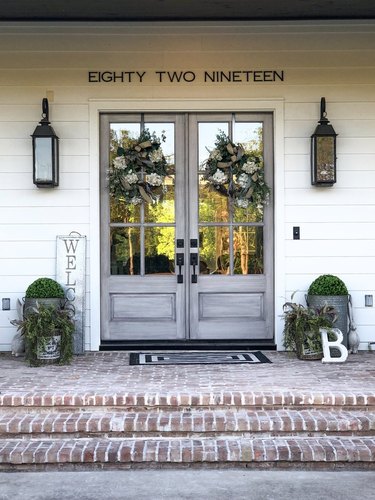 If you're into playing with modern farmhouse styles, think about even the smallest of details. These house numbers from Etsy add a contemporary edge to a textbook farmhouse look.
9. Embrace asymmetrical features.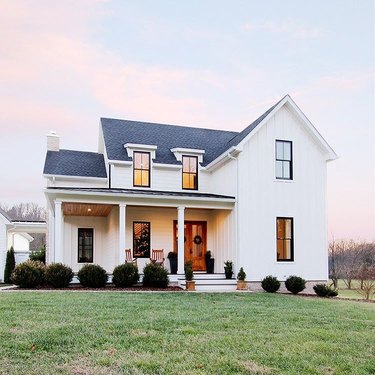 Not all modern farmhouse exteriors look the same. This house, for example, incorporates some classic elements with a twist of asymmetry. The dark roof and black window frames add visual interest while the landscaping on the left plays into the asymmetry of the space.
10. Make the porch railings the star of the show.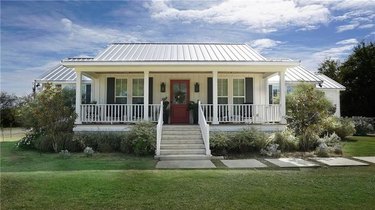 If your farmhouse space happens to come with prominent, traditional features, play into them by keeping the decor minimal. This space puts the focus on the railings, painting its shutters a neutral color and choosing a darker red for the door. There are plants and also chairs to sit in, but not much more, making this a simple but stylish look.
11. Pair just a couple of items near the door for a minimal look.
If you want to keep your front porch largely clear of furniture and decor, consider creating a vignette near the front door. Keep a rocking chair with a blanket nearby and a single plant (or two) for a look that comes together with little effort.
12. Don't be afraid to mix and match materials.
Farmhouse style is all about natural materials, but you can still have fun with your space's look. This house combines brick and wood in a visually interesting way. The warm brick welcomes you to step inside while the dark window shutters highlight the house's architectural features.
---
Eva Recinos is an associate editor at Hunker. You can reach her at eva@hunker.com

View Work