The appearance of a house is very much dependent on a number of things, and the exterior siding is a key factor. What is that you ask? Good question. Exterior siding is the protective material attached to most homes' outer wall. It can determine a structure's style, and it's vital for guarding against the elements, regulating the temperature inside, and ensuring that animals can't get in.
Plus, the possibilities are endless. From metal, vinyl, and wood to fiber cement, stucco, stone, and brick, the different types of siding systems are largely influenced by the architectural style of the home. It's also important to consider where you live, as different materials work better in different climates. Installing these accents can be expensive, though — so don't make a decision lightly. Here are eight exterior siding ideas to help get your dream home started.
1. Try out the traditional look.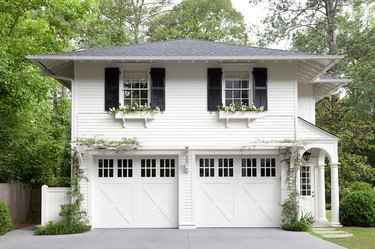 You really can't go wrong with a traditional, white-paneled iteration. Whether you use vinyl or fiber cement, horizontal cladding will give your home a timeless feel, and it's relatively low maintenance. Take your inspiration from this gorgeous exterior by TS Adams Studio. It features two garages framed by bright siding and white windows with black shutters.
Wood siding can also be a great option for those who love traditional homes. This Colonial-style house has been given a little je ne sais quoi with cedar shingles and a slate tiled roof. If you're thinking of a similar look, opt for redwood or cedar as both are insect and decay resistant — you don't want a wood that could rot over time.
3. Fake it until you make it.
Did you know that most modern brick houses are not actually made with brick? The majority of them are wooden with decorative brick siding instead. This method offers a classic architectural look to those on a budget. And it creates a farmhouse exterior without a lot of fuss.
4. Blend in with your surroundings.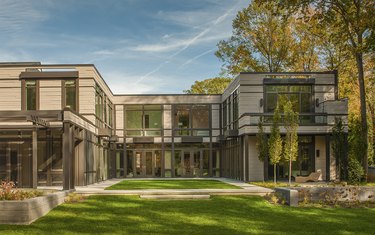 5. Work with the architecture of your home.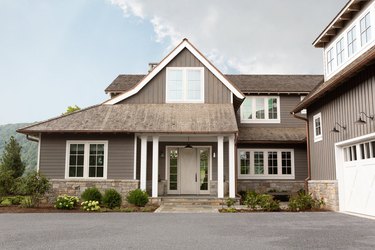 We mentioned that siding should usually match the era of your home, but it's also important to consider the structure's unique angles. What will make them look their best? This farmhouse-style pad, for example, uses both vertical and horizontal panel siding. The vertical planks make certain areas appear taller while the horizontal ones add texture and depth. Painting your siding is also a great way to make your home more unique.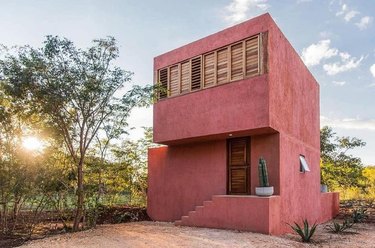 The color-loving minimalists amongst you might be wondering about the best exterior siding for your home, and stucco is a great option. This two-story desert house designed by Mexican architectural studio TACO is the perfect example of a sleek dwelling. And the terra cotta color is optional.
You don't have to stick to one kind of siding if you want to mix things up a little. The team over at M House Development used two different styles for this contemporary yet classic looking home and changed up the colors in order to add contrast and focal points within the architecture. We're totally feeling the modern-meets-traditional vibe.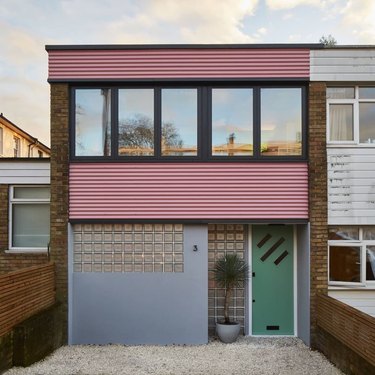 In addition to the type of material you choose for your exterior siding, it's also important to think about the overall aesthetic. Using color can take your home from bland to breathtaking, and there are plenty of decorative finishes on the market these days from scalloped-edge shapes to bright pink cladding. Seriously, we did a double take when we saw the London-based Tierney Terrace Location House exterior. If that's not serious inspiration for you to go bold, we don't know what is.