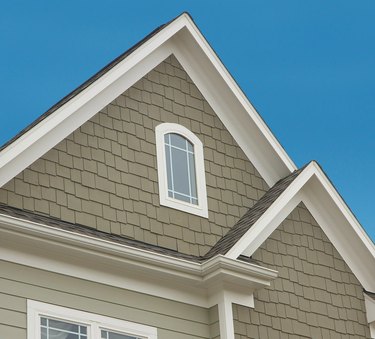 Tough, stable and resistant to both fire and decay, fiber cement siding is naturally an appealing and popular choice for home siding. Comprised of a mixture of Portland cement, wood fiber and clay, with sand or fly ash as filler, the resultant slurry is pressed into molds that give it shape and texture. The use by some manufacturers of fly ash instead of silica sand is somewhat controversial. Fly ash is a by-product of the burning of coal. Because it is waste that would otherwise go into landfills, the use of fly ash in fiber cement siding earns approval from environmentalists, but detractors contend that the use of fly ash yields an inferior product.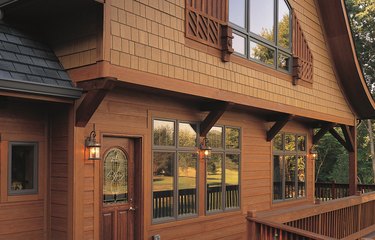 The Siding of Many Faces
Because fiber cement is molded, it can be shaped and textured to simulate a variety of types of siding—not only the familiar clapboard planks, but also sections of shingle, masonry, or stucco. The simulated masonry products come from the factory prefinished to complete the illusion of stone, but lap siding products are available finished or simply primed and ready to paint. The factory finish is baked on, making it the more durable option, but your color choices will be limited. Primed fiber cement siding can be painted exactly as you would cedar siding— with any quality exterior finish. Once painted, a periodic pressure washing should be all that's required to keep fiber cement siding looking fresh.
Tough, But Demanding
Its high content of cement and sand makes fiber cement siding resistant to the effects of heat, cold and humidity. The addition of wood fibers lends the panels more resilience and flexibility than purely cement ones would have, but fiber cement is nevertheless more brittle than comparable wood lap siding and substantially heavier. Fiber cement siding is so heavy, in fact, that it requires larger work crews to install it, somewhat offsetting the lower cost of the material itself. It takes two workers to support each length of siding, taking special care to handle it properly to prevent the panels from cracking under their own weight. And because of its hardness, fiber cement siding requires special equipment to cut and fasten it, plus respiratory protection for the workers doing the cutting to shield them from lung damage. These special demands of fiber cement siding argue strongly in favor of the services of a contractor specially equipped for handling its installation.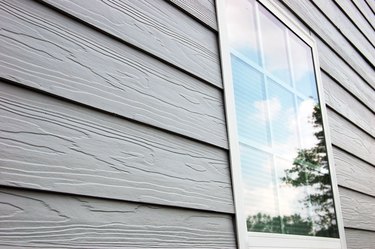 Moisture Issues
Although fiber cement is admirably durable and trouble-free when handled and installed correctly, it is not without its vulnerabilities. In certain circumstances, it can fail prematurely and most of those failures are attributed to improper installation. Fiber cement is less forgiving than most other siding materials when installed under less than optimal conditions. Manufacturers insist that fiber cement siding be free of moisture when installed. That means it must be stored indoors and protected from precipitation on the job site. It cannot be installed in wet weather and, if it has been allowed to get wet, it should be thoroughly dried before it can be used. Supervisors on the job are encouraged to carry moisture meters and to monitor moisture levels in the material. When fiber cement siding is installed, the ends of the boards are gently butted against each other and spaced about 1/8 inch from any trim. The trim spaces are caulked but the butt ends are not. Fiber cement installed wet will shrink excessively when it dries, opening up gaps of 1/4 inch or more between the boards.
Problems can also arise if water is allowed to infiltrate behind the fiber cement panels. This can happen due to leakage from the roof or soffits or because of improper siding installation, such as a failure to properly attach to studs or failure to use back flashing under joints. While the painted exterior of the siding will repel water from the front, the back is still susceptible to water absorption; if that happens, the fiber cement siding can warp, sag or curl.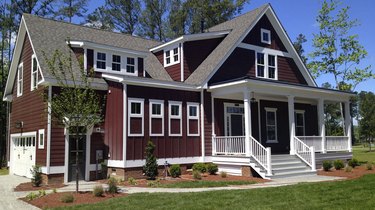 Choosing a Product
Fiber cement siding is produced by a number of companies,, and the contractor you choose is likely to have a brand he or she prefers.
James Hardie
James Hardie Industries was the originator of fiber cement siding and has been making the product since early in the 20th century. Initial formulations for the material used asbestos where wood fiber has now been substituted. The product, known as Hardieboard or Hardie Planks, is available as clapboards, shingles, or panels. Due to its market dominance, contractors sometimes refer to any manufacturer's fiber cement product as hardieboard. James Hardie Industries' depth of experience and range of products makes it a frequently preferred supplier.
Allura Plycem
Formerly the fiber cement siding division of the CertainTeed line of home improvement products, Allura Plycem is the new name for that line, now under the ownership of a Mexican company called Elementia. The CertainTeed product was subject to a class action lawsuit resulting from the premature failure of its product, which was formulated using fly ash as the filler. Allura Plycem has since revised the formula. Products include clapboard siding, vertical siding, and shingles.
Nichiha
Nichiha is a Japanese company that has established itself by producing fiber cement siding for some of the big fast food chains. It has branched into the residential market with siding products that Nichiha calls Vintage Wood and that emulate bark and cedar.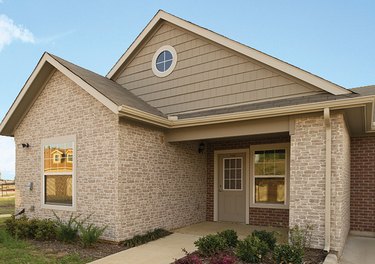 Fiber Cement Versus Other Siding Types
Every form of siding has its strengths and weaknesses. Even when the most apparent positive attribute of a product is its economy, there are other features you may want to consider. Many of the strengths and liabilities of fiber cement have already been discussed. It's helpful, though, to put them into perspective with a comparison to other siding alternatives.
Wood
Wood siding (usually cedar) is the product many of the other siding types strive to imitate. It's resilient and forgiving to install, and, properly maintained, it can last for decades. But it does need proper and consistent maintenance, and wood is susceptible to fire, rot and insects. Quality wood siding is likely to be more expensive than fiber cement, but the cost of installation will be less.
Vinyl
Vinyl siding is a much better product than it once was, tougher and more resilient, but vinyl still tends to get increasingly brittle as it ages. Vinyl is lightweight and easy to put up, but it's subject to wind damage and will melt in a fire. It's an economical and attractive choice that requires little maintenance. Additionally, vinyl can be installed over a layer of insulation to counteract thermal bridging, the conductive heat loss through the wall studs. Fiber cement siding cannot prevent thermal bridging.
Metal
Metal siding, usually aluminum, won't burn or rot and doesn't offer anything of value to insects. Barring mishap, it's easy to maintain, but metal dents readily and repair is difficult. Aluminum siding is easy to install but it's a more expensive material than vinyl or fiber cement.
Stucco and Brick
Stucco and masonry share many of the attributes of fiber cement—they are equally resistant to fire, rot and insects—and stucco and masonry require less maintenance than fiber cement. On the other hand, both stucco and masonry require the skills of a specialist, making their cost per square foot appreciably higher.
The Durable Choice
Fiber cement siding really is a marvelous product, engineered to perform much better than most of the other siding alternatives. Installed correctly, fiber cement siding is warranted to give good service for as much as 50 years. With that assurance of longevity, it pays to explore your options carefully, and find a contractor you can trust.