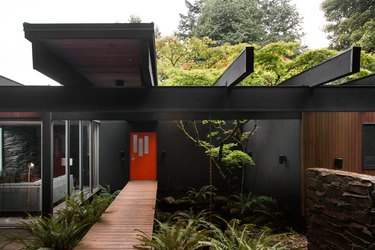 Hunker may earn compensation through affiliate links in this story. Learn more about our affiliate and product review process
here
.
We're going to let you in on a secret. Did you know there are no rules dictating which shades you use to paint your home? Every letter of ROYGBIV is up for grabs when it comes to exterior house colors, so go ahead — be that neighbor with the homestead everyone else wishes they were bold enough to have.
No matter your house's style — Victorian, midcentury modern, craftsman, Tudor, or contemporary — you can increase your curb appeal. Here are nine exterior house colors that'll inspire you to get out your paintbrush.
What's not to love about this sweet 1850s farmhouse? It's located in Ontario's Prince Edward County wine country, it's available for rent, and it's painted the perfect eggshell blue. While the tone is muted, white window trim, doors, and shutters make the Easter color pop.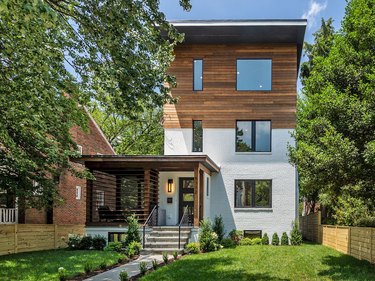 Why choose between wood tones or white paint when you can have both? For this Washington D.C. home, the Jonathan Kuhn Architect team added modern and traditional touches, blending the best of both design styles. The wood siding brings warmth, while the painted white bricks incorporate a splash of brightness. The half-and-half look is brought together seamlessly by the porch which blends both materials for a cohesive feel.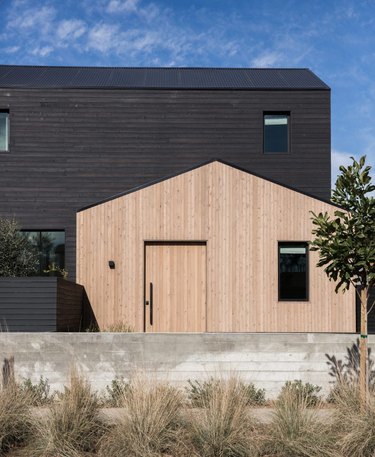 For the ultimate sleek, modern look, turn to the chicest color of them all: black. Amber Interiors paired this moody exterior with natural wood. And both accents extend to the inside decor. Even though the landscaping is minimal, this home still makes a statement.
4. White with a Pop of Pink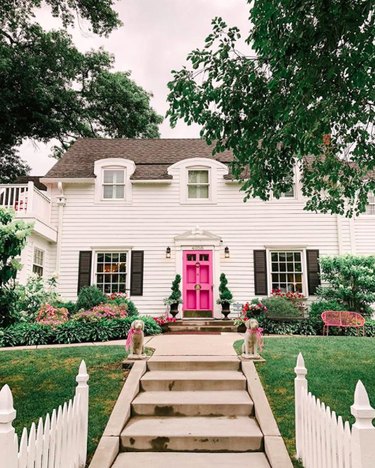 Even if you prefer a classic white house, you can go crazy with vibrant accents. Patti Wagner (who scopes out lots of beautiful homes) photographed this stunner of a house which is beautifully refined. But then your eyes hit the pink front door. The pop of color accentuates the pink florals, the lawn furniture, and even the scarves on the faux dogs guarding the steps.
Repeat after us: Beige isn't boring. This back patio space designed by Emily Henderson shines next to the neutral stucco exterior. Add in even more vibrancy with outdoor plants and patterned tiles. The subtle beige hue will complement any shade of the rainbow.
6. Turquoise and Tangerine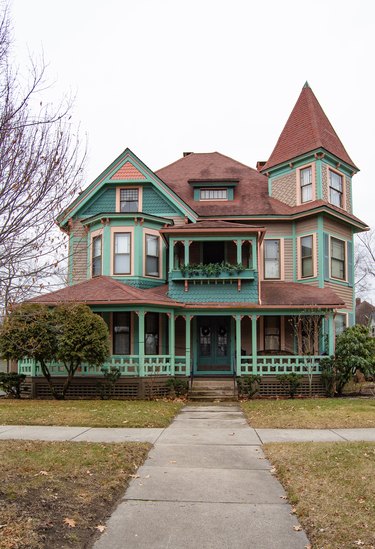 They don't make 'em like they used to, and they don't make 'em as bright either. Thankfully, Julia Barber, an art and architecture historian, captures colorful historic houses for us to gawk at. This Victorian house in Springfield, Massachusetts, shines with various shades of turquoise and tangerine accents.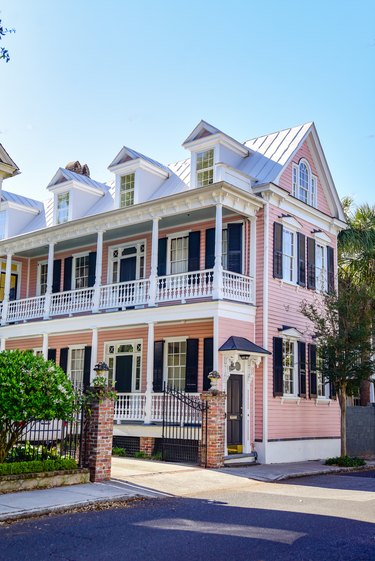 Charleston, South Carolina, is home to some of America's brightest, boldest exterior house colors, and here's proof. Kristin Lee of @CharlestoNspired photographed this pink stunner. The white porch railings and roof combined with the black shutters are subtle enough to let the blush color steal the show and brighten the entire neighborhood.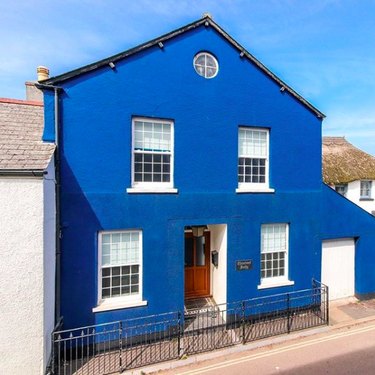 Blogger and writer Katie Woods recently purchased this 200-year-old blue beauty that's close to the shores of southwest England. And the vibrant color is reminiscent of the nearby sea. If you go this color route, try accentuating your windows with lively flower boxes.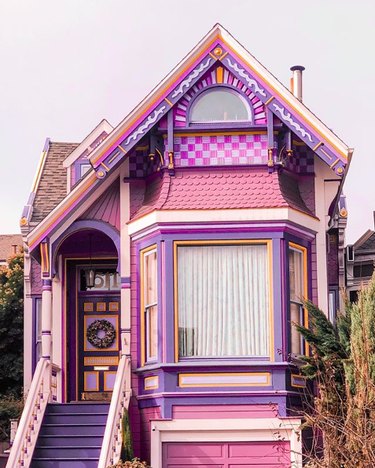 Victorian homes in San Francisco, California, look good in every color, don't they? This purple Pacific Heights house is a standout because of the vibrant exterior. There are ochre accents, checkered patterns, and Barbie-pink detailing. It's definitely not for the minimalists, and that's why we love it.