Here at Hunker, we spend quite a bit of time thinking about home decor trends and how we can provide useful info on every interior style under the sun. And if you have as many Pinterest boards as we do, you start to see the same terms used.
But do you wonder what sets them apart? We're here to clear any confusion about two particular terms: traditional versus contemporary style. If you've ever wondered what really makes them all that different, get ready to learn more.
What is traditional decor?
For starters, a lot of the pieces that inspire traditional decor date all the way back to the 18th and 19th centuries. Contemporary, as its name suggests, reflects aesthetics from the present day.
Traditional style often gets associated with items like Queen Anne furniture, for example, which dates back to the 1700s during the reign of this royal figure. According to the Metropolitan Museum of Art's Nicholas C. Vincent, after the early Baroque era — known for its flourishes and high drama aesthetics — Queen Anne items took on a more streamlined and pared-down look. Furniture pieces from the era incorporated features like cabriole legs and subtle flourishes like carved shell. These features make up the classical look we know so well today, which Vincent describes as "subdued ornamentation."
Rather than the trend-forward or statement-making furniture you might see on the 'gram, traditional pieces stand the test of time. Spaces in this style might also feature classic features like elegant rugs or ornate chandeliers. Elements like wainscoting and vintage artworks also signal a more traditional look. You won't see neon or punchy colors here, either; many rooms stick to classic hues with white, gray, and blue. They might also incorporate recognizable classic motifs like floral patterns, damask, toile, and chinoiserie.
What is contemporary decor?
Let's start with one thing: modern and contemporary actually fit into different categories. When thinking about what makes something modern versus contemporary, just keep in mind that the former includes trends from the early twentieth century while the latter specifically refers to decor made in the present (or closer to our current day).
Traditional decor stands out from contemporary because so much of our present-day trends show a move towards a sleek and streamlined aesthetic.
"Most people regard 'traditional decor' as 'more is more' — items that exude opulence with their ornate details, rich finishes, and intricate designs," LeeAnn Baker of LeeAnn Baker Interiors tells Hunker.
Contemporary decor keeps things much more simple. A contemporary living room might include a sleek statement lighting fixture, a sculptural coffee table, and modern artwork.
Can you combine the two styles?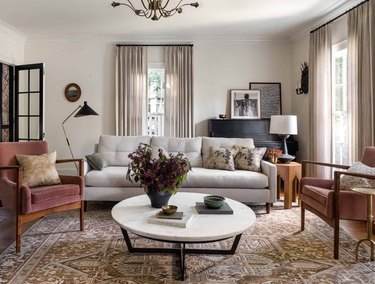 If you often save images of these two styles and can't decide which one to choose, don't rule out borrowing elements from both. While they stand on opposite ends of the decor spectrum, you can absolutely bring them together in cohesive, and exciting, ways.
"It is all about blending, finding that perfect balance of traditional and modern elements into a design that doesn't ready fussing or jarring, but rather, visually interesting and comfortable," Baker says. "I love mixing the details of handmade artisan wood finishes with pared-down furniture forms to make something that feels old world by reads contemporary."
Go forth and make each style your own.