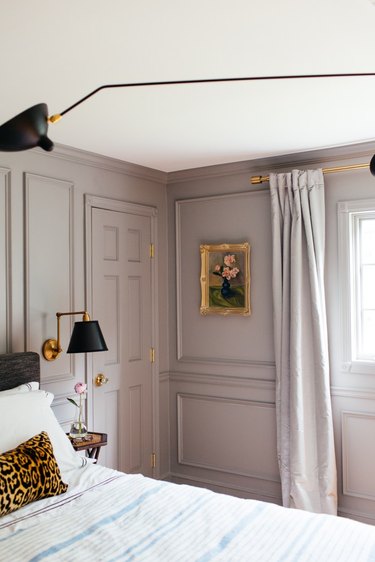 Traditional colors tend to feel elegant and reference a home's history. But they can also be easy-going and versatile. In fact, nearly any tone can achieve the look if you use certain design tricks to help you maintain a more traditional aesthetic.
1. Make it tonal.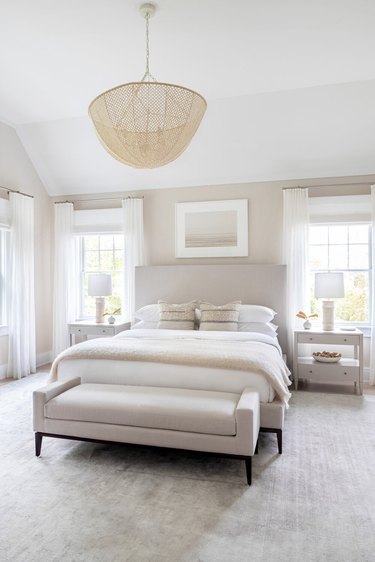 Many people like to stick to neutral shades when creating a traditional bedroom, and we fully approve of that approach. Whites, creams, taupes, and beiges are all ideal for forming a traditional bedroom color scheme that will look lovely for years to come. Chango & Co. made use of all these relaxing tonal hues in this master bedroom. And the wicker ceiling light feels especially fresh, too.
2. Keep it classic with blue.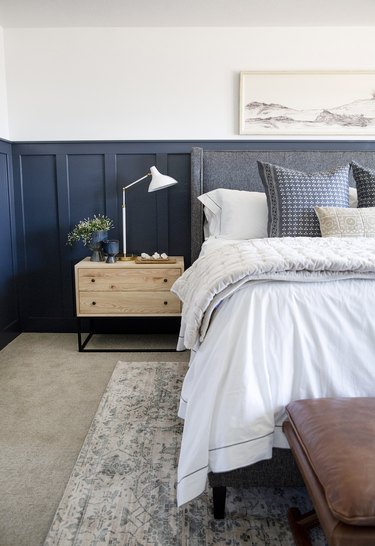 Blue is a timeless shade, so it's the perfect choice for a traditional bedroom. Plus, it's relaxing and restorative. This navy and white design by Studio McGee incorporates blue wainscoting as well as a headboard and bed linens in slightly lighter shades of blue. The room also has contrast from the warm wood nightstand, white lamp, and traditional landscape art print above the bed.
3. Stay pretty in pink.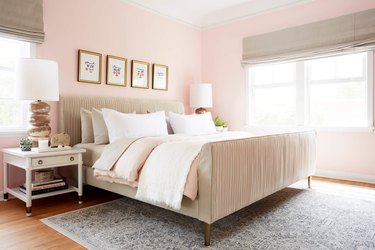 You might assume pink is a little too feminine to belong in a traditional space, but it can work occasionally. Using a softer shade on the walls will ensure the pink hue doesn't take over. And it can be easily complemented with neutral colors. Take this calming pink bedroom that belongs to Orlando Soria. The calming walls and blush bedding are tempered with gray accents and pops of white.
4. Pair complementary colors.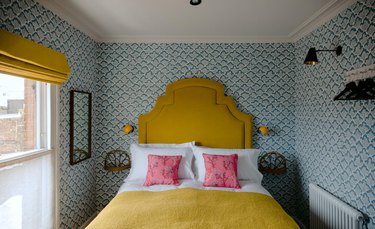 5. Tone it down with muted hues.
Love the simplicity and intrigue of this small country bedroom by Erin Williamson? We do too. What this small room lacks in width, it makes up for in height. Get the look in your own home by opting for a muted green shade that won't take over the space. You can even spring for floral curtains, a four-poster bed, and a chandelier to make the most of tall ceilings.
6. Indulge in rich shades.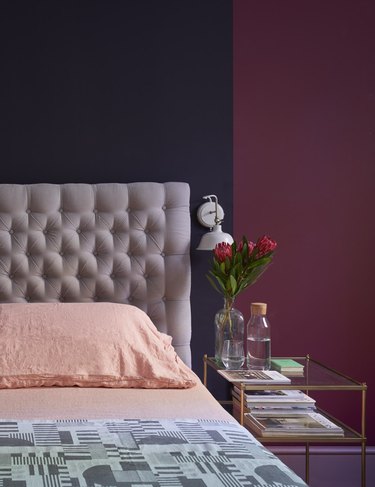 Rich paint colors look great in ornate spaces. From profound berry-infused blacks to moody purples, a traditional bedroom can take these intense hues without being overwhelmed. This bedroom, painted in Farrow & Ball's Paean Black and Preference Red, combines two shades for extra depth.
7. Layer similar colors.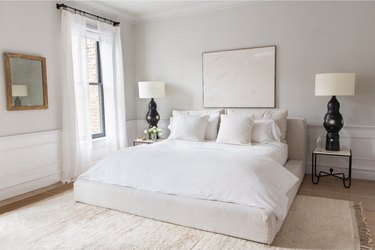 Gray is a popular bedroom color choice because it can feel both traditional and contemporary. Introduce slightly different gray shades into your own sleeping space with the bed linen, curtains, and rugs for a tonal take. This Athena Calderone bedroom is proof you don't need bright and bold shades to create a space that stands out.
8. Try a colorful wallpaper.
Opting for wallpaper in your traditional bedroom will instantly introduce a warm feel; get ready for heaps of pattern and texture. We love the idea of wallpaper with contrasting shades of pink and green that's accented by a more subtle nightstand and a quirky light.
9. Aim for understated but regal.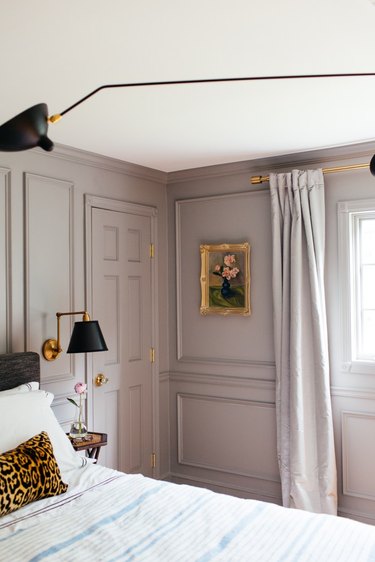 For a period look, use a muted lavender color on traditional paneling, like in this traditional bedroom design from Erin Kestenbaum. She used Worsted by Farrow and Ball and added vintage gold accents via the wall decor and sconces. Altogether, the finish is regal but simple.
10. Dabble on the dark side.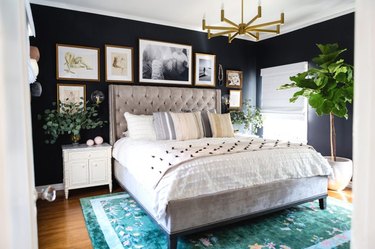 Dark colors bring a moody and sensual vibe to a bedroom and can also help you get a few extra hours of sleep (if these dark bedroom ideas are anything to go by). Dee of Murphy Deesign chose Farrow & Ball's Off-Black for her traditional (with a splash of Art Deco) bedroom. The traditional area rug in a bright color finishes things quite nicely.