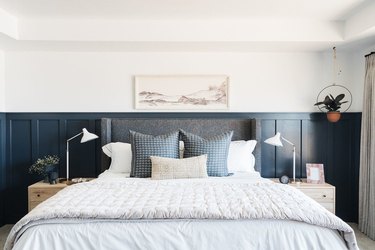 If you're like a lot of people, you can probably spot a Craftsman home from a mile away, but identifying what makes it Craftsman is a bit trickier. We could go on and on about the origins of the movement — how American Craftsman style became popular around the turn of the century, but actually grew out of the Arts and Crafts Movement across the pond in England. Or about how it was a rejection of fancy Victorian style in favor of natural materials, hand-made goods, and simplicity.
Instead, the most important thing you need to know is that even now, in 2020, Craftsman style is still going strong, and its hallmarks are right on point with some of today's design trends, especially when it comes to your sleeping quarters. We for one love cozy, old-fashioned Craftsman bedrooms. And as luck would have it, we've found eight examples that demonstrate the look beautifully.
1. Built-In Bench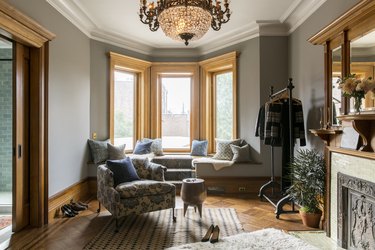 2. Craftsman-Style Wallpaper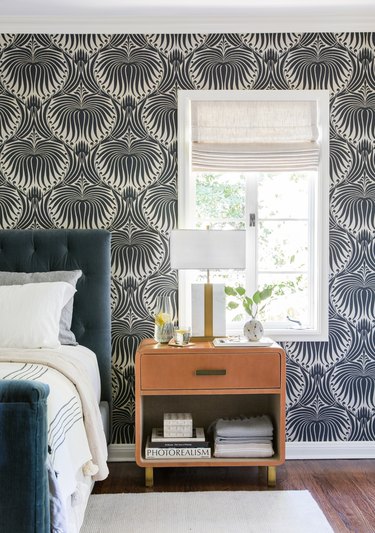 A bit of wallpaper goes a long way towards getting that Craftsman bedroom look (just check out this space by Emily Henderson for proof). Look for something in a large-scale, sometimes highly stylized repeating pattern, often involving leaves, birds, fruits, and other elements of nature.
3. Desk Nook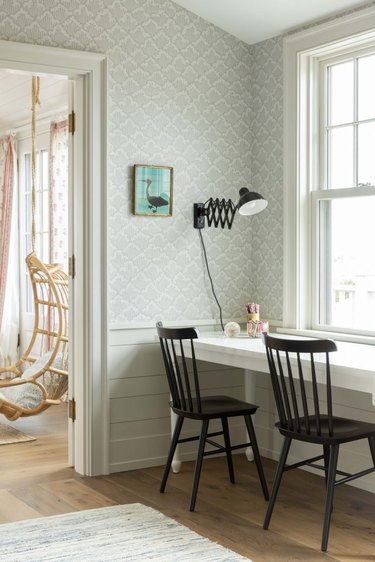 When it comes to Craftsman bedrooms, the more built-in furniture, the better. This goes for storage, cabinetry, closets — you get the idea. Have a nook or an alcove? Make use of it by building a desk. (It'll save space, too.)
4. Architectural Moulding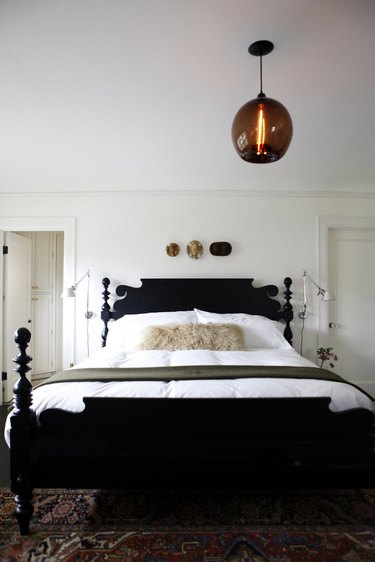 Any type of moulding — both crown molding as well as trim and casing around the windows and doors — are a staple of Craftsman style, and help establish symmetry and different spaces within a room. For an old-school look, go for exposed wood casings, or painted trim for a more unified, updated look.
5. Neutral Colors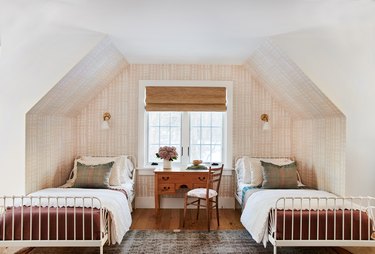 Craftsman bedrooms are not about loud colors, or many colors, for that matter. It's best to stick to a simple, unified palette, ideally in earthy or neutral tones, like the rust-colored hues seen here in a charming twin bedroom by Amber Interiors.
6. Wainscoting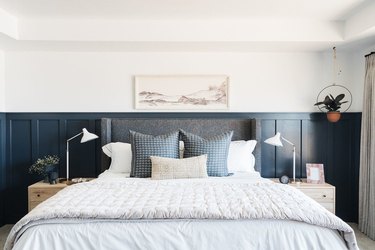 7. Natural Wood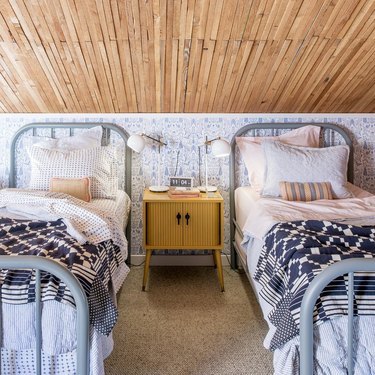 For a truly drool-worthy Craftsman bedroom, add natural wood wherever possible. This includes architectural elements, like exposed beams, molding, trim, and simple wood furniture. Soften with a botanical wallpaper print and patterned bedding, like this twin setup showcased on Schoolhouse.
8. Symmetry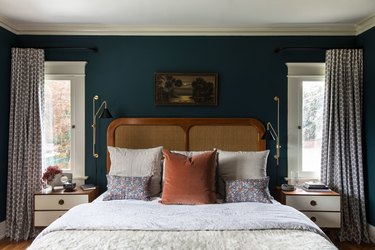 Last but not least, for a Craftsman bedroom, keep things symmetrical. Center the bed around twin architectural elements, like the windows in this project by Martha Mulholland; then, pair matching nightstands, a pair of wall-mounted light fixtures, a statement wood headboard, curtains, and pillows on either side of the bed.