Once you obsess over enough Craftsman-style homes — like we have, tbh — you start to notice a few major features of the architecture and layout. A lot of these features come from the style's origins, which date back to the Arts and Crafts movement of the late 1800s.
Here are some of the typical elements of a Craftsman-style home:
A Floor Plan That Separates Each Area
Instead of one hallway with rooms on either side, or the modern open floor plan that we often see today, Craftsman homes use a different approach. The Craftsman floor plan shows each room clearly marked and separated from the others. A Sears catalog ad from 1921 for a home kit (similar to the popular Amazon tiny house kits today), shows a Craftsman exterior and a square-shaped floor plan.
Thick Cased Openings and Crown Moldings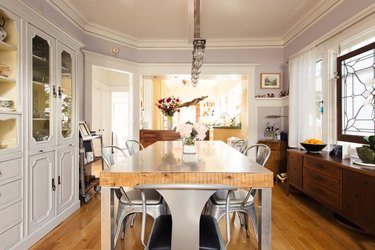 Emphasizing the separation of each room, these spaces often have cased openings and thick crown moldings. This Craftsman home highlights these features by leaving the trim white and using a light hue for the walls.
A Cozy Fireplace
Even as early as 1912 — as described in Modern American Homes by Hermann Valentin von Holst — the brick fireplace was an important feature in the classic Craftsman home. Many of the homes today have maintained these fireplaces, or upgraded them.
Prominent Wainscoting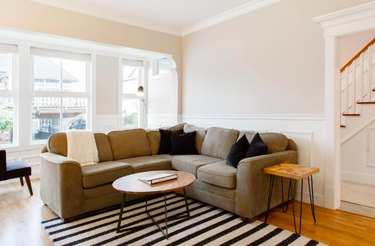 Wainscoting refers to wooden panels that were previously used for insulation. The Craftsman home often has wainscoting throughout, with some homeowners highlighting the space between the panels and the walls with bright paint or eye-catching wallpaper.
Exposed Wood Ceiling Beams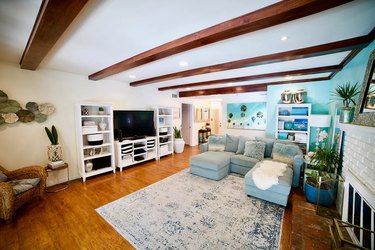 Whenever you enter a Craftsman house, look up: You will likely see exposed ceiling beams. We love the farmhouse vibes this feature gives a space. The beams are even more prominent against a white ceiling and neutral walls.
Natural Materials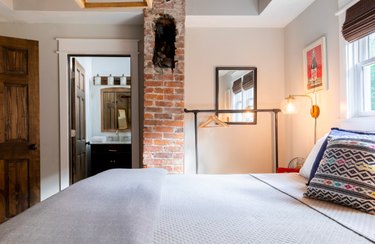 Because Craftsman houses put the focus on nature and simplicity, you can often find materials like stone, brick, and wood inside. Many homes have kept these features while renovating other parts of the home. It all adds to the rustic feeling of Craftsman spaces.
A Distinctive Staircase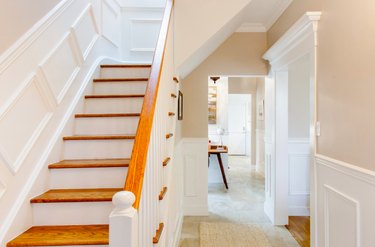 Not all Craftsman homes come with two levels, but when they do, the staircase plays a central part. Many of these eye-catching staircases often have wooden handrails, accentuated by white railings. Some homeowners get creative with them, adding features like vintage runners to highlight their staircase.