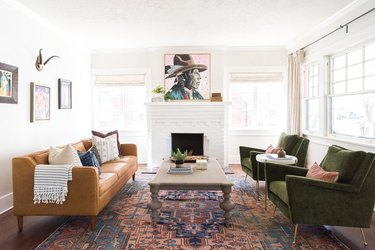 Craftsman-style homes immediately evoke feelings of family and warmth. Thanks to a great front porch, wood paneling, charming built-ins, and cozy floor plans, they were made for intimate gatherings and evenings spent by the fireplace — the undeniable heart of any home.
The classic style has come a long way over the years though — current trends have taken the traditional aesthetic away from its darker, earth-toned roots and given it a new lease on life with lighter, brighter paint and sleek finishes. Not to worry, that doesn't mean that the character and charm is lost. Ahead, we're sharing seven craftsman style fireplaces, from all-white to original brick that will have you inspired to reimagine your own (or make you wish you had one!).
1. Opt for a pop of color.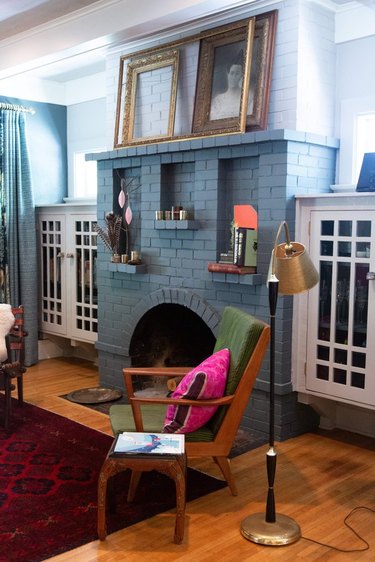 Lisa and Andy Prince made this retro home their own by adding bohemian-eclectic flair. They painted the brick of their Craftsman-style fireplace blue, which immediately gave the rest of the room a playful and family-friendly vibe. To bring this look into your own space, paint built-ins or surrounding walls a warm white, allowing the fireplace to take center stage.
2. Keep a hint of original brick.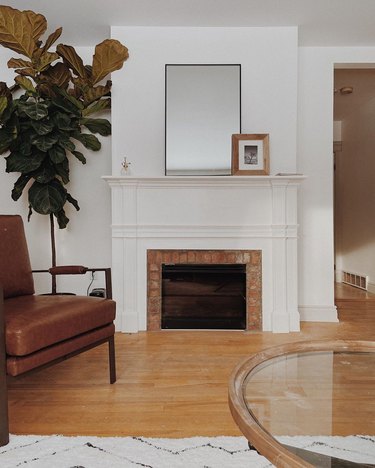 This Craftsman-style fireplace from Natalie Paquin's 1949 home manages to feel clean and simple but still full of character and history thanks to a peek of original brick beneath a crisp, Shaker-inspired fireplace surround. The warm brown and gold tones throughout the decor complement the exposed brick's natural color.
3. Go for striking contrast.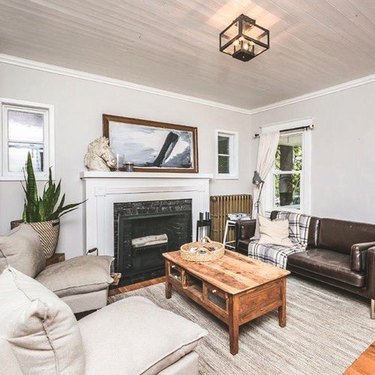 If your Craftsman-style fireplace has original brick but it isn't in great shape, or if you're after a slightly more modern vibe, take a page out of Trevor Timson's book and paint the surround and firebox the same shade of black, allowing for a seamless visual flow. Bringing in warm woods elsewhere in the room keeps the fireplace from feeling too modern or out of place in a Craftsman home.
4. Keep the warmth with a wood mantle.
5. Keep it original.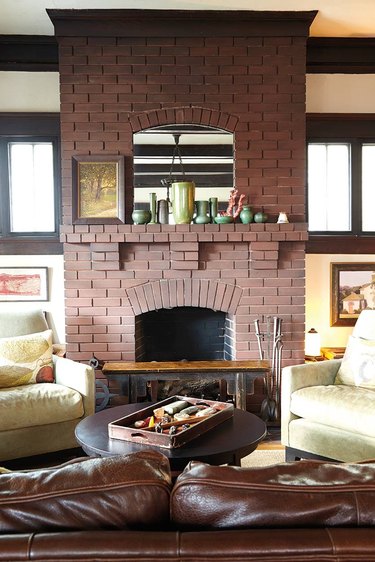 If you simply can't imagine taking a paintbrush to your original Craftsman-style fireplace, never fear, because you're not alone. This Atlanta home from Phil Lancaster, as shared on Ballard Designs, is a prime example of an old-school fireplace that perfectly complements modern-day style. While this example was lucky enough to have an inset-mirror already built-in, you can recreate this look by adding a mirror to your mantle, which will keep the room from feeling dark and heavy.
6. Mix the old with the new.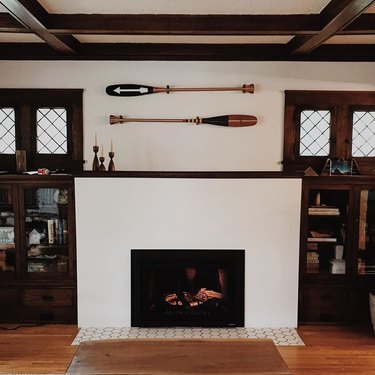 Caroline Royce perfectly executes a modern facelift of her Craftsman-style fireplace thanks to a blend of timeless materials. Transforming the previously brick, wood-burning fireplace with a smooth surround (and gas insert!) looks effortless thanks to classic hexagon hearth tiles and the preservation of her original wood-built-ins, creating a perfect blend of old and new.
7. Paint it white.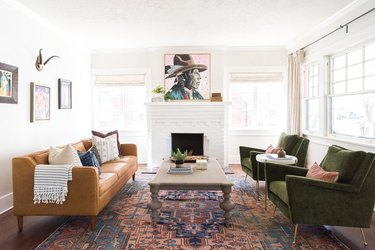 This 100-year-old Craftsman got a light and bright makeover by Sheree Chamberlain thanks to a white painted brick fireplace that flows seamlessly into light and bright walls. To recreate this look, style your mantle with colorful, bold art to add character and balance against a white backdrop.