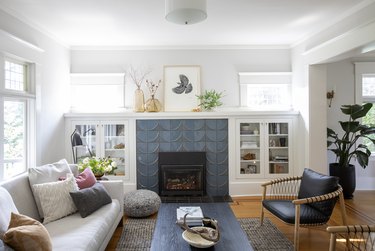 A couple's home in Oak Bay, a historic residential neighborhood in Victoria, British Columbia, had plenty of room for a family of five, but the space was better suited for previous generations. They needed to update the house to suit their lifestyle and reflect their personalities without losing the home's original character and charm. The couple teamed up with design firm Bidgood + Co to tackle the renovation and redesign. The firm first focused on improving the flow of the main floor with a new open kitchen and dining area and making the rest of the space more functional by adding storage and repurposing an awkward powder room under the stairs as a workspace. "Every detail, down to exposed beams and the original floor inlay, had to be taken into account," says interior designer Kyla Bidgood. "The changes worked out flawlessly as if the house had always existed that way."
Bidgood infused a handmade feel into every space, from the ceramic pendant lights in the kitchen to the hand-painted tile in the master bathroom. She also chose a nature-inspired palette. "This family loves the outdoors, so the palette was driven from the rustic west coast; [there are] cool blues, greens and grays balanced with warm wood tones and black accents." The entire space is stylish, kid-friendly, and, just as they wanted, very full of personality.
---
Elizabeth Stamp is a freelance writer in Los Angeles. Her work has appeared in Architectural Digest, Elle Decor, and CNN Style.