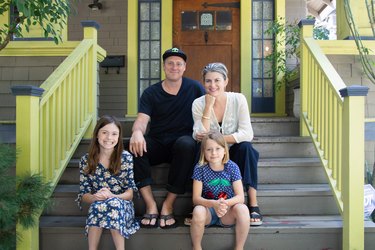 Who: Lisa and Andy Prince
Where: Sunnyside, SE Portland, Oregon
Style: English country eclectic
When their girls were young, Lisa and Andy Prince would drive by an old Craftsman home in SE Portland every day on the way to daycare. "Andy and I would always talk about how much we loved this house," says Lisa. The homeowners always had lots of flowers in the yard. The house itself had great colors. Most importantly, she says, there were lots of friends coming and going on the porch.
When they started house-hunting about six years ago, they kept saying, "Why can't a house like that come on the market?"
And then one day Andy came into Lisa's work saying THAT HOUSE had come on the market.
"And it ended up being ours," she says.
While they were at first drawn to the exterior charm of the creaky old 2,400 square-foot family home, inside the Princes found an unconventional but user-friendly layout that appealed to their sense of family and community.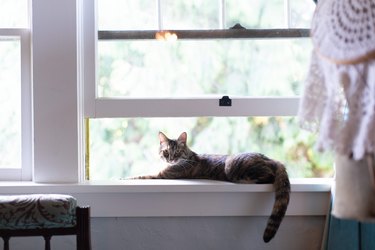 They spent three months quickly renovating to lighten and brighten the space. "We put windows in the back wall of the kitchen to allow light all the way through the house, and we painted very dark and unkempt woodwork a warm white to reflect more light into the house — especially during those grey Portland winters," says Lisa.
They paid special attention to woodworking details, and used their time and money in savvy ways — like using IKEA for the bones of their open kitchen. And they leaned heavily on their contractor — who managed to finish exactly on the day they had planned. "That's virtually unheard of," says Lisa.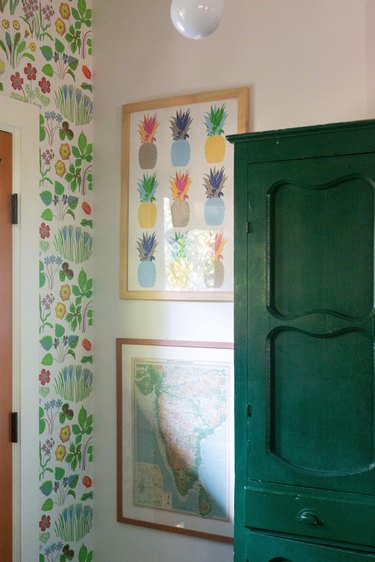 What gives the space its modern, English country feel is the way pattern and color play out in each room. This is no accident: Andy is a British citizen, Lisa grew up in London, and their first child was born there. They love the explosions of rich patterns, Liberty of London, and Danish design — especially the use of white and bright colors. And the small details and accessories make the space truly personal.
Says Lisa, "We feel like every object and decision in this home could tell a small story about who we are."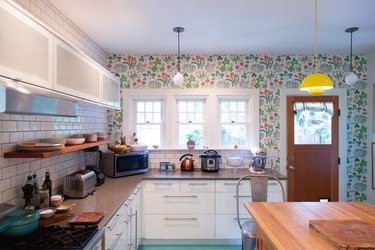 The Prince's kitchen captures their taste perfectly — clean and modern lines, with pops of primary color and playful, Liberty of London-inspired patterns.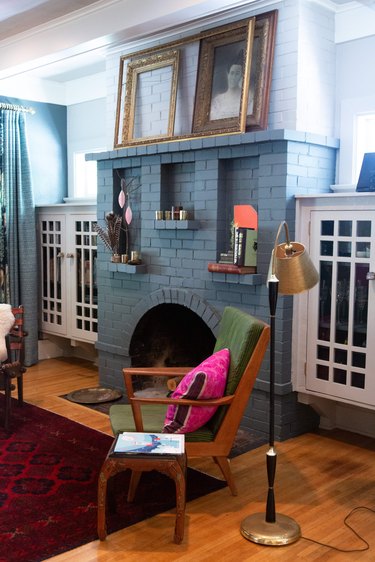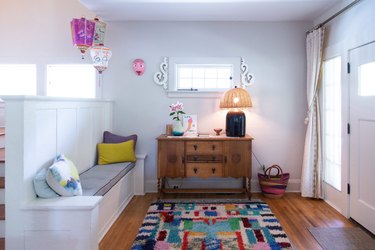 Lisa describes the interior as bohemian-eclectic. "We are big fans of slowly collecting the things you love and letting the style evolve out of that," she says.
The loveseat, which anchors the dining room, is a favorite piece. They found it at a junk shop and fell in love with the shape. "While the frame was solid, the fabric and springs were in need of some love," says Lisa. "We turned decorating it into a family project, with all of us painting on a large piece of fabric, creating a colorful, abstract design. We then had the seat resprung and reupholstered with the fabric we painted. We love how it's a mix of a classic, antique shape with a bright, poppy, and modern print."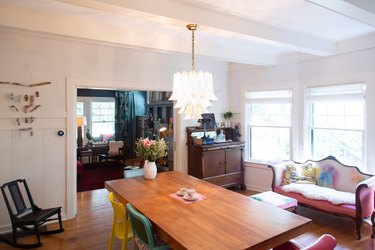 The Murano glass chandelier, also in the dining room, was an investment.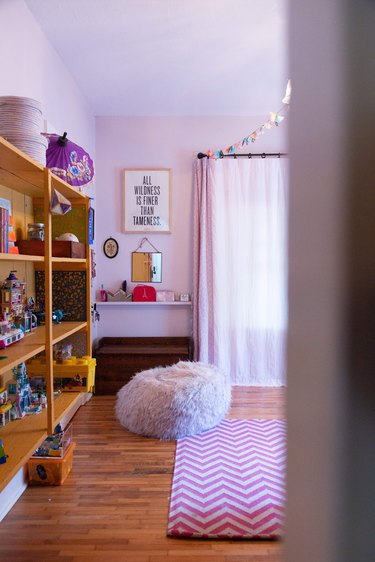 The girls' rooms are bright and colorful.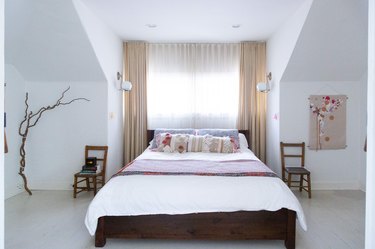 The master is a little more subdued.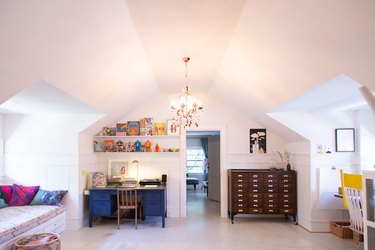 The upstairs is all open space. "It has a mix of everything — space to work, space to play, and space to read or daydream."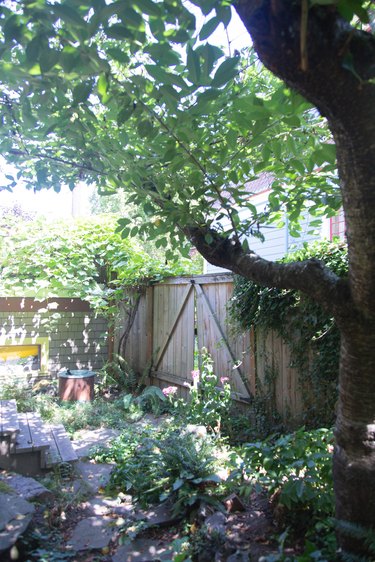 "We know this sounds like a cliche, but this house is built for lots of life," says Lisa. "It needs neighbors, kids, [and] pets running around it."
Locals Know Best
Favorite piece of design or architecture in your neighborhood, town, or city: "We adore Victorian fretwork, so we are in love with all the houses in the neighborhood that still have this."
Best places for thrift store finds, antiques, or flea markets: "For the old stuff: estate sales, Etsy, Really Good Stuff (a great junk shop on Hawthorne), Lounge Lizard, Hippo Hardware."
Best farmers' market: "The PSU Farmers Market. It's the best for us because it has the most memories. When we first moved to Portland, we lived in corporate housing around the corner. This was the first place we experienced the amazing produce and flowers that Oregon has to offer. We have very good farmers' markets closer to home but this one still holds the most memories."
Best happy hour: "We are obsessed with the peanut butter brittle fried chicken at Revelry."
Best cheap and cheerful restaurant: "We love The Sapphire Hotel on Hawthorne. Brilliant cocktails and a moody, cozy vibe. Perfect for a rainy day hot toddy."
Best coffee shop: "We love Albina Press on Hawthorne. It's light and airy, has great art on the walls, and is the perfect place to get some work done."
If I were to have visitors, I would take them to: "The amazing nature around us, hiking on Mount Hood, berry-picking on Sauvie Island, [and] secret swimming holes on the river. All followed by some great food cart finds, like Chicken and Guns. And a trip to nearby Movie Madness: an incredible all-in-one movie rental shop and prop museum."