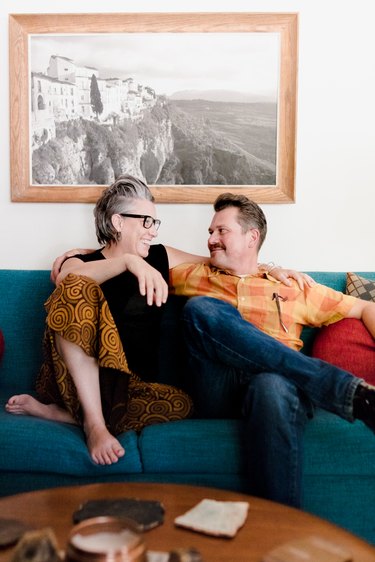 Who: Steph and Alex Zangeneh Azam
Where: Southland Park, Sacramento, CA
Style: Eclectic Ranch
Steph and Alex Zangeneh Azam are two creatives who, if you happened to spend time in their home before meeting them, you'd know them well. Steph is a graphic designer and photographer; Alex is a designer who focuses on marketing. Careers aside, they both have passions for mixing vintage midcentury modern and eclectic pieces to create a warm, inviting, and cozy home where enjoying a cocktail and some good tunes and wrenching on a vintage motorcycle out in the garage, AKA "The Moto Chapel," is a must.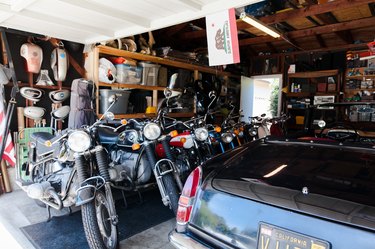 They first met years ago the very day Alex gave his notice at the now defunct Tower Records Corporate office. "I noticed Steph, a new hire, working at what was my desk. For me it was love at first sight, and though we didn't see each other for almost a year, we kept in touch. I ran into her at a party by chance and realized she was single, and I pulled out every weapon of love I had. Twenty years later and married, and I'm still happy as a clam."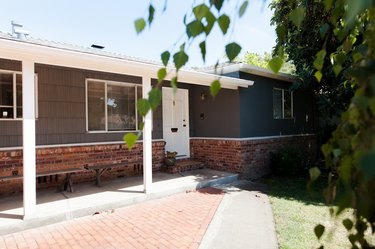 When they set out to buy a home, Steph says they were on the hunt for a ranch-style that still had vintage charm. "We wanted a good flow, hardwood floors, a fireplace, and attached garage for our vintage cars and motorcycles, and this house had it all!" And for Alex, the neighborhood was perfect. "It's lovely," he says. "It's very close to the river, so we get the delta breeze that cools us off. And the minute we walked inside, we knew this house was the place."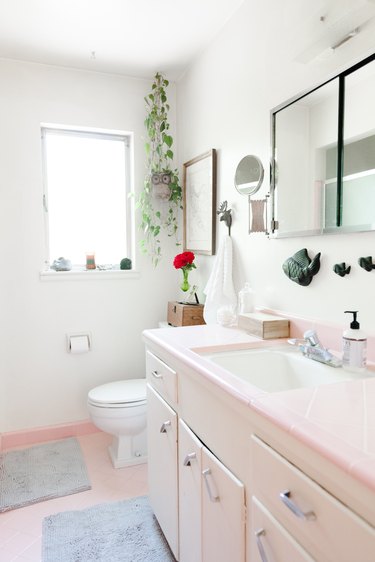 The 1,200-square-foot, three bedroom, 1-1/2 bath home has a layout that the couple absolutely loves. "The two car garage, where I imagined I'd spend most of my time, is completely on the other side from the master bedroom," says Alex. "So, I can be loud with a project while Steph relaxes without hearing commotion."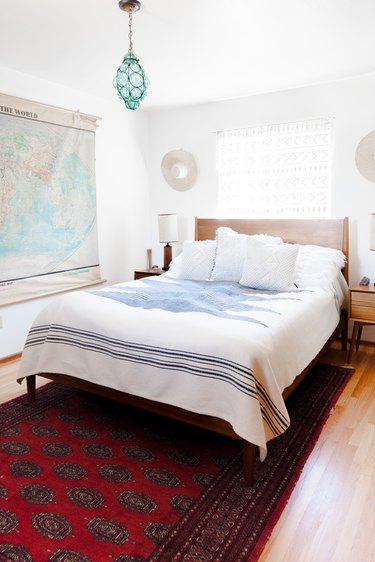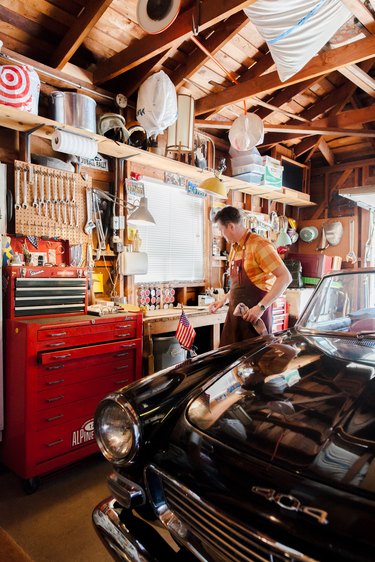 When asked what their approach to decorating is, Steph muses, "We're definitely not minimalists. Our taste is eclectic and maybe even a little weird. We love Scandinavian furniture mixed with new and vintage items accentuated with bold color." For the interior walls, they chose a warm white to contrast the wood furniture, floors, cabinets, and closet doors. The neutral tones are balanced with pops of color through textiles, plants, vintage lamps, blankets, pillows, and art they have collected over the years.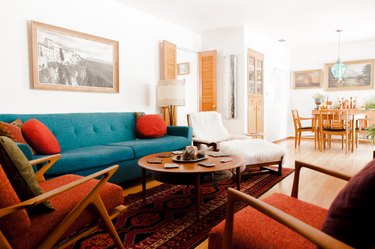 Steph explains that the galley kitchen pays homage to a special someone. "We love Julia Child and have always been inspired by her kitchen and how it had such life! When it came to home kitchens, she disliked the sleek, clutter-free, modern look. Her tools adorned her walls and were at her fingertips. So, for our tiny kitchen we tried to keep that spirit alive." Aside from the garage, the kitchen is Alex's favorite part of the house. "It's easy to chill in there, cook up something tasty, or enjoy a coffee," he says.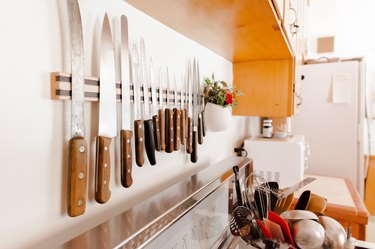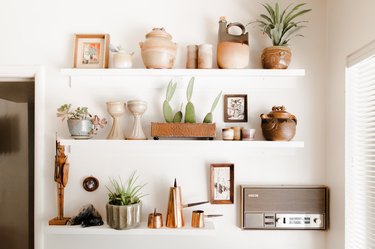 As for her favorite spaces, Steph picks the living room/dining room area, which is central in the home and has a lovely view of the yard. "It's colorful and packed with meaningful items, and it just has a great vibe," Steph shares. "I wake up early every day and have a cup of coffee and watch the sun shine through the windows."
She also treasures the three paintings in the dining area. "They were painted by a relative and hung in my grandparents' home for over 50 years," says Steph.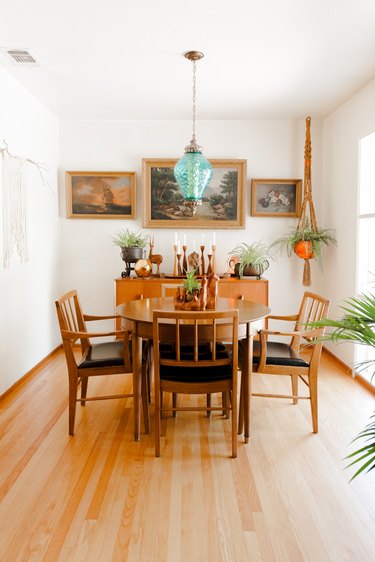 A lot of Steph's photography hangs on the walls throughout the home, in particular a photo she shot while in Spain that is installed over their couch. She also loves to display the rocks and crystals her grandfather found over the years.
When it comes to shopping for home items, Alex leaves most of it to Steph, but definitely has an eye. "I bought a lot of Danish modern furniture before I met Steph as it was totally cheap in those days, and plentiful in thrift stores," Alex says. "Both of us share a love for Scandinavian modern design, and we have this knack for finding what we need when we need it. For example, we found our record cabinet, sideboard, and kitchen table with chairs all in one go at a thrift store. It took a bit of vision to see past the devastated record cabinet (which was actually a credenza), but after cutting the damaged legs and sanding and staining it, we saw that it fit perfectly under the picture-window. Did I mention that we bought the coffee table and dining table from the previous owners? We've been really lucky."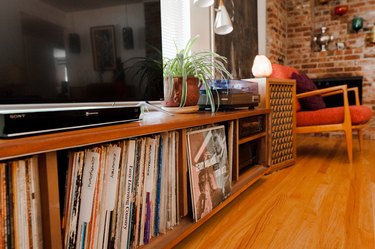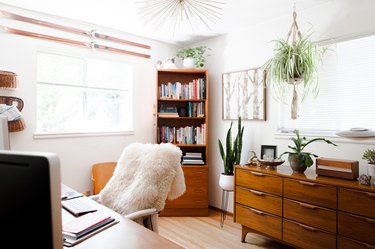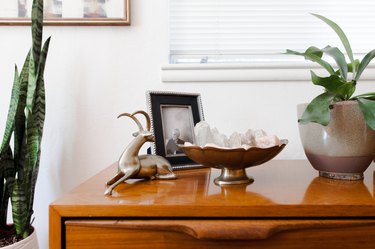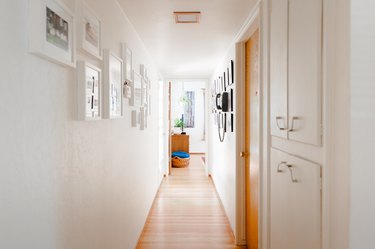 Since they're both career creatives, Steph says they're always in creative mode. "Whether it's styling our house, rearranging/repotting plants, or designing a brand or website, I've never been one to follow trends. Instead, I try to listen to my gut. I'm constantly creating, recreating, refreshing." For Alex, it's the same. "I'm a designer by trade, so I really enjoy the juxtaposition of things," he shares. "I love how our eclectic taste mixes with modern culture to create a groovy spirit in the house."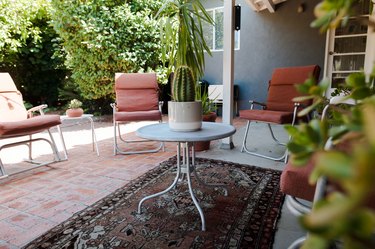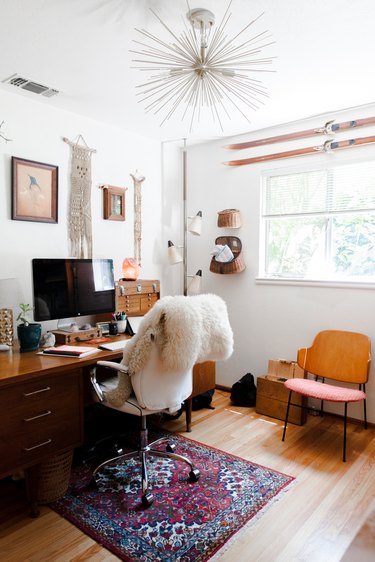 As for advice on approaching the design of your home, Steph wants people to realize, "Your life is your own and yours to design. Be it your home, your personal style, whom you surround yourself with, or your job. Life is too short for regrets." Alex adds, "Have as much fun as you possibly can. And don't take anything too seriously. Nothing is forever. The truth is that it's hard to meet your own expectations. Experiment with different things and be open to change. And break the stigma of your own expectations."
That said, don't you just want to hang out with both of them at home?
Locals Know Best
Favorite piece of design or architecture:
Downtown Sacramento: "We love all the old buildings in downtown," says Steph. "On weekends, it's so fun to drive around with the top down in our Peugeot 404 Cabriolet and check out what's going on."
The Brick Storm Drains along Seamas Avenue and Fruitridge Road: According to Alex, "The round brick storm drains are so bizarre and futuristic."
The Executive Airport: "I love the architecture and the Aviator's restaurant there," says Alex. "It's a gem, with very cool shingled interior. They even have a '60s jet canopy covering the salad bar!"
Chase Bank on Freeport Blvd: "It's the coolest round midcentury building ever," Alex says. "Really neat and worth checking out the interior."
Thrift store finds, antiques, or flea markets:
"We really love poking around Scout Living," Alex and Steph share. "They're super cool with good prices on nice pieces. We used to visit thrift stores a lot but haven't found much in the past few years, so we don't really go anymore. However garage sales are the best. Always stop and take a peek! Also the antique fair the [West Sacramento Antique Market] that goes on the second Saturdays under the w/x freeway. Hit and miss, but worth it and really fun.
The couple both believe in the best happy hour: "At home! No kidding. We love it. Otherwise, it's Husicks on the Delta. Fun getaway, short drive, and very tasty beers and BBQ."
Cheap and cheerful restaurant:
Tower Café: "A giant beer on the patio is really refreshing," according to Steph and Alex.
Place to experience art and culture:
Espresso Metro: "Been going there for decades," the couple shares. "Great food, excellent coffee, fantastic ambiance and the Metro Burrito is tasty>'
When we have visitors, we take them to: