Who: Julie Van Daele
Where: Culver City, CA
Style: Modern, monochromatic, inviting
After searching for the perfect home in Los Angeles' fiercely competitive housing market, interior designer Julie Van Daele and her husband did the thing everyone claims they'd love to do (but never do): build a home from scratch. While Van Daele cut her teeth in the design world for over a decade representing emerging designers and furniture brands, it was the decision to build her own home (with the help of her husband and father) that really established her eye for design and savvy for taking on ambitious projects. At the time, she also ran an architecturally driven stationery side-business that incorporated some of her now-signature textures — marble, wood, concrete, and leather — and was already building an impressive online presence. "I have always had an interest in design, architecture, art and travel, and I used those interests to help me design our home," Van Daele says.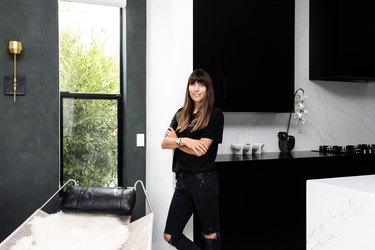 Van Daele and her husband share a similar design aesthetic, but true to her thorough professionalism, she approached designing her home by using PowerPoint presentations, which her husband found endearing and also extremely helpful. She explains, "I am a very visual and tactile person, so as we designed the home I had to go room by room and create Powerpoint presentations with all of our furniture, lighting, door handles, flooring, windows treatments, and paint selections to make sure everything was cohesive, not just in that room but throughout the entire house!"
Her love of monochrome and minimalism is obvious throughout the home, but the more industrial elements are offset by touches of warmth. Van Daele says this is best achieved by incorporating texture and plants: "Our color palette was pretty much black, white, and grey, so that can easily come off as cold and austere. One of the best decisions we made was getting a cozy and very relaxed style couch in our living room—the Restoration Hardware Modern Cloud."
In front of the couch sits a unique, custom soapstone coffee table that she and her husband designed from scratch with the help of a fabricator. She also added light brown woods and painted some of the walls in Portola Paint's Roman Clay to give the walls texture. Finally, plants are key. She credits her husband, who is something of a plant whisperer, with filling the space with big, beautiful plants.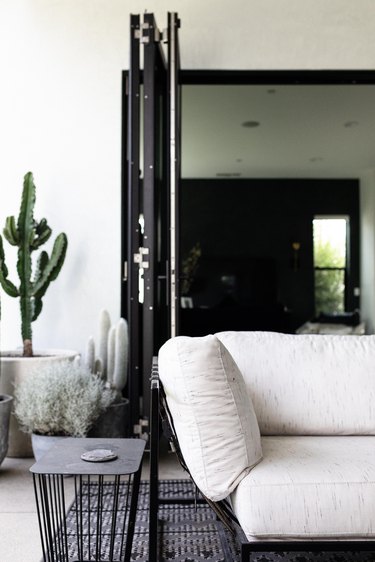 The focal point of her home is the open-concept kitchen, a frequent gathering place for friends and family. It's also a place for her to have a moment in the morning with her husband and son before the chaos of the day. The kitchen and living room open out and extend into a gorgeous outdoor living room, seamlessly blending indoor and outdoor spaces. On weekends, that's where you'll typically find them, listening to music and making coffee.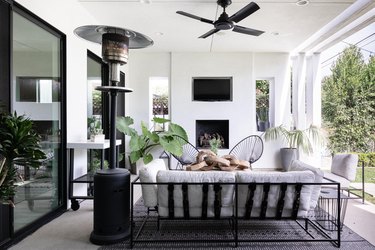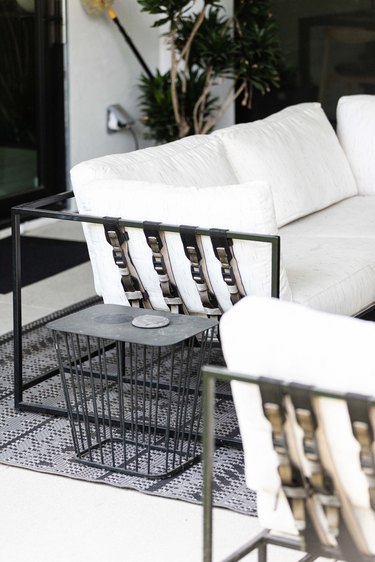 Van Daele's path into interior design came organically: While she was posting updates on her home to Instagram, many of her followers began to take notice. One in particular eventually reached out, inquiring about having her design her condo in New York. "I was shocked and also super excited at the idea," she tells us. "She was my first client who in-turn has opened so many other doors for me. She has also become a friend, which is always a plus to take from a new project!"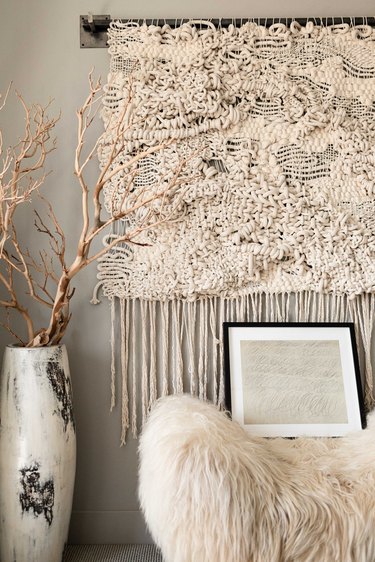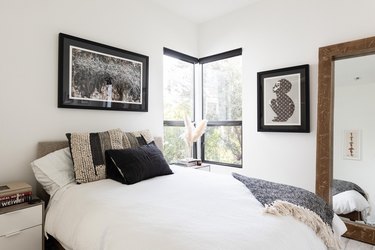 Her past experience in the industry, plus word of mouth, led her to meet and connect with others in the LA design community, which then turned into friendship. "Stephen and Beks, founders of Stephen Kenn, are my dear friends and are some of the most generous people I know," she says. "They love community, love connecting others and love seeing others succeed. They are rare gems and been some of my biggest supporters." Along with them, she credits fellow interior designers like Transition State, CitySage, and Armadillo & Co for sharing their wisdom with her.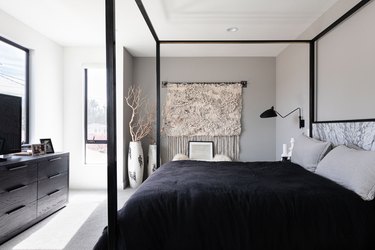 Of the many projects under her belt, a standout was getting to work on custom furniture and lighting for the Audemars Piguet East Hampton store. "We made these spectacular travertine, brushed brass, and leather chairs and couch," Van Daele says. It was one of her most challenging, creative and educational projects to date.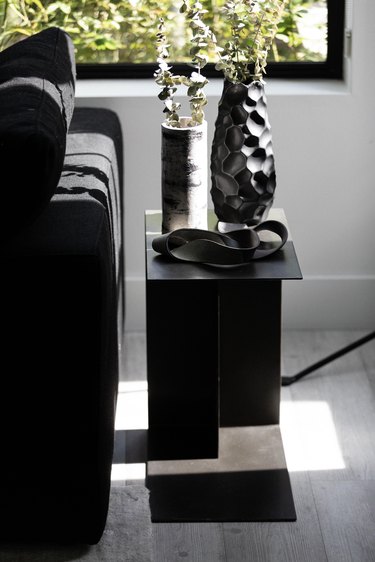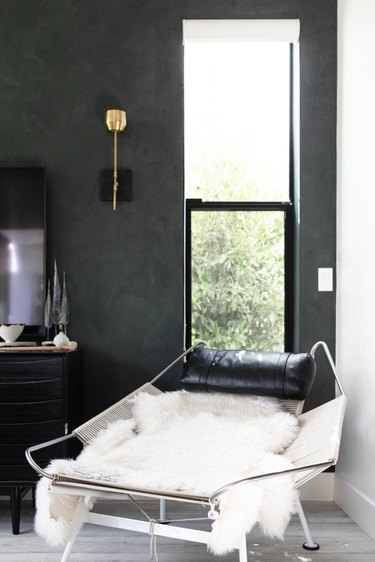 When collaborating with a new client and helping them realize their vision for a space, she asks three questions: How does it make you feel? Is it functional for your lifestyle? Does it feel special and unique to you? From there, she'll help them pull their ideas together to make it more cohesive. Many people have a general sense of what they want but forget the details. "A lot of people will have an idea of what they like, but aren't sure how to put it all together," Van Daele explains. "Also, everyone forgets about accessories to make the home feel like a 'home.' I love that part!"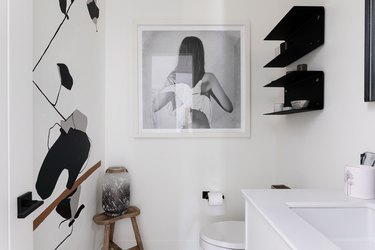 Running her own business while tending to the myriad full-time responsibilities of motherhood, Van Daele strives for balance in her workday by keeping to a wind-down ritual. "Every night at 8 p.m., my husband and I put down the phones and enjoy a glass of wine," she says. "He sits and talks to me at the counter as I cook, and we enjoy a meal together. It's there that work stops, we both can take a deep breath and just enjoy the quiet time. I look forward to 8 p.m. every single day."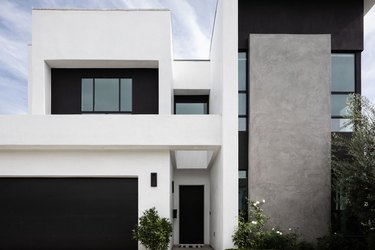 Locals Know Best:
Favorite Shop: Match Stoneware
Favorite Restaurant: Uzumaki ("Best sushi.")