Houseplant sales are at an all-time high, thanks in no small part to Instagrammability — after all a millennial loves nothing more than photos of their morning coffee set in front of their air plants. (A recent Bloomberg article noted that #plantsofinstagram now has the same amount of posts as a hashtag for the New York Yankees!)
But just like decor styles, plant preferences vary from state to state. A new study tracked data trends from Google to find out which leafy babies were searched for the most in each state.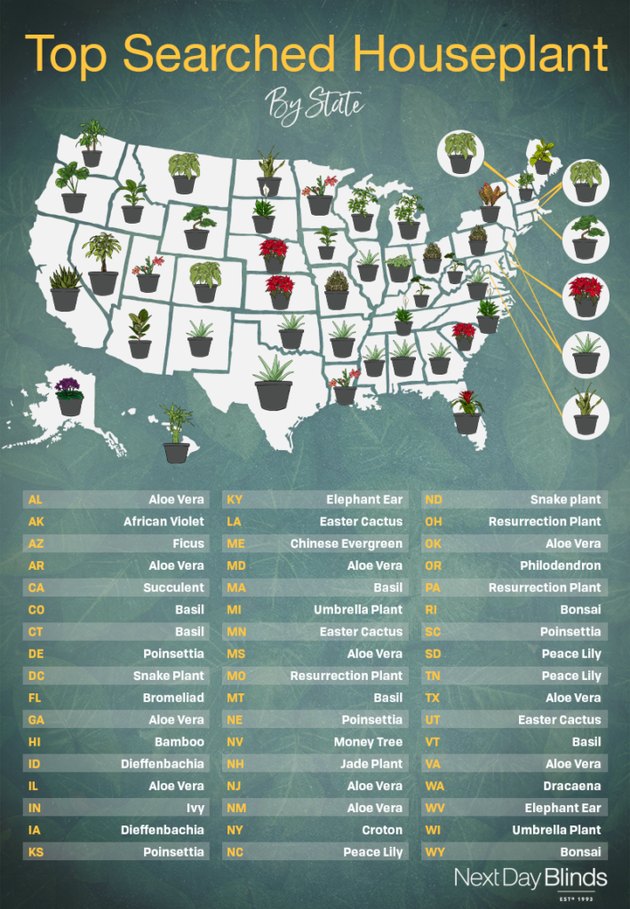 Not surprisingly, Californians love their succulents, while Kansas residents apparently celebrate Christmas year-round — poinsettia were the most commonly searched plant there, along with Delaware, Nebraska, and South Carolina. Many of the Southern states — New Mexico and Texas included — are partial to aloe vera, an inexpensive healer after a long day of too much sun. Bonsai took the top billing in Wyoming and Rhode Island.
As for the strangest houseplant to be most popular in more than one state? That would be Ohio and Missouri's favorite, the resurrection plant. This oddball plant lives in the desert and will curl up when temperatures get dry. After being watered, they come right back to life. Another interesting selection: the money plant, which is, almost comically, the flora of choice for Nevadans spending too much time on the Las Vegas Strip.
---
Laura is a New York City-based freelance writer who writes about travel, food, and design. Her work has appeared in Architectural Digest, Bon Appétit, GQ, Condé Nast Traveler, and more. She's a sucker for a good curbside furniture find.
View Work