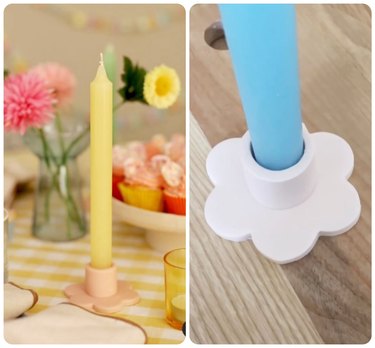 When it comes to handmade home decor, you don't need fancy supplies (or skills!) to make something awesome. Not convinced? Recently, DIY blogger and Instagram user Francesca Stone shared a flower candle holder tutorial, and it's ‌so‌ sweet.
To make the project, you'll only need four items: polymer clay, a flower cookie cutter, a craft knife, and a rolling pin (that's only used for clay). You'll also need a hard, flat work surface and access to an oven.
The first step is to roll out a sheet of polymer clay, about 1/4-inch thick. Next, cut out a flower shape using the cookie cutter. The flower will be the base of the holder.
Form the leftover clay into a strip about 1-inch wide, then wrap it around the base of a candlestick. Trim the excess clay, form the strip into the circle, and attach it to the flower.
To join the two pieces together, use your fingers to pinch the circle to the base. This part might be tricky if you're new to polymer clay, but remember — if you mess up, you can simply re-roll the clay and start over.
Now, it's time to bake the candle holder. Stone recommends doing so at 230 degrees Fahrenheit for 30 minutes, but you may want to double check the packaging of your clay in case it has specific directions.
Once cooled, the candle holder is ready to adorn your table. So fun!
The best part about this project is that it's easy to customize. After all, polymer clay is available in many colors, so you can choose one that suits your existing decor.
A daisy-style cookie cutter is key for that classic retro look, but you can use one in any style you'd like.
If you're a crafter, there's also a good chance you already have a craft knife. Otherwise, they're readily available and super handy for various projects.
As for the rolling pin? You can use acrylic or wooden rolling pins. Again, just be sure it's only used for clay, not food.