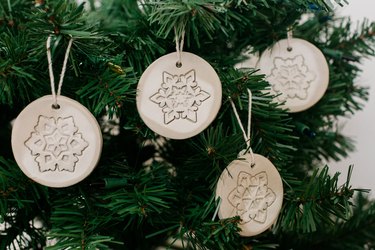 This season, while we've been loving the eye-catching, modern ornaments available at many of our favorite stores, we're really into the idea of creating handmade, DIY holiday decorations. So, why not set your holiday tree apart from your neighbors' with customized air-dry clay ornaments? We decorated these using none other than reusable sugar cookie stamps, and the effect is downright divine when hung on a lit (or even an unlit) Christmas tree. All you need are a few materials and one hour. It's so easy!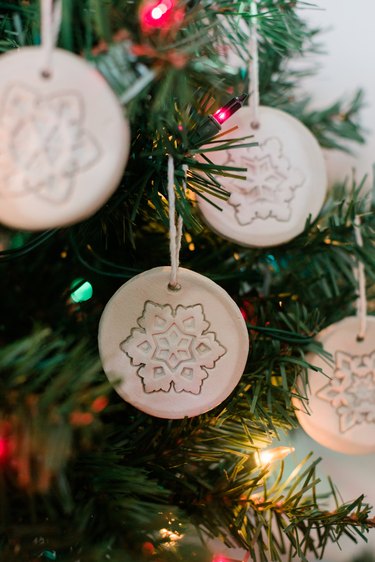 Things You'll Need
Cutting board

Rolling pin


Round cookie cutter or drinking glass

Dish of tap water

Wax paper

Bamboo skewer or toothpick

Scissors

Twine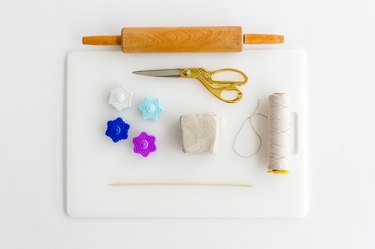 Step 1
Roll out the clay on a cutting board using a rolling pin until the clay is roughly 1/4-inch to 1/2-inch thick.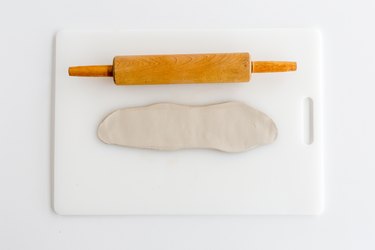 Step 2
Use a round cookie cutter to slice the flattened clay into individual circles about three inches in diameter. If you don't have a round cookie cutter on hand, you can use a drinking glass to cut the clay.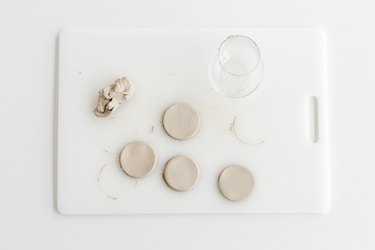 Step 3
Fill a small dish with tap water, and then wet your fingertips. Rub gently along the cut edges of the clay circles to even them out. Lay the clay circles on wax paper for easier handling in the following steps.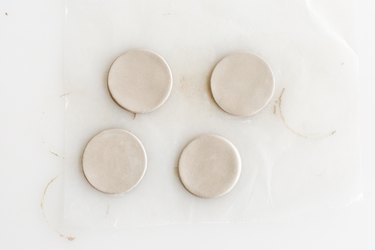 Step 4
TIP: If you wet the stamp face before pressing it into the clay, it will be easier to pull out of the clay when done stamping.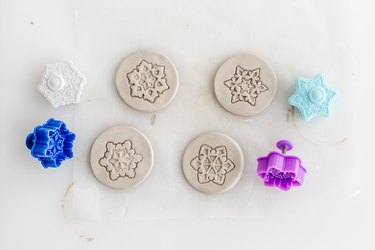 Step 5
Before the clay starts to harden, use a bamboo skewer or toothpick to poke a 1/4-inch hole through the clay. You may need to even out the edges of the holes with your wet finger again.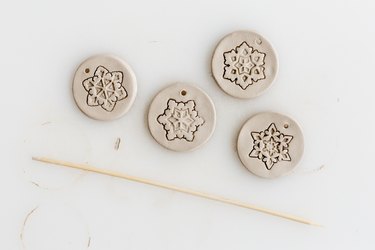 Step 6
Cut the string into individual 6-inch pieces, and then pull each one through the holes of your stamped clay circles. Tie the string together at the ends to create hangers for your ornaments.
Step 7
Allow the ornaments to sit out for a few days, uncovered, until the clay feels dry to the touch. Finally, hang them on your tree. Note that the color of the clay will continue to even out as they slowly air dry over the course of the next few weeks. They can also be painted with acrylic paint if you'd like to give the ornaments a brighter finish to match your favorite festive holiday decor.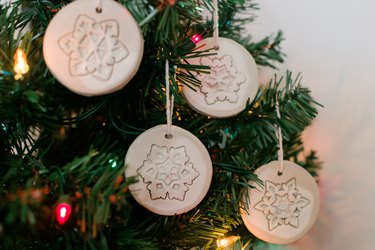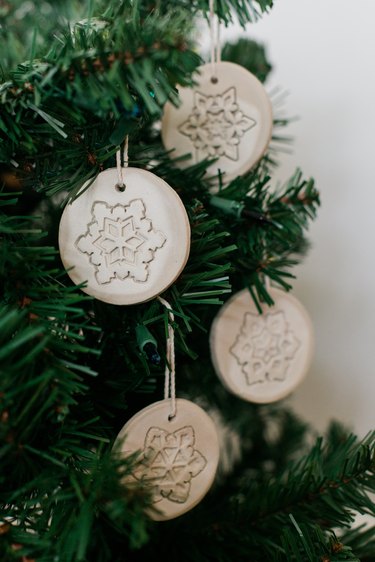 ---
Carrie Waller is the writer, stylist and photographer behind the lifestyle and crafting blog, Dream Green DIY, which was founded in March 2011. Her work has been featured by Domino, Better Homes and Gardens, Design*Sponge, HGTV Magazine, Country Living, Rue Daily, Glitter Guide, and Apartment Therapy. Carrie lives in Waynesboro, Virginia, with her husband and their three pets.