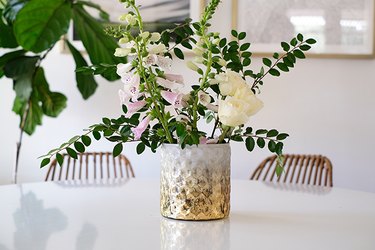 There's no doubt that weddings are expensive, but if you're a Costco member, you can actually use your membership to cut down wedding costs.
In a viral video, TikToker @ajla_talks shares hacks that'll save you a pretty penny on your wedding day — as well as a hack for honeymoon savings!
The first tip is to buy your flowers from Costco. In the video, Ajla compares the cost of blue hydrangeas from online floral shop Global Rose and from Costco. Through Global Rose, you'll spend $81.99 on 20 stems, while at Costco, you'll spend $59.99 on 24 stems. When you consider just how many flowers you'll likely need at your wedding, this could equate to hundreds of dollars saved.
Next up are wedding save-the-dates, invitations, menus, and signage. Ajla points out that Costco has a partnership with Shutterfly, where Costco members can get 51% off their orders. Half price is always a win in the wedding world!
And finally, there's the honeymoon. Costco has a travel department that is full of deals, from cruises to hotels to rental cars. You can book full travel packages, including romance packages, that often include freebies like room upgrades and resort credits. Ajla even found some deals where Costco covers taxes and resort fees.
"Definitely using Costco for my wedding … now to find a husband," wrote one commenter on the video.