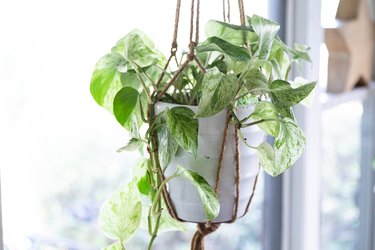 Calling all plant parents! If you love the look of climbing vines but struggle with hanging them up, you'll want to try wall clips. Thanks to Instagram user Lanie Allen, we recently learned about the little clips — and we're loving the concept.
The clips are essentially self-adhesive units that open and close, allowing you to place a vine inside. They're meant to attach to a wall or ceiling, so you can position the vine as you please. The clips also look like little green leaves, so they'll blend in perfectly with the plant. (They're also just really cute.)
And just in case you're wondering, no — the clips will not ruin the vine. Each one has a large space in the center, where the stem can nestle without being physically crushed.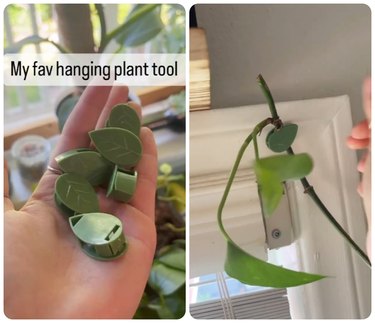 The best part? As your plant grows, all you need to do is unclip the vine and adjust it as needed. You can also add more clips, if needed.
The clips that Allen used are available on Amazon. One pack contains 50 clips, so there's more than enough for a couple plants.
That being said, there are a few things to keep in mind. The clips that Allen used come with an adhesive backing, but reviewers on Amazon say it's ‌very‌ strong. One shopper recommended twisting off the clip (should you need to remove it), while another suggests cutting up Command strips and using them instead.
Either way, the wall plant clips are much more convenient option than hammering multiple nails into the wall!
What types of plants can you use the clips for?
According to the Amazon listing, the clips can be used for both outdoor and indoor plants. Examples include:
Tomato vines
Orchids
Green dill
Ivy
The clips are not ideal for large plants, as the stems may be too thick.