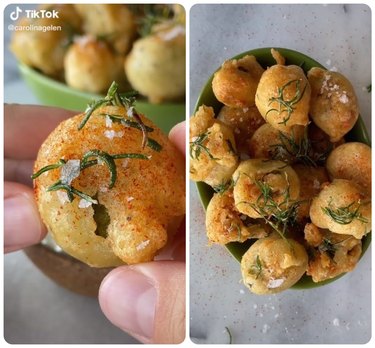 If you're a fan of olives, you've likely enjoyed them in countless ways: on pizza, in salad, or on their own as a snack. There's also a good chance you've added them to grazing boards, as they pair beautifully with cheeses and meats. But have you had olives that have been stuffed ‌and‌ fried? That very dish is currently trending on social media, and it's easy to see why.
In general, stuffed fried olives are made by filling olives with cheese and coating them in a batter. (Some versions follow with a layer of panko bread crumbs, further adding to the crunch.) Next, the olives are fried until golden brown, creating a layer of crispy goodness.
The dish is typically paired with a creamy sauce, which offers a mouthwatering contrast to the texture of the olives.
For example, recipe creator Carolina Gelen made crispy cheddar rosemary olives with a side of garlic Greek yogurt-based dip. In fact, when Gelen shared the appetizer on TikTok, the video went viral.
"I would pay so much money for these in a restaurant," said one user. "I made this yesterday and they were literally so good," commented another person.
Even people who don't like olives expressed their interest in the dish. That's how you know it's a winner.
If you'd rather make a simpler version, check out Sarah Brown's video on how to make stuffed fried olives. Their recipe only calls for six ingredients and takes just a few minutes to prepare.
Types of cheese for stuffed fried olives:
When making this recipe, any cheese is fair game — though varieties with sharper flavors tend to be popular choices. Examples include:
Blue cheese
Feta
Cheddar
Gorgonzola
You could even use a piping bag to stuff olives with cream cheese or ricotta.
Another option is to skip the cheese completely to make them dairy-free.