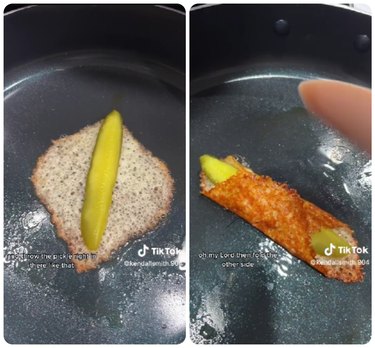 On their own, cheese and pickles are some of the most popular, well-loved foods. But have you ever had pickles ‌wrapped‌ in cheese? Or better yet ... ‌crispy‌ cheese? The latest food trend involves just that, and truthfully, we can't wait to try it.
Recently shared by TikTok user @kalejunkie, the idea involves frying a slice of cheese in a pan over high heat. She recommends using a non-stick pan, but if you don't have one, grease it with some oil first.
Once the cheese melts, add a pickle to the center. Finally, when the cheese starts to turn golden brown and crispy, use a spatula to fold the edges around the pickle. Keep in mind that cheese can melt and burn very quickly, so you'll want to keep a close watch on your concoction.
According to @kalejunkie, the snack is "salty from the cheese, tangy from the pickle, and crunchy." We love the sound of that!
Now, as with many viral foods, these cheese-wrapped pickles can be made in so many ways. For example, you can use whatever cheese you'd like: mozzarella, cheddar, American, muenster, pepper jack ... anything goes. You could also experiment with different types of pickles, such as mini versions for bite-sized snacks. So fun.
Tips for making crispy-cheese wrapped pickles:
When making this recipe, it's crucial to cook the cheese over high heat. Otherwise, the cheese may melt and disperse without crisping up.
If you don't want to use the stovetop, one TikTok user suggested an alternative: Sprinkle a layer of cheese in a mini waffle maker, add a layer of pickles, then add cheese on top.