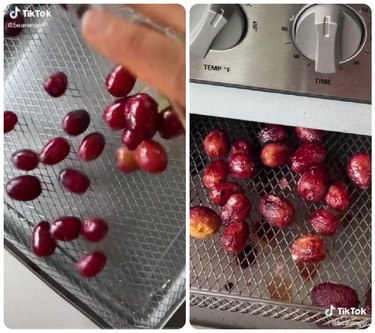 What's your favorite food to cook in the air fryer? If you're like most people, it probably involves a protein, vegetable, or some kind of delicious pastry. But if you're in the mood to switch things up, it might be time to try air fryer grapes, a popular TikTok dish.
There are many ways to make the recipe, but here's one common methdod: Toss grapes with olive oil and salt, then cook them in an air fryer for 10 minutes at 400 degrees. The grapes will pop and caramelize, making them extra sweet and juicy. (Some people even describe the inside of cooked grapes as "jammy," which sounds divine.)
At first glance, the concept of cooking grapes might sound strange. But it's worth noting that roasted grapes are actually a common side dish. Often, they're paired with crusty bread and soft cheeses, such as brie or goat cheese. Air frying grapes is also similar to cooking fruit in general, such as grilled pineapple or baked peaches.
Either way, you'll definitely want to bookmark this recipe for the future. Happy air frying!
How to serve air fried grapes:
Here are more tasty ways to enjoy air fried grapes:
Use them as a condiment for your favorite protein, like steak or chicken
Toss air fried grapes with farro, leafy greens, and feta cheese for a warm salad
Serve with cheese and crackers for a charcuterie board
Moreover, you can take air fryer grapes up a notch by adding ingredients like ground black pepper, dried thyme, and balsamic glaze.
If you don't have an air fryer, you can achieve a similar dish by roasting grapes in the oven. Simply toss the grapes with olive oil, spread them on a lined baking sheet, and roast at 425 degrees for 10 to 15 minutes.