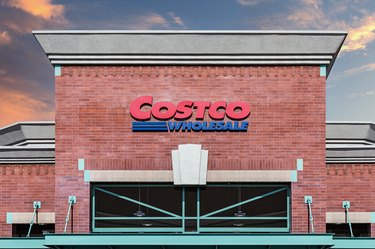 Every time Costco releases a new bakery item, you can be sure that fans will sound the alarm. Case in point: The cult-favorite bakery recently added strawberries and cream bar cake to its lineup, and shoppers have been quick to share their thoughts.
According to Costco Hot Finds on TikTok, the cake features layers of white sponge cake, strawberry filling, and whipped cream. "It's not too sweet, and it's nice and light," said the user, noting that it's one of the best desserts they've ever had.
On that note, it's important to mention that the filling is strawberry jam, ‌not‌ real strawberries. A few shoppers on Reddit thought it contained the latter, only to be disappointed when they dug in.
The reviews on social media appear to be mixed. Some people thought it was delicious, while others were unimpressed, noting that there's too much strawberry jam and whipped cream for their liking.
If you think the bar cake is up your alley, be sure to swing by Costco soon. It costs $17.99 each and would be perfect for Father's Day, Independence Day, or summer parties in general.
You can also check if your local warehouse has it in stock by calling ahead. The dessert's item number is 1732188 and it's found in the refrigerated section of the bakery.
Other bakery items at Costco:
Apparently, Costco is on a roll with new baked goods as of late. According to Costco Buys on Instagram, the retailer is also offering sour cream pound cake, which sounds divine. The item is made of sour cream-infused cake topped with a sour cream and vanilla icing. It costs $7.99 per piece.
The warehouse is selling a lemon meringue cheesecake for $19.99 as well. At nearly four pounds per cake, the dessert is excellent for feeding a crowd. It's made of a graham cracker crust, lemon cheesecake, and meringue topping.