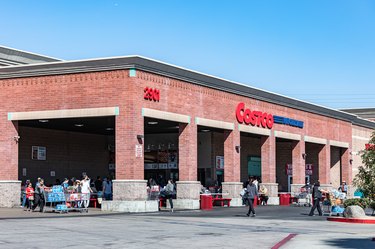 When it comes to feeding a crowd, you can always count on Costco. The bakery section is known for regularly offering gigantic sweets, like its iconic oversized pumpkin pie. As for the warehouse's most recent creation? Lemon meringue cheesecake, which features nearly four pounds of spring-inspired goodness.
Shared by Costco Deals on Instagram, the dessert is made of a sweet graham cracker crust filled with lemon cheesecake topped with toasted meringue. The cheesecake itself even has a tangy lemon filling — i.e., lemon curd, according to shoppers —which sounds divine.
However, if you're a lover of lemon desserts, you know that they can vary widely in terms of tartness and sweetness. Some people also like extra-tart lemon flavors, while others prefer more subdued notes.
With that in mind, a few shoppers on Reddit thought the lemon flavor was not tart enough. Yet other people loved the dessert and thought it had a "balanced" flavor.
"The cheesecake is dense and perfectly balances the other flavors and the sweetness," said one user on Reddit, adding that the cheesecake portion is the high-quality version that Costco already makes. They also loved the meringue topping, sharing that it's creamy, a bit like homemade marshmallows.
What's more, according to the shopper, the lemon meringue cheesecake keeps well in the refrigerator. This is good to know, as meringue toppings are notoriously finnicky and usually don't last very long.
If you're interested in the Costco cheesecake, you can find in the refrigerated section of the bakery section. It costs $19.99, though the exact price might vary by location.
Keep in mind that the item is brand new, so it might not be available at all warehouses just yet. You can call your local Costco to see if they have in stock. For reference, the dessert's item number is 1658416.