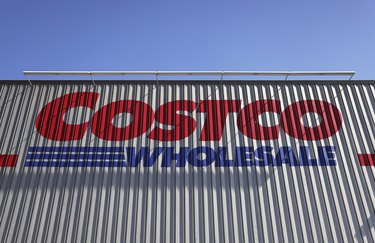 When you're a fan of nutty snacks, Costco is an excellent place to be. The warehouse is known for offering delicious varieties of flavored nuts (in gigantic tubs, no less) at affordable prices. Many of these creations are by its in-house brand, Kirkland Signature — but often, Costco stocks nutty goodies from other companies as well.
The most recent offering? Baja taco cashews from Nature's Garden, as shared by Costco Hot Buys on Instagram. According to the packaging, the cashews are roasted and coated in the brand's Baja taco seasoning, which includes jalapeno, tomato, garlic, sour cream, onion, and lime. In other words, they're packed with flavor.
The snack has been a hit with folks so far. "Just grabbed two bags the other day! They are sooooo good!" raved one user on Instagram. On Reddit, a shopper noted that the cashews are large, not too spicy, and boast a strong garlic-tomato-sour cream flavor. Another person also gave them a two thumbs up, noting that the cashews make for a good salty snack.
All that said, if you're looking for a spicy (or less salty) product, these cashews might not be for you. But if it sounds like your jam, be sure to swing by Costco soon. One bag of Nature's Garden Baja Taco Cashews is priced at $8.89, though the price might differ depending on your location.
You check if the snack is in stock by calling Costco; its item number is 1710156.
Where else can you buy Nature's Garden Baja Taco Cashews?
The Nature's Garden Baja Taco Cashews are also available on Amazon. Here, you can purchase a pack of six for $22.49.
The best part? On Amazon, the product page includes other cashew flavors from the brand, including apple cinnamon, s'mores, and spicy dill, so you can easily try multiple versions at once.