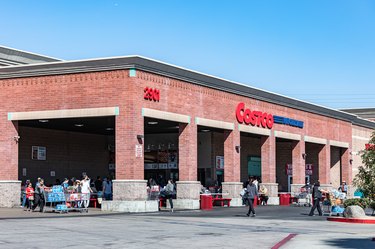 When it comes to dupes of popular food items, you can always count on Costco. The retailer is a goldmine for inexpensive versions of beloved brands, including La Croix, Nutella, and Kind bars. But did you know Costco sells a dupe for a Starbucks pastry, too?
According to Instagram user @costcofinds, the warehouse recently brought back its ham and cheese pastries. The bakery item features a flaky pastry, ham, provolone cheese, and — wait for it — bechamel cream sauce.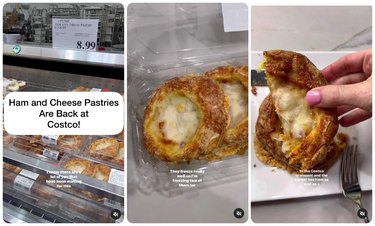 Despite the slight differences in filling, the Costco version is great if you're simply craving a satisfying ham and cheese pastry. Not to mention, it's a heck of a lot cheaper than the ones from Starbucks. Case in point: The ham and cheese pastries at Costco cost $8.99 for a pack of four. At Starbucks, one ham and cheese croissant can run for nearly $5, depending on your region.
If you decide to pick up the Costco pastries, be sure to heat them up first. According to fans, the product tastes significantly better when warmed up. "I put mine in the air fryer for eight minutes at 350 degrees Fahrenheit and it came out perfect," shared @costcohotfinds on Instagram.
Some folks also think the pastry is on the salty side, so keep this in mind if you're not a fan of salty flavors or need to limit your sodium intake. If not, be sure to scoop up a pack or two at your local warehouse. The seasonal pastries reportedly freeze well, so you can always save them for a later date.
You can call Costco ahead of time to see if it's in stock. The item number for the ham and cheese pastries is 1530560.