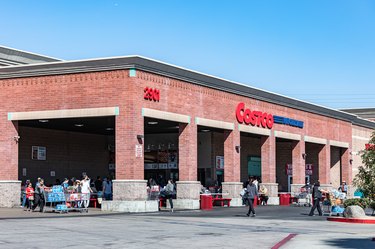 You can always count on Costco to offer the best baked goods. And no, we're not just talking about the retailer's in-house bakery section. Costco also has a knack for stocking awesome items from ‌other‌ brands, as recently proven by @costcobuys on TikTok.
The product is gingerbread cookie sandwiches by Jessica's Artisan Brick Oven Bakery, a company that specializes in artisan breads. The cookie portions are spiced with cinnamon, nutmeg, and ginger, while the filling is made of cream cheese.
"These taste incredible," said @costcobuys in their caption. On Instagram, some shoppers noted that the treats looked similar to cookies from Trader Joe's, so it's certainly worth checking out if you're a fan of the latter.
Now, while gingerbread cookies are often associated with the holidays, we personally enjoy eating them all year round. If you're in the same boat, you'll want to swing by your local Costco soon.
One package of gingerbread cookie sandwiches by Jessica's Artisan Brick Oven Bakery contains 22 cookies and costs $9.99. However, as with all items, the availability might differ by location. To check if it's in stock at your local Costco, be sure to call in advance. Its item number is 1703909.
Other baked goods at Costco:
While you're browsing the baked goods at Costco, consider picking up a box of Karen's Bakery Danish puff pastries. The confections, which are stuffed with a vanilla filling, are said to be delicious with hot coffee or tea. One box contains 36 pieces and costs $7.89 each.
The warehouse is also offering chocolate chip ricotta. Although technically not a baked good, this product would be amazing in recipes like French toast casserole, ricotta cake, or various tarts. The dessert cheese costs $13.89 per pound and is available in the refrigerated section.