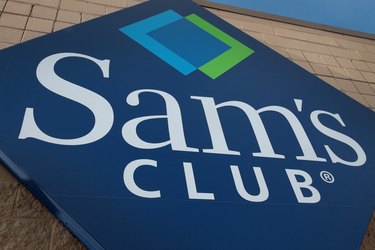 We love a good dessert restock, especially when it involves cake. But sometimes, it can be hard to keep track of re-released products, especially if you shop at multiple stores. Luckily, there are plenty of Instagram users to keep us updated, including @samsclubmembers.
According to the content creator, Sam's Club recently brought back its popular lemon Bundt cake. The bakery item tastes like a"bright ray of sunshine with just enough tang to complement the sweetness" and features a cream cheese icing, per the Sam's Club website.
Other shoppers were super stoked, noting that the bakery item is even better than products by Nothing Bundt Cakes. "This is the best darn cake Sam's has EVER made. If you haven't tried it, here's your sign!" said one person on Instagram. "So good and love the price," commented another person.
On that note, the dessert is priced at just $12.98, which is a great deal for a hefty 10-inch cake. It also yields up to 18 servings, making it an ideal option for parties and picnics.
By the way, according to @samsclubmembers, the cake is even better when warmed up. We bet it would also be delicious topped with lemon zest, sliced strawberries, or a simple berry syrup.
Other treats to check out at Sam's Club:
If you love croissants, be sure to keep an eye out for the multi-grain versions at Sam's Club. As @samsclubmembers shared on Instagram, the Member's Mark Multigrain Croissants are made with 12 different grains, including sunflower seeds, oats, rye flour, and barley. The croissants are topped with even more grains, such as cracked wheat and rye flakes. One pack contains eight croissants and costs $5.98.
The Sam's Club cafe is also offering mouthwatering Brownie Sundaes, which come with Members Mark Fudge Brownies. One sundae costs just $1.58!