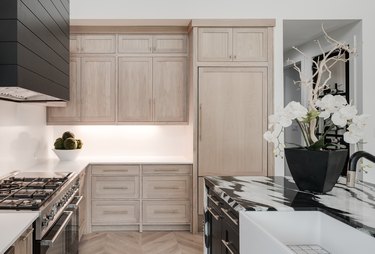 As 2023 moves forward, we're beginning to learn more about what home design trends are coming and going in the world of interiors. Now, Italian home appliance maker Bertazzoni released a new study illustrating what Americans are most interested in when it comes to the kitchen, and there are three surprising design trends that look to be on their way out.
Many homeowners are saying goodbye to open shelving and opting for sleek, integrated kitchen cabinet design as well as integrated appliances. Surprisingly, 83% of Americans say they don't find open shelving appealing, with 54% opting to have appliances flush with cabinets — a functional solution that gives off a custom look.
Cabinets aren't just gaining new doors. Many are being updated with fresh paint schemes as well. As homeowners continue to embrace unique kitchen designs, they are moving away from all-white paint jobs in favor of colorful cabinets, striking surfaces, and custom appliances to create a personalized look. In fact, only 19% of those surveyed say they like the look of all-white kitchens.
However, not all colors are a hit in the kitchen. Fewer than 25% of U.S. homeowners like the look of contrasting cabinet colors, like a blue lower half with white upper cabinets. Apparently, this once-popular trend is waning in popularity before it even took off. Many are opting to make appliances the focal point of a kitchen to create contrast without overcrowding the space.
Check the full survey results out here to see what kitchen trends you're sure to see all over TikTok before you know it.