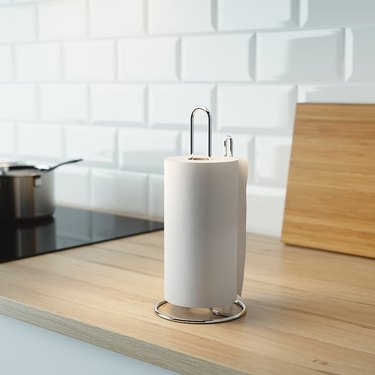 We love finding the best home hacks for ordinary household items, so when we saw this TikTok video showing off an unexpected new use for a common kitchen object, we were intrigued.
In the video posted by content creator CippiRippi, viewers are shown that a normal paper towel holder — which we previously assumed was only to be used vertically — could also be used by sliding the metal bar into a cabinet or shelf horizontally for more countertop space. This clever hack is perfect for small kitchens where counter space is at a premium or if you're looking to have a less cluttered surface to work on.
We've seen plenty of great paper towel holders to help save space in the past, but we love the idea of being able to upcycle our existing one into a handy space-saving solution.
Many people in the comments pointed out that the hack may not work with larger rolls of paper towels or with certain cabinet doors, but if you can make this work for your kitchen, the small-space storage idea is an absolute game changer.
While this hack shows a brand-new way to use the paper towel holder for its intended purpose, TikTok user Sarah Teresinski shows us how one can be used for a variety of things, from a hat rack to craft and belt storage.